China, Russia Military Ties Deepen With Naval Drill in East China Sea
The joint naval drill is another example of the growing military, economic and political ties between China and Russia.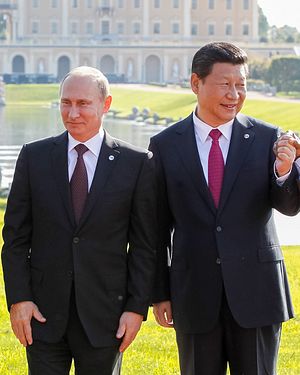 On Wednesday, China announced that it plans to hold joint naval drills with Russia in the East China Sea later this month.
"These drills are regular exercises held by China and Russia's navies, and the purpose is to deepen practical cooperation between the two militaries, to raise the ability to jointly deal with maritime security threats," China's Defense Ministry said in a statement published on its website.
Voice of America reports that the joint naval drills will be held in late May off the coast of Shanghai. This is significantly north of the Diaoyu/Senkaku Islands that have been the source of ongoing tensions between Japan and China in recent years. Russia also has an ongoing territorial dispute with Japan over the Kuril Islands located even further north off the far eastern coast of Russia.
Few details have been released about the scope of the naval drills at this time.
Still, the announcement is not surprising, and is not likely aimed at Japan in particular. As China's Defense Ministry noted, Russia and China have a history of holding joint naval drills, and their military ties have grown stronger in recent years. For example, last July, Moscow and Beijing held a massive naval drill with live firing exercises off the coast of the Russian city of Vladivostok. According to Chinese media reports at the time, the drill was the People's Liberation Army's largest ever with a foreign country.
The New York Times reported that China's Navy sent "seven warships, including a guided-missile destroyer with Aegis-type radars that track and guide weapons to destroy enemy targets, and missile frigates with antisubmarine abilities" to last year's drill. These vessels were from China's North Sea Fleet and the South Sea Fleet.  Beijing also deployed three helicopters and a special warfare unit to last year's drill. The Russian Navy, on the other hand, deployed a kilo-class submarine and the guided-missile cruiser Varyag, which is the flag ship of the Russian Pacific Fleet.
"This shows unprecedented good relations between China and Russia," Professor Wang Ning, director of the Center for Russian Studies at the Shanghai International Studies University, told the New York Times about last year's drill. "It shows that the two countries will support each other on the global stage."
Indeed, the joint naval drills are merely one example (and result) of the stronger bilateral ties Russia and China have enjoyed since President Xi Jinping took over the Chinese Communist Party in November 2012. China began a new charm offensive towards Russia early in Xi's tenure. This was demonstrated by, among other things, the fact that Xi Jinping chose Russia as the destination for his first official foreign trip as China's president in March 2013. He returned later in the year for the G-20 summit, and was back again earlier this year to attend the opening ceremony of the Sochi Olympics.
The close relationship between the two leaders has yielded some notable results, as well. Besides the unprecedented naval drills mentioned above, Russia has signaled a greater willingness to sell China advanced defense technology during Xi's tenure.
Around the time of Xi's first trip to Russia last March, there were reports that China and Russia were negotiating their largest ever defense agreement. The deal would reportedly include Russia selling China as many as four Lada Class air-independent propulsion submarines as well as 24 Su-35 multirole fighter jets. The Su-35 fighters, in particular, would greatly enhance China's ability to project air power in the South China Sea. More recently, there have been reports that Vladimir Putin has approved the sale of Russia's most advanced air and missile defense system, the S-400, to China.
Perhaps of more lasting importance, Russia and China have been significantly boosting their energy ties, which could solidify a more long-term relationship between them. Most notably, in June of last year Rosneft, Russia's state-owned energy giant, agreed to double its oil exports to China. Under the deal, which was worth an estimated $270 billion, Russia will ship 365 million tons of oil to China over the next 25 years.
Similarly, numerous signs suggest that after a decade of ongoing talks, Russia and China are in the final stages of negotiating a massive 30-year natural gas supply deal. Once the deal is completed, according to Bloomberg News, Russia's "Gazprom plans to supply as much as 38 billion cubic meters of gas to China, about 24 percent of the company's deliveries to Europe last year." Achieving this will require the construction of a massive pipeline to carry the natural gas from eastern Russia into China. Russia will reportedly need to spend about $22 billion to build the pipeline.
The two sides are hoping that the deal will be ready in time for Putin's trip to China on May 20, which will take place immediately prior to the joint naval drills.