An Uphill Climb for Nepal's Prachanda
Nepal's new prime minister faces a host of internal and external challenges.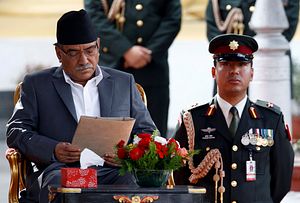 Nepal's new prime minister, Pushpa Kamal Dahal (commonly known as Prachanda), comes to office at a time when his country is facing serious internal and external challenges. He will have to solve these issues to maintain political stability in the country.
Prachanda was elected as the 39th PM of Nepal on August 3, replacing Communist Party of Nepal-Unified Marxist-Leninist (CPN-UML) Chairman K.P. Sharma Oli with backing from the Nepali Congress, Madhesh-based parties, and other fringe parties in Parliament. Prachanda secured 363 votes out of 573, meaning 210 lawmakers voted against him. His victory made him the first communist prime minister in Nepal who has been elected for a second term.
When it comes to internal challenges, Prachanda's first priority is addressing the demands of Madhesh-based parties on rethinking the demarcation of provinces. This is a necessary step toward the implementation of Nepal's newly adopted constitution, which caused protests in the southern part of country. Madhesis complained that the current demarcation of provinces would leave them underrepresented; they want two provinces in Nepal's southern belt.
Prachanda is under moral pressure to address the demands of the Madhesis and Janajatis, as he advocated for the rights of these communities before and after joining the peace process. To successfully address the demands of Madhesh-based parties, however, he will need to draw support from all major parties — including the second largest party, CPN-UML, which is now in the opposition after Oli was forced to resign.
First, there is the tough task of reaching consensus among the major parties regarding the redrawing of federal provinces. The government will have to garner the support of a two-thirds majority in Parliament to make the change. Reaching that threshold is is not possible without taking the CPN-UML into confidence.
The CPN-UML has taken the firm position that it is not possible to create two provinces in the southern plain, as demanded by Madhesh-based parties. The party is likely to take an even more rigid position now, as it is feels that first and third largest parties in Parliament (the Nepali Congress and Prachanda's Communist Party of Nepal (Maoist-Center) conspicuously sidelined the CPN-UML from their new power sharing agreement.
The agreement between the Nepali Congress, CPN M-C) and Madhes-based parties called for a constitutional amendment bill to be tabled in Parliament to address the demands of Madhesis. The agreement, however, does not specify how issues related to demarcation will be addressed. Beyond the internal pressure, India will push Prachanda to address the demands of Madhesh-based parties to maintain a peace and stability in the Madhesh region, which borders India.
Unless the demands of Madhesh-based parties are addressed, there will not be an appropriate environment for holding local body elections, a key item on the agenda of the Prachanda-led government. Without holding local elections, it is not possible to hold provincial elections and set up a central Parliament. A lack of progress thus ultimately invites constitutional crisis.
Addressing in Parliament on August 3, just before the PM election, senior Madhesi leader Upendra Yadav said that at least Prachanda had agreed to address their demands. "The previous government did not heed our demands. We are hopeful that Prachanda will not betray us," Yadav said, adding that an amended constitution should be accepted.
If Prachanda delays in addressing the demands of Madhesi parties, they will withdraw their support, which will jeopardize the political legitimacy of his government if not invoke a constitutional crisis.
The Madhesh-based parties organized a prolonged protest along the Nepal-India border after the promulgation of the new constitution in 2015. Over 40 people were killed during the movement, with dozens seriously injured. Now, there is a pause in the movement as the parties have backed Prachanda, hoping a new government will be more amenable to their cause. Now it is necessary to make good on promises to address their demands.
"The demands of Madhesh-based parties, mainly demarcation, will be addressed through a constitutional amendment," Nepali Congress President Sher Bahadur Deuba said in Parliament on August 3 .
Indeed, one of the major reasons behind the fall of previous Prime Minister Oli was his negligence to and rigid stance toward the concerns of Madhesh-based parties. However, Prachanda will find it very difficult to get the necessary support from Oli's CPN-UML to address the demands of Madhesis.
The second challenge for Prachanda will be addressing his own party's demands, which created a rift with Oli government Prachanda wants all war-era cases to be dealt with by the Truth and Reconciliation Commission; this was a major reason why the CPN(M-C) withdrew support from Oli's government, triggering a government change.
The Supreme Court has already made it clear that cases handled by regular courts would not be transferred to the TRC. However, Prachanda wants to withdraw the cases that are being handled by regular courts. However, this goal will face two challenges. First, it is not possible for the Parliament to influence the judiciary. Second, if the change is to happen, Prachanda will need political consensus among the parties. Again, the role of CPN-UML is a vital one.
Another vital challenge is to speed up the reconstruction and rehabilitation of public and private buildings damaged in the 2015 earthquake, which is a painfully slow process. People who are living in temporary, makeshift shelters are hoping that Prachanda would speed up the process. With the government change, however, there is a chance that the leadership of the Nepal Reconstruction Authority, which is a political appointment, will change. This will further delay reconstruction, rather than speeding it up.
Along with these internal issues, Prachanda will face external challenges from his first days in power. The new PM will have to pay careful attention to maintaining cordial relations with both India and China, the immediate neighbors of Nepal.When Prachanda was elected, these two neighbors were the first countries to extend their congratulations.
Indian Prime Minister Narendra Modi telephoned Prachanda and invited him to visit India, assuring him of New Delhi's full cooperation. Similarly, the Chinese ambassador to Nepal reached Prachanda's residence within five minutes of the election in Parliament. Prachanda has the responsibility of maintaining good relations with India and China, Nepal's two giant neighbors, in order to bring in more investment for the development of the country.
The previous prime minister was criticized for not paying attention to maintaining a good relationship with India. Now India expects that Prachanda would be favorable to New Delhi. Meanwhile, China expects that Prachanda will implement the agreements signed by the Oli-led government, mainly related to trade and transit.
In 2008, when Prachanda became the first prime minister of republican Nepal, he committed a lot of mistakes that ultimately caused his downfall. He resigned in 2009 over differences with then-Army Chief Rookmangud Katawal. Prachanda had tried to dismiss Katawal, only to have then-President Ram Baran Yadav overturn the decision and reinstate Katawal as army chief. Prachanda later admitted that his decision to sack the army chief was one of his mistakes.
Nepal cannot afford for Prachanda's second term to be equally error-prone. As Prachanda has taken over responsibility at this critical juncture, his success will lead the country toward stability and his failure will push Nepal toward further uncertainty. This is also a golden opportunity for Prachanda to revive his own party and his political career, which has been on downward slide after the repeated splits in the party.
Above all, Prachanda will have to build trust with Nepali Congress President Sher Bahadur Deuba, who supported him to become the prime minister. Prachanda has a lot of challenges and only limited time to solve them. As per the agreement with the Nepali Congress, he will have to resign after nine months to transfer power to his coalition partner.
Kamal Dev Bhattarai is journalist from Nepal who frequently writes in international media about politics and social issues. He has recently written a book about Nepal's peace and constitution drafting process tiledTransition: From 12-Point Understanding to Constitution Promulgation.