Youk Chhang: A Cambodian National Treasure
Leading by example, he taught a nation how to forgive without forgetting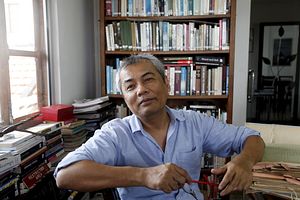 Youk Chhang, the executive director of the Documentation Center of Cambodia will receive the Center For Justice and Accountability's Judith Lee Stronach Human Rights Award on May 4, 2017 in San Francisco.
It is no coincidence that Youk Chhang is Cambodia's most trusted civic leader. Leading by example, he taught a nation how to forgive without forgetting. Like Angkor Wat and Tonle Sap Lake, Chhang is nothing less than a Cambodian national treasure.
The youngest son of a Phnom Penh gem merchant's nine children, Youk Chhang was 14 years old when the Khmer Rouge marched into the capital on April 17, 1975, and forced him from his home at gunpoint. The teenager walked in the direction of what he believed to be his mother's village, four months later was reunited with his family at one of Democratic Kampuchea's newly established "compulsory communes." There, he worked like a slave and death became as common as life.
"Innocence itself was a crime," wrote Chhang, who learned this firsthand when he snuck into a rice field to pick watergrass and mushrooms for his starving sister. The Khmer Rouge cadres caught and then tortured him in front of the entire village for several hours, "I will never forget this, they tortured me in front of my mother and she was too afraid to cry because even crying was a crime."
Youk Chhang spent months in a Khmer Rouge prison for picking weeds. One day while he was pleading his case to the prison chief, an older prisoner spoke up on his behalf. Chhang was surprised when he was released shortly thereafter, but later learned "that in exchange for me, they killed him." It got much worse, when his pregnant sister was accused of stealing rice, the Khmer Rouge wanted proof, "so they cut her open with a knife to see if the rice was in her stomach."
More honest than most, Youk Chhang admitted that in order to survive in Pol Pot's Democratic Kampuchea one had "to steal, cheat, lie, point fingers at others." After escaping from the Killing Fields, he immigrated to the United States as a refugee. When Chhang tried to tell Americans what he had survived "people could not believe it." He quickly realized that he needed to learn more about the Pol Pot regime in order for Americans to grasp what he had endured. Above all, the survivor wanted to show his mother that she did not have to worry about him any longer because he was now "educated and strong."
Sadly, as the Cambodian learned more about the Khmer Rouge he also learned that "thousands and thousands of mothers and many sons…had similar experiences." Not content to remain in the United States while his countrymen starved, Youk Chhang returned to Asia to help Cambodian refugees in Thailand and the Philippines before he moved back to the Kingdom in 1992 to work as a UN election observer. He found his life's calling in 1995 when the U.S. State Department's Cambodian Genocide Project put him in charge of a Phnom Penh field office called the Documentation Center of Cambodia (DC CAM). This archival offshoot of the American effort, would grow into something much larger.
Documenting Khmer Rouge atrocities was neither safe, nor secure work during the 1990s; the Khmer Rouge had ways of letting the Documentation Center of Cambodia know that they did not approve of their investigative efforts. Although DC CAM's archives sat behind high walls and were housed in fireproof cabinets, Youk Chhang also felt a sense of divine protection because his project was for "the good of humanity and the people of Cambodia." When some suggested that he should hire private security, Chhang said that he would, "leave it up to God" instead. "As a human being you cannot just tell people to stop having feelings, to love, being with the family," he explained, "For these reasons I wanted to come back and do this work."
Above all, Youk Chhang wanted Cambodians to forgive one another. He believed that in order for this to happen, people needed answers; they needed to know what they were forgiving. The importance of learning "the truth" was a recurring theme with both the victims and perpetrators the DC CAM director spoke with, "They almost always say something along the lines of, 'I want to know what happened, who ordered the killings, and why. That is just as important as knowing what happened and I think that knowing that will set us free."
Even Chhang wondered why the Khmer Rouge killed his family, "Why did they kill his sister? Why did they torture him as a young boy just for taking grass from a field? Who gave the order to do that?" He did not seek revenge, instead he wanted to show the Khmer Rouge leaders, "You can torture me, you can kill my sister, you can kill members of my family, but you cannot destroy my soul."
The Documentation Center of Cambodia became an independent research institute in 1997 and for the first time since the fall of the Khmer Rouge, a Cambodian run organization was reclaiming their nation's tragic history. It did not take long for their team of researchers — Kosal Phat, Sorya Sim, Meng Try Ea, Ysa Osman, Peou Dara Vanthon, Farina So, Bun Sou Sour, Irene Sokha (to name only a few) — to run circles around the western researchers (like this author). In short order, DC CAM staffers located and GPS mapped hundreds of genocide sites and traveled to the provinces where they conducted remarkable oral histories with both former Khmer Rouge and their victims. DC CAM also published groundbreaking books like Meng-Try Ea and Sorya Sim's Victims and Perpetrators? Testimony of Young Khmer Rouge Comrades, one of the most nuanced studies about the relationship between perpetrators and their victims ever written.
To Youk Chhang, his organization's "main achievement" was "touching the hearts of victims" by simply being there to talk with them. Because the international community, despite an expensive UN led occupation, failed to resolve Cambodia's military conflict, much less hold the leaders of the genocidal regime accountable, Cambodians had no choice but to create and implement what the DC CAM director described as an "invisible" truth commission. "When people talk about what happened they make their own truth commission. The effort itself is a healing process," explained Chhang, "People offering to their ancestors, praying and talking — that is a truth commission. People writing their story — to me that is a truth commission."
In many ways DC Cam's Khmer language magazine, Searching for the Truth, distributed throughout the Kingdom for free, was their most successful outreach mechanism. After decades of competing propaganda claims from the Khmer Rouge, the Vietnamese, the U.S., the UN, and the Chinese, the magazine proved to be an effective antidote to historical revisionism. Because rural Cambodians did not have access to a free press, Searching for the Truth served as both a news and truth-telling organ that informed them of the ongoing legal travails of the senior Khmer Rouge leaders. Cambodian district governor Ly Leng put it best, "Respected Excellency, before 'Searching For the Truth' was launched, I always envisioned that the secrets of what happened during the Khmer Rouge era would never be documented, that the truth about it would be lost to history, and that the younger generations would never believe that such barbaric acts had ever been committed — I thought that they would vanish into thin air."
In addition to ongoing genocide research, legal analysis, and a family-tracing page, Searching For the Truth published articles by legal and historical experts John Ciorciari, Hans Correll, Craig Etcheson, Julio Jeldres, Ben Kiernan, Stephen Heder, David Chandler, Rich Arant, and so many others. Some of the key UN investigators who would go on to build the evidentiary case against the Khmer Rouge leaders — Craig Etcheson, Stephen Heder, and Rich Arant — all had relationships with DC CAM that predated the UN's war crimes trials.
After Searching For the Truth was first published and a handful of Cambodians learned the fate of their loved ones from its pages, letters began to pour into DC CAM's Phnom Penh office. Some were simple expressions of gratitude like this one from the Kratie province: "Beloved Director of DC-Cam, I am a victim, the Khmer Rouge killed: father, wife, three children, and in laws, all were accused of being KGB agents. Thanks." Others believed that this documentation was for the good of Cambodian society because it was not motivated by "a thirst for vengeance" and instead sought to inform "the younger generations." Even Khieu Samphan, the soon-to-be-tried and convicted senior Khmer Rouge leader, responded to Searching for the Truth in a 1999 letter. Not only did he express his "deepest respect to the souls of our innocent countrymen, who were the victims of the killing and heinous acts during the Democratic Kampuchea regime," he also offered an apology to "those who lost their loved ones to the regime, I am sorry. It was my fault to be foolish, and failed to keep up with the real situations."
However, Searching For the Truth's most remarkable outreach effort occurred in 2003 when a copy of the magazine reached the village of Tuol Sleng Prison survivor Bou Meng. When the diminutive painter saw his picture and learned that he had been presumed dead since 1980, he traveled to Phnom Penh and knocked on DC CAM's formidable steel gate. When the guard asked him what he wanted, Bou Meng pulled a tattered copy of Searching For The Truth from a plastic bag, handed it to him and said, "I am not dead. I am alive. I want to show to the national and international media that I am alive. It was just a rumor." The Tuol Sleng survivor added that he wanted "to join in the trial against the Khmer Rouge."
Although Youk Chhang strongly advocated war crimes trials, he never considered them a panacea for his nation's many ills. The DC CAM director's voice was refreshingly human compared to the UN lawyers, diplomats and human rights industry experts who spoke of war crimes trials as if they were little more than the cold application of fact to law and treated politics like it was somehow beneath them. When trials were first seriously considered in 1996 after Khmer Rouge leader Ieng Sary defected and appeared to receive a royal pardon, Chhang took a compellingly honest stand. He argued that for the sake of historical clarity it was better to grant Ieng Sary a political amnesty in exchange for testimony, along with a lifetime ban from politics, than "to pretend that he will not be tried because evidence and law are lacking." Accepting Sary's claim that he knew and saw nothing was, according to Chhang, to begin the "process of historical revisionism." The DC CAM director pointed to a sad truth that many in the UN and the Cambodian government were happy to ignore, "sufficient laws and evidence are not lacking, but political will is in the case to prosecute the Khmer Rouge leaders."
For more than a decade DC CAM has neutrally and dispassionately aided both the prosecution and the defense in the long running trials of senior Khmer Rouge leaders. When the UN war crimes tribunal folds up its expensive tent and leaves Cambodia, the Documentation Center of Cambodia will remain for generations to come. Today DC CAM is as deeply and complexly rooted in the kingdom's soil as the "Crocodile tree" at the Ta Prohm temple. For this, Cambodia and the world owe a deep debt of gratitude to Youk Chhang.
Dr. Peter Maguire is the founder and director of Fainting Robin Foundation and the author of Law and War, Facing Death in Cambodia, and Thai Stick. Maguire has taught the law and theory of war at Columbia University, Bard College, and the University of North Carolina Wilmington.