Canada's Pivot to China Hits a Snag
Justin Trudeau's call for a progressive trade deal falls flat in China.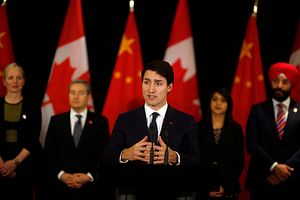 Canadian Prime Minister Justin Trudeau made a special trip to Beijing last week to initiate trade discussions with China, which is Canada's second-largest trading partner. His trip to China received unprecedented attention and aroused interest among experts because it was expected to open the first free trade negotiations between China and a leader from a G7 country, Canada.
The United States' departure from the Trans-Pacific Partnership (TPP) and the recent U.S.-Canada falling out over NAFTA discussions have put trading giants such as China and Canada in a rather unique position to reinvigorate trade across the Asia-Pacific region. Besides trade and investment, Canadians of Chinese ancestry are a strong presence in Canada, which is evidenced by the fact that Mandarin and Cantonese are the most spoken languages in Canada after the official languages of English and French.
China has been Canada's second largest trading partner, after the United States, since 2009. In 2015, Canada's $45.5 billion dollar trade deficit to China was largely due to of electronics and machinery; Canada also marked a modest services surplus due to tourism from China. But when it comes to promoting trade across the Asia-Pacific barrier, the relationship has a complicated past. Canada has had a love-hate relationship with the Chinese investment, dating back to former Canadian Prime Minister Stephen Harper's era when Canadian foreign policy took a cautious stance toward investment by Chinese private and state-owned corporations.
Private investment conglomerates in China look to Canada as a favorable location for trade and acquisitions. But the regulatory approval requirements and the national security review process in Canada make it fairly difficult for Chinese firms with opaque operations to acquire companies in Canada. Most notably, Chinese state-owned oil corporation CNOOC's efforts to acquire Calgary-based Nexen faced an uphill climb during the Harper years. The deal was intensely scrutinized by regulators in Ottawa, and witnessed intense public discussions by experts and in the media. Though the deal was eventually approved, it marked an important friction point in Canada-China relations.
Prime Minister Justin Trudeau is trying to change that, a fact made evident by the approval given to acquisition of Canadian satellite technology firm Norsat by the Chinese Hytera Communications, despite opposition from the Canadian intelligence community. The present Trudeau government has expressed its interest in strengthening ties in the current political climate, and even gave China an unofficial role at the TPP negotiating table. Canada also recently joined the Beijing-based Asian Infrastructure Investment Bank (AIIB) in March of 2017, and will be investing $199 million over the next five years.
A Difficult Way Forward
However, the historical unease over trade between Canada-China caught up with Trudeau in Beijing. His efforts to negotiate a deal were apparently not as smooth as he was expecting. A planned meeting with Chinese Premier Li Keqiang on December 4 ended with both Trudeau and Li reading written statements that they would keep "exploring" opportunities to negotiate a deal.
That wasn't all. Chinese guards tried to stop photographers and media personnel from the Canadian media, and a planned press conference after the meeting between Trudeau and Li was canceled as the trade talks didn't materialize. Trudeau's meeting with Chinese internet giant Weibo in Beijing was heavily censored, and was only made available for the Chinese public an hour later.
Trudeau went off-script on Tuesday during at the Fortune Global Forum, a Davos-style international meeting with leaders of business in China. There, he made a case for openness in trade, saying "China and Canada share the belief that more openness and more collaboration is the right way forward. Closing our doors will only hurt our businesses, and our citizens."
The next day, Chinese state-run media lashed out at Canadian media, especially criticizing the Globe and Mail's article on Monday, which called China an "absolute dictatorship." China's Global Times further made remarks about the desperation on Canadian side to negotiate a deal by stating, "[China] is also not in a rush to develop its relations with Canada. Let it be. This is the most genuine attitude of Chinese society." Global Times also called out the Canadian media for its "superiority and narcissism," and a video commentary by its editor made sarcastic remarks suggesting that Canada scan every Chinese imported shoe "check if it is produced democratically."
On December 7, Trudeau stepped forward to applaud the Canadian media for "an essential role" during this trip. He was responding to a question about the comments made by Global Times.
Canadian Progressivism Meets Communist China
Experts are reporting that the difficulties in negotiating the trade deal emerged from Trudeau's agenda to seek progressive commitments from China on labor, the environment, and gender equality. On the domestic front, Trudeau continues to enjoy equivocal support from the Canadian audience for his progressive take on politics, and has been lauded globally for his commitments in an exceedingly inward looking political climate. Canadian businesses also remain skeptical about forging a trading alliance with China, given its rather poor history at resolving fraud complaints, heavy control by the state over the market, and its overall performance on human rights front.
On a positive note, China and Canada consolidated their commitment to promote tourism between both nations by declaring 2018 as the Canada-China year of tourism.
David Mulroney, a former Canada's ambassador to China and an expert on Asia-Pacific affairs, called the failure to initiate trade talks a "self-inflicted wound" on Canada's part.  Mulroney blamed the Canadians for a lack of preparedness in negotiating a deal, and pleaded for keeping the issues of trade and human rights violations separate. This opinion was also voiced by Stewart Beck, president of Canada's Asia Pacific Foundation.
Trudeau's progressive vision is not only complicating trade relations with China. Earlier this year at the APEC summit, a meeting between the remaining 11 TPP members led to significant progress. But Canada continued to make a case for stronger commitments toward gender, labor and environment protections in the TPP's revised version.
In an email exchange with The Diplomat, Eleanore Catenaro, press secretary to Prime Minister Justin Trudeau, addressed the delays in starting talks with China and the subsequent complications during the visit. "Canadians appreciate that moving forward on a trade agreement is no small feat, and that the process takes time," she wrote. "As the Prime Minister said this week, we had constructive and substantive discussions about how to move forward with a comprehensive trade agreement with China, and we are pleased with the progress we have made to strengthen our relationship and deepen our partnership."
"There was never any illusion that this would be quick or easy — Canadians expect our government to continue to work hard on getting this right, and that's exactly what we remain focused on," Catenaro added.
She also noted "progress on a number of issues over the course of the trip," including a joint statement on climate change, increased market access for Canadian beef and pork, and the continuation of  "exploratory discussions towards a comprehensive trade agreement." As for the progressive emphasis of the trip, Catenaro said that "Trudeau had a respectful discussion on continuing efforts to improve human rights and the rule of law in our respective countries."
Some experts called last week's visit a stepping stone toward a major deal in the future, but the trip highlighted that the Trudeau government's efforts to pitch progressive politics will continue to face difficult challenges in China.
Though the media is already calling Trudeau's trip to China a failed attempt, it could lead to another round of negotiations — on Chinese terms. Trudeau has learned a harsh lesson that the Chinese Communist Party is in no mood to change its rules for Canada's sake.
Aadil Brar is an international freelance journalist and a National Geographic Young Explorer. His articles have appeared in the DEVEX International, Diplomat Magazine, The NortheastToday, and the Asian Pacific Memo among other publications. Brar holds a bachelor's degree in anthropology from the University of British Columbia, and is based in Toronto, Canada.