The Peculiar Presence of the Islamic State in Kunar
An opaque offshoot of the self-declared Islamic State in one Afghan province displaced thousands of civilians.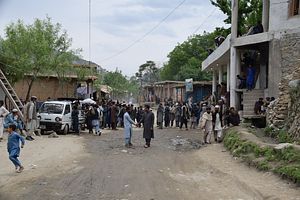 CHAPA DARA, KUNAR, AFGHANISTAN – In late March, a local chapter of the self-declared Islamic State attacked and took over two valleys in Chapa Dara district in Afghanistan's eastern province of Kunar. The violence forced thousands of families to flee their homes. However, even the refugees don't know much, if anything, about the group that displaced them. Accordingly, its exact affiliation to the Islamic State is less clear than reports suggest.
Fleeing Without Anything
In the bazaar of Chapa Dara, the center of the district with the same name, a crowd of men in traditional Afghan garb has gathered under the grey clouds of a late April sky. The reason is sobering: They are awaiting the distribution of flour bags donated by the World Food Programme and USAID. Most had left everything behind when they fled an advance of the local chapter of the self-styled Islamic State. They are now dependent on aid.
The fighting that forced these men and their families out of their homes in late March was caused by an attack by alleged Islamic State affiliates against the Taliban in areas with no Afghan government presence. The two insurgent groups oppose each other due to ideological and other reasons, each claiming to be the only rightful warriors of Islam. Overall, the Taliban, who ruled most of Afghanistan before their regime was toppled by a U.S.-led intervention in the wake of 9/11, far outnumber the local chapter of the Islamic State, which has its origins in Syria and Iraq. The latter, termed the Islamic State – Khorasan Province (Khorasan being an ancient name for an area encompassing Afghanistan and some nearby areas), only appeared in a handful of places in Afghanistan since 2014 and has only been able to put down roots in a very few locations. However, in those few small pockets, the balance of power between the Taliban and the local Islamic State offshoot has become contested or even tilted.
As of of April 3, the United Nations Office for the Coordination of Humanitarian Affairs (OCHA) noted that the most recent infighting between those groups displaced 3,112 families comprising over 21,000 people in Chapa Dara district, which has, according to official estimates, a total of 33,875 residents (local officials suggest a much larger total population). On April 23, Khalilullah Khalili, the district governor of Chapa Dara, told The Diplomat that the district center alone now hosts 2,549 displaced families, while others have moved on to Kunar's capital, Asadabad, or the neighboring province of Nangarhar.
Despite these numbers, there are no sprawling refugee camps in Chapa Dara. Some displaced people are staying in the houses of relatives, where – as usual across Afghanistan – extended families live together in small spaces. Others have received tents from the Afghan government that are randomly tucked away here and there. Then there are those in more precarious situations. "While some received tents, I did not," Khair Mahmad, a short wiry man with a full black beard, said. "So my family and me have to live in a makeshift shelter – not much more than an awning – that we set up at the side of a house."
Whether accommodated in houses, tents, or makeshift shelters, and in spite of aid having arrived as soon as the second day after their displacement, in late April the refugees said that they are still in need of even the most basic help. "My family and I as well as several other families from my village fled when the fighting between Daesh and the Taliban was only a few hundred meters away from our house," Abdul Mahmad, a refugee with a long grey beard recounted, using the Arabic acronym for the Islamic State. "We left our house on foot and could take nothing with us. Now our life is miserable. We don't know how long we can stay in the tent we have received. We have barely any clothes and are dependent on distributed food," he added.
Some civilians reportedly even lost their lives – though not directly in the fighting. According to Khalili, one girl drowned when she fell into a river during the escape, and an elderly man died due to sickness and exhaustion after having had to flee in rainy weather. That the hostilities did not directly kill any civilians was confirmed by Abdul Mahmad, whose house in one of the most affected villages was allegedly destroyed in the fighting.
The armed clashes also caused only few casualties among combatants and reportedly ended swiftly. The fighting lasted just two days, in which the Islamic State took over the valleys of Lindalam and Digal from the Taliban, Khalili asserted. He added that, all in all, only 11 Islamic State fighters and two Taliban were killed and nine Islamic State fighters and one other Taliban were wounded.
Obscure Islamic State Presence
Who exactly displaced the people who fled from the Lindalam and Digal valleys is less clear than the references to the Islamic State would suggest. The refugees themselves escaped without learning many, if any, details about the men that took over their homes. The civilians who remain in the two valleys now controlled by the Islamic State are, according to Khalili, significantly more in number than the displaced, but could not be reached.
Almost all available sources – refugees as well as government officials – indicated that the attacking Islamic State fighters were predominantly locals. Beyond that, information is scarce and the little that is available could not be independently verified.
This includes the assertions of local officials that there are more than 400 Islamic State fighters in Kunar, 200 to 250 of which are said to be in Chapa Dara. It also comprises a handful of names of locals that are allegedly Islamic State commanders and had defected from the Taliban to the Islamic State, reportedly one or two years ago. Asked about how and why the defections had happened, sources could or would not give a clear reply. Contradicting such accounts, one police officer in Chapa Dara claimed that the local Islamic State fighters had not been Taliban before, but had joined the Islamic State because they had been oppressed and abused by the Taliban. Given that the officer remained unspecific, this should also be taken with caution. Allegations regarding some foreign fighters among the Islamic State group in Chapa Dara lacked any detail and, therefore, cannot be assessed.
What sources agreed upon is that the Islamic State takeover of parts of Chapa Dara in late March had been launched via undeveloped passages over the mountains from Korengal, a valley in the neighboring district of Manogai (also known as Dara-i Pech). While some accounts indicated that the Islamic State captured Korengal only back in January, two well-connected local observers told The Diplomat that the Islamic State had already more or less controlled Korengal and that the fighting in January had just solidified the situation. Such information about the Islamic State in Korengal is – like in Chapa Dara –obscure and unverified at best. In any event, this is only the latest chapter of fierce militancy in the Korengal valley, made infamous to a Western audience by the award-winning documentary film Restrepo about the deployment of U.S. forces there in 2007. The film described Korengal "as one of the most dangerous postings."
Such uncertainties about the Islamic State in these and other valleys of Kunar are not new. In fact, despite persistent assertions of an Islamic State presence in Kunar since at least 2016, such reports almost always lack specific details. This includes reports regarding Chapa Dara from at least as early as the beginning of 2018 and regarding some back-and-forth fighting with the Taliban in the district in the summer of that year.
In the few cases where some alleged proof was indicated, this could not be independently verified. For example, when the Afghan National Army in January 2018 claimed to have fought back the Islamic State in the Dewagal valley of Kunar's Sawkai district, the purportedly captured black flag of the self-styled caliphate could not be shown to this author during his visit to the front back then, nor did I ever receive the promised picture of said flag afterwards. Similarly, Khalili's assertions that now a black Islamic State flag flies in the sky at the entrance to the Digal valley in Chapa Dara could not be verified, as the distance from the government-controlled main road was too far to see for certain whether there was any flag at all. In both cases, and perhaps tellingly, as efforts were made to follow up on details, the statements of soldiers on the frontline became less clear.
Nevertheless, the fact that the Islamic State-affiliated news agency Amaq has regularly published claims of responsibility for fighting in areas of Kunar (including the latest attack in Chapa Dara), at times even accompanied by alleged photos, indicates that there is some Islamic State-related presence in the province. Some of the Islamic State's claims have also been corroborated by local sources and U.S. and Afghan government assertions of airstrikes hitting Islamic State fighters (including leaders) in Kunar.
However, there is anecdotal evidence that at least some alleged Islamic State fighters in Kunar have simply adopted a vague, locally-colored version of the Islamic State. In some cases this apparently happened for opportunistic reasons, usually fallouts with other insurgent groups that they were previously affiliated with. Defections were arguably also supported by the fact that many Kunaris (contrary to most other Afghans) are Salafists, which – due to ideological similarities – makes them more susceptible to switching to the Islamic State.
Further complicating the above is that some alleged Islamic State commanders in Kunar have a more-than-checkered history, with various sources at times contradicting each other as to which faction they have belonged to. Examples for this are the recently killed Najmuddin from Manogai district or Amanullah from Shigal district. Both were commanders of Hezb-i Islami, an insurgent group that only in 2016 reconciled with the Afghan government, and in both cases claims about their Islamic State affiliations are dubious.
In this regard, assertions made by local officials and in other reports that the Islamic State fighters in Chapa Dara have operational links to the group's main Afghan strongholds in the neighboring province of Nangarhar could neither be verified nor disproved, as they were not accompanied by the avowedly existing evidence.
All this raises the question of whether, or to what extent, such alleged Islamic State fighters in Kunar can be seen as full-fledged members of the Islamic State, or might rather be rogue opportunists who use the purported caliphate's notoriety to raise their profiles and whose activities are in turn sometimes claimed by Amaq to inflate the group's reach. Or whether some of them are incorrectly referred to as Islamic State fighters, solely because of their extreme Salafist views, as has apparently happened at least in one case in another province in Afghanistan.
Summing this up, a local journalist confirmed that no one really knows who the Islamic State fighters in Kunar are and who would be in charge of them.
There to Stay?
In any event, the uncertainty surrounding the group in Kunar does not make these militants less dangerous for locals, as the latest displacement of civilians in Chapa Dara proves.
This holds true despite the fact that during this author's visit to Chapa Dara on April 23, the situation was calm, with the Islamic State holding the two side valleys of Lindalam and Digal and the government in control of the main valley formed by the Pech river. This has reportedly been the case since the brief clashes in late March.
The Taliban are – according to locals and at least for the moment – out of the picture, with Khalili asserting that the Taliban fled over the mountains to the neighboring province of Laghman. There have also been rumors, though, that Taliban have escaped to government-controlled areas of Chapa Dara, disguising themselves as civilian refugees. Adding to the confusion, Taliban spokesman Zabihullah Mujahid told The Diplomat on May 10 that the Taliban had only lost control of Lindalam and Digal to the Islamic State for a few days, but then swiftly struck back and ousted the group from all parts of Chapa Dara. The latter claim was rejected by locals.
Be that as it may, the Taliban claim reinforces other indications that they don't intend to tolerate any Islamic State presence in Chapa Dara or elsewhere. Similarly, Khalili promised that government forces will "very soon" clear the mentioned valleys of insurgents.
However, given that two apparently smaller government attempts to enter the valleys were swiftly abandoned without any relevant advances, as well as general experience in Afghanistan, such promises to retake areas – be it from the government or the Taliban – are unreliable at best. Accordingly, the obscure Islamic State chapter may stay in Chapa Dara. And the displaced might be deprived of returning to their homes for a long time.
Franz J. Marty is a freelance journalist based in Afghanistan. He writes on a broad range of topics, but focuses on security and military issues. You can follow him @franzjmarty on Twitter.