South China Sea: Pentagon Slams China's 'Bullying' Behavior Against Vietnam
The statement follows an intensification of Chinese activity.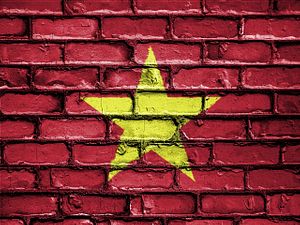 The U.S. Department of Defense issued a statement on Monday, supporting Vietnam and criticizing Chinese activities in Hanoi's exclusive economic zone. The statement described Chinese actions as "bullying."
The statement follows the intensification of activities by Haiyang Dizhi 8, a Chinese survey vessel, which approached the Vietnamese coastline over the weekend. The vessel was conducting activities in Vietnam's exclusive economic zone earlier this year, which the Vietnamese government sharply condemned.
"The Department of Defense is greatly concerned by China's continued efforts to violate the rules-based international order throughout the Indo-Pacific," the statement noted.
"China will not win the trust of its neighbors nor the respect of the international community by maintaining its bullying tactics."
The statement echoes a warning earlier this summer by the U.S. Department of State using similar language to condemn activities by Chinese vessels in Vietnam's exclusive economic zone at Vanguard Bank.
Morgan Ortagus, a spokesperson for the U.S. Department of State, released a statement then condemning China's "repeated provocative actions aimed at the offshore oil and gas development of other claimant states threaten regional energy security and undermine the free and open Indo-Pacific energy market."
"China's reclamation and militarization of disputed outposts in the [South China Sea], along with other efforts to assert its unlawful [South China Sea] maritime claims, including the use of maritime militia to intimidate, coerce, and threaten other nations, undermine the peace and security of the region," the U.S. State Department statement had added.
While the United States has long supported freedom of navigation and overflight in the South China Sea, Washington has been more willing to criticize specific Chinese behaviors this year.
China and Vietnam are two among six claimant states in the disputed South China Sea, much of which is claimed by Beijing under its capacious nine-dash line claim.
The Philippines, Malaysia, Brunei, and Taiwan all maintain claims in the area. Indonesia, while not a territorial claimant, has also clashed with Beijing over parts of its exclusive economic zone, which overlaps with the southern reaches of the nine-dash line.
In 2016, a Hague-based arbitration tribunal issued an international legal award in a 2013 case filed by the Philippines against China. That award found that China's nine-dash line claim had no valid basis in international law, including the United Nations Convention on the Law of the Sea.
Beijing has disregarded the 2016 tribunal's award and pressed its claims. The area where the Haiyang Dizhi 8 has been conducting survey activities is thought to be rich in hydrocarbon resources.