CPEC and Beyond: China and the US Fight For Influence In Pakistan
Beijing and Washington tussle to have their way with Islamabad's foreign policy decisions.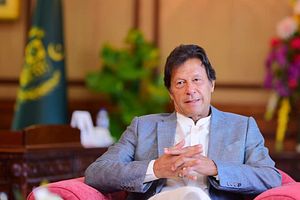 On Monday, the U.S. principal deputy assistant secretary of state for South and Central Asia, Alice Wells, in a statement said that a number of firms blacklisted by the World Bank had received contracts in the China-Pakistan Economic Corridor (CPEC).
In her renewed criticism, Wells, who is on a four-day visit to Pakistan, noted that the lack of transparency in the existing deals and the financial conditions imposed by China have increased Pakistan's overall debt.
This not the first time that Wells has criticized the CPEC. In November last year, Wells warned that the Chinese loans are "going to hang over Pakistan's economic development potential, hamstringing Prime Minister [Imran] Khan's reform agenda."
Broadly, CPEC has come under U.S. criticism due to its wider linkage to China's global Belt and Road Initiative (BRI) Project. While Washington's overt criticism of the project continues, it has also continued to insisted that Pakistan is a sovereign state that can make any trade deals that the country's leadership finds suited to its interests. After Wells' recent criticism of the project, U.S. Ambassador to Pakistan Paul W. Jones explained that Wells' "remarks were meant to generate a debate."
However, the assertion that Pakistan can independently make trade deals globally is flawed. In July last year, U.S. Secretary of State Mike Pompeo warned that any potential International Monetary Fund (IMF) bailout package for Pakistan should not be used to pay off CPEC loans. "Make no mistake. We will be watching what the IMF does," Pompeo said in relation to Pakistan's case at the IMF, where the United States carries significant influence.
On the other hand, Beijing's footprint in terms of expanding its influence in Pakistan and the region continues to grow. The fact that Pakistan can rely on Beijing's financial assurances regardless of their long-term costs is itself a proof of Washington's waning foothold in Pakistan.
While Pakistan has found a financier in China, it is also stuck in the middle of two political and economic heavyweights that have vested interests in attaining Pakistan's cooperation. Clearly, Beijing sees Washington's attack on CPEC as an attack on the BRI. There has hardly been an occasion when China's embassy in Pakistan didn't deny or reject U.S. accusations regarding the project's potential costs for Islamabad. "Although you can never wake up a person who is pretending to be asleep, we have to make our position clear and reject the negative propaganda by the U.S.," said a Chinese embassy spokesperson in response to Wells' recent comments.
Clearly, Pakistan doesn't want to give the impression that the country has completely become a part of either the Chinese or U.S. sphere of influence. Irrespective of China's growing clout and deep pockets, the United States will continue to remain a power that Pakistan would like to stay associated with. "We always hope that the U.S. can play its part in resolving [the Kashmir issue] because no other country can," said Pakistan Prime Minister Imran Khan during a recent meeting with President Donald Trump on the sidelines of the World Economic Forum. For many in Pakistan, Islamabad's cooperation with the United States in Afghanistan is due to fears of a backlash rather than a willing cooperation.
However, it's unlikely that Washington's criticism of CPEC will wear out in the coming months or years. Arguably, policymakers in Pakistan are wary of Islamabad's growing financial reliance on China but at the same time they have been unable to win any significant financial support from Washington. Khan's government demanded a major review to CPEC projects when it came to power in 2018. However, to Khan's frustration, Beijing was only willing to review projects that had not started yet. Reportedly, the matters were settled after Pakistan's top military leadership intervened and assured China of Islamabad's commitment.
Arguably, CPEC has emerged as the next battleground for the United States and China's economic rivalry. Both countries' warnings and counterwarnings are coming at a time when Pakistan is looking for financial assistance from both countries. Pakistan may not like China's financial terms, but there is no other major investor willing to assist Islamabad at a time when the country is stuck in a major financial crisis.
Moreover, while the United States has assured Pakistan that it is greatly enhancing trade with the country, it's unlikely that Islamabad will win Washington's economic support at a level even close to Beijing's financial commitments. However, it remains to be seen if Washington can allow Beijing to completely wipe out its ability to influence Pakistan's policymakers.
It's unlikely that Islamabad is going to be able to balance its relationship between China and the United States in the coming months or perhaps years as both countries compete for influence in Pakistan.