Foreign Power Threat Looms Over Kem Sokha Trial in Cambodia
The hearings have again spotlighted the ruling government's obsession with threats from foreign powers and color revolutions.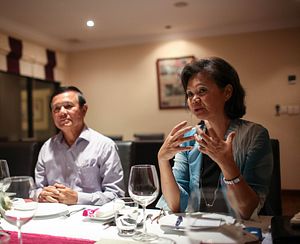 For two years, the leader of Cambodia's opposition party has languished in prison or home detention awaiting his trial for treason when prosecutors were expected to at least clarify allegations that foreign powers had conspired to topple the government of Prime Minister Hun Sen.
With the trial now ongoing, while opportunities to do just that have arisen, the best prosecutors could argue so far was an interpretation that the word "they" inferred "any foreign government".
It's an argument in semantics with barely a reference made to the United States. Annoyed with the tone of the prosecutor's argument, the defense even requested a linguistic expert to interpret the word "they."
But the Phnom Penh Municipal Court rejected the request.
Kem Sokha's arrest followed the release of a video, shot badly on a smart phone in Springvale, a southeast working class suburb of Melbourne in Australia, which is heavily populated by a Khmer and Vietnamese diaspora.
In the video Kem Sokha can be seen and heard telling his faithful that his Cambodian National Rescue Party (CNRP) was offered outside political advice which the government here would later insist was evidence of an international conspiracy.
He refers directly to the United States and added: "The USA, which has assisted me, has asked me to take the model from Yugoslavia, Serbia, where they were able to change the dictator Milosevic.
"I don't just do what I feel, I have experts, university professors in Washington DC, Montreal, Canada hired by the Americans in order to advise me on the strategy to change the leaders."
But observers say prosecutors are shy in referring to the United States, which imposed sanctions on two Cambodian generals late last year in response to corruption and illegal logging.
Instead there are veiled references. Speaking outside the court, government lawyer Key Tech, argued against defense arguments that the United States was just one of many countries where Kem Sokha had enjoyed good relations.
Others included China and Japan. But even then, prosecutors again declined to say exactly who the opposition leader conspiring with.
"Our team thinks that the evidence is meaningless and Kem Sokha should not be exonerated because of pictures showing him shaking hands with a Chinese president and a Japanese prime minister," he said.
"They dare not show pictures that he sat and discussed secrets and devised a plot with a foreign state… We already have that evidence and we will disclose it to incriminate him."
Those pictures and that evidence, when produced, should also reveal who else Kem Sokha was allegedly conspiring with and that would presumably lead to further criminal charges, unless diplomatic immunity apples.
The courtroom semantics are similar to last year's trial of the Australian film maker James Ricketson, who was accused of spying. In court Ricketson repeatedly asked 'who for? The United States?' And each time the response was silence.
Ricketson was never told who he was spying for but was found guilty anyway, jailed, pardoned and deported. Kem Sokha faces a 30-year jail term if convicted.
Both cases relate to an alleged 'color revolution', which the government says was a plot to oust Hun Sen, and this justified a crackdown on the independent media and a ban on the CNRP from contesting the 2018 election.
Hun Sen's ruling Cambodian People's Party (CPP) then won every seat in the National Assembly.
Kem Sokha's case is also being heard with the European Union poised to announce whether it will withdraw trade preferences enjoyed by Cambodia.
Preferences, which favor industries like garments, grant Cambodian manufacturers low tariff access to markets in the EU under its Everything But Arms (EBA) policy in return for Phnom Penh meeting international standards on issues like human rights.
But that is under threat in response to the 2018 ballot, widely derided by Western countries and human rights groups.
A decision on EBA is expected by the end of February. Meanwhile, Kem Sokha's trial will resume this week, with few signs of any clarity regarding the supposed threat from foreign powers to Cambodia but also no indications that such narratives will be going away anytime soon.