Japan's 3/11 Recovery Stalled by Fukushima Decommissioning Delays
Delays in dismantling the disaster-stricken nuclear power complex cast doubt on whether recovery goals will move forward according to schedule.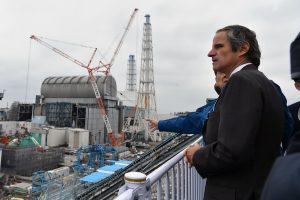 Nine years after a quake-triggered tsunami sparked a triple meltdown at Fukushima Daiichi nuclear power plant, decontamination and decommissioning continues in northeastern Japan. The ultimate goal of removing all debris is expected to take anywhere between 30 to 40 years, but progress has been slower than originally planned. So far just one-fourth of decommission work has been completed, drawing attention to work that has not yet begun.
The Fukushima decommissioning and decontamination draft has been amended five times. While changes published in December offered a specific time frame for the first time, the latest timetable for debris removal has been pushed back five years, citing the need for additional safety precautions. Previously, the process of removing spent fuel was scheduled from 2021 to 2024. But work on reactor two looks more likely to start in 2025 and last until 2027, followed by reactor one work commencing sometime between March 2028 and March 2029.
The powerful tsunami, which reached over 40 meters in some areas, took the lives of 22,167 people. At the same time, the loss of power to the entire Fukushima Daiichi plant caused reactors one, two, and three to overheat, sparking hydrogen explosions and the release of radioactive contaminants. This forced 160,000 survivors to evacuate. Despite evacuation orders being lifted in some of the "difficult to return" areas, many still opt to stay away from their homes nine years later.
The next decommissioning stage sets out the removal of 4,471 spent fuel rods inside the cooling pools of reactors one to six. But the biggest obstacle is finding a way to locate and remove the molten nuclear fuel. With frequent delays, evacuees face a constant sense of uncertainty, tangled in a waiting game to see whether decommissioning work can be completed in 30 years.
Reactor two is seen as the safest and easiest option to start full-scale debris removal since it suffered the least structural damage with only "some fuel" melting through the pressure vessel and accumulating at the bottom of the containment vessel.  But with no established method for debris retrieval, attempts to survey the location and distribution of molten nuclear fuel among the rubble requires a lengthy trial and error process. In mid-February 2019 an attempt to probe and collect samples from reactor two failed to find and lift the main nuclear fuel debris, instead lifting portions of pebble-like sediment with the lowest radiation readings from the surface. At this stage there is no way for TEPCO, the company that owns the Fukushima Daiichi plant, to determine where fuel debris lies among the rest of the metal debris. It's estimated that reactor two alone contains 237 metric tons of debris while reactors one and three contain a combined 880 tons. The complexity of debris removal requires developing specialized technology that does not yet exist.
Also plaguing decommissioning efforts is the battle over how to safely dispose of 1 million tons of contaminated water that were used to cool nuclear fuel. Currently, huge tanks on the premises store the polluted runoff, which could fill 400 Olympic swimming pools, but space is expected to run out by mid-2022.
On average 170 tons of contaminated water is produced to cool fuel in nuclear reactors. Without constant cooling, nuclear fuel risks melting from its own heat in a process called decay heat. With two years needed to prepare a disposal method, time is running out for a final decision.
Government proposals to slowly release contaminated water into the ocean has sparked fierce backlash from locals and the agriculture and fishing industries, who argue traces of radioactive materials such as tritium still found in "treated" water could further harm a region still struggling to restore its international reputation.
Last month, International Atomic Energy Agency (IAEA) Chief Rafael Mariano Grossi visited the Fukushima nuclear power plant where he commended the government's "dual approach" of decommissioning the plant while revitalizing the local community. Grossi said the IAEA could help provide reassurance to the public that Japan's plan to release treated water into the ocean meets international standards.
To make matters worse, decommissioning operations have been temporarily suspended due to the spread of coronavirus. Tepco was forced to cancel on-site inspections of reactor one scheduled during March, which would have brought together some 1,800 experts and members of parliament, as well as local residents and student groups.