Are Philippine Militants Looking to Take Advantage of COVID-19?
Hints of a united front among Abu Sayyaf Group factions could sorely test a Philippine military already stretched thin by the pandemic.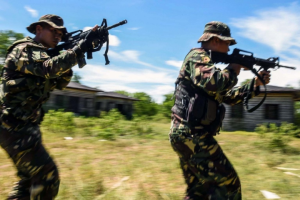 On April 17, around 11 Armed Forces of Philippines (AFP) soldiers were killed and at least 14 others wounded in a fierce gun battle with dozens of Aby Sayyaf fighters, some linked to the Islamic State (IS), in the southern island of Mindanao. The deadly clashes were believed to have occurred as state troops were tracking down Hajan Sawadjaan, an Abu Sayyaf Group (ASG) commander and the touted leader of IS Philippines, in the forested mountains off Patikul, Sulu province.
The region has, for years, been bedeviled by kidnapping for ransom activities, beheadings, and suicide attacks, mostly blamed on ASG, a violent offshoot of the decades-long separatist unrest in the country's south. Following the Patikul incident, reportedly the deadliest such clash in months, the military was unable to determine the number of militants either wounded or killed, although officials said Sawadjaan worked alongside Radullan Sahiron, another key ASG commander who leads his own faction. Reports indicated Sahiron's fighters had been in close proximity and contact with Sawadjaan's forces.
In recent years, Abu Sayyaf militants from the respective factions have kept a distance from each other due to ideological and leadership differences. However, recent developments have fueled speculation that the two abovementioned leaders may have put aside their long-held differences and merged forces under Islamic State's international banner.
Such claims may be premature, given the complex dynamics inherent in terror alliances in the Philippines. Nonetheless, the possibilities rendered by such a union portend a disturbing trend for the threat landscape in the Philippines and, by extension, the wider region.
Uniting the Sawadjaan and Sahiron ASG factions presents a unique dynamic. While there is little evidence of open animosity, they diverge significantly in their ideology and leadership traits.
Sahiron, regarded as the senior leader in ASG, has so far refused to publicly align himself with IS, and appears more interested in pursuing criminal activities. This led, in 2014, to a splintering within the Abu Sayyaf, with other key leaders such as Isnilon Hapilon, Sawadjaan, and various sub-leaders breaking away to pursue bolder terrorist activities. Hapilon was subsequently declared the emir of the IS East Asia Wilayah and led the five-month long Marawi siege in 2017, although he was later killed.
While no official declaration was made, Sawadjaan was mooted to have been appointed the next IS emir to unite the various pro-IS factions in Mindanao. Under his command, kidnap-for-ransom operations were reinitiated in September 2018, following a lull of almost two years. Sawadjaan also orchestrated the first Jolo church suicide attacks in January 2019, for which he recruited two Indonesian Jamaah Ansharut Daulah (JAD) members. This was followed by a series of attempted suicide attacks in Sulu, mainly involving foreign fighters from the Middle East.
If, as some have speculated, Sahiron embraces IS, the AFP will have to deal with a more radically aligned and fortified ASG network, estimated to number between 200 and 300 fighters. Sahiron commands a significant proportion of these militants. Moreover, collaboration between Sahiron and Sawadjaan can inspire other ASG factions based in Basilan to join them. These combined forces could then potentially be mobilized against the Philippine military, whose resources are severely stretched dealing with the domestic COVID-19 outbreak.
Indications that Sahiron's ASG faction has embraced IS ideology are present, but not definite. In a statement, IS claimed "16 killed from the Crusader Philippines Army" shortly after the April 17 incident. This showed tight communication between the official IS media outlets and militants in Sulu, and it was notable Sahiron's group did not protest the pronouncement.
Alternatively, it is also possible Sawadjaan could have sought a tactical alliance with the non-IS aligned Sahiron, creating a potential precedence for IS groups in the country and wider region to collaborate with other non-IS aligned terrorists and criminal organizations on joint operations during the COVID-19 pandemic.
The contest for leadership in the ASG remains uncertain, with both Sahiron and Sawadjaan displaying contradictory approaches in leading their forces. Such group dynamics would need to be ironed out before collaborations can be further fortified.
Sahiron inherited the leadership of ASG after the passing of Khadaffy Janjalani in 2006. However, ASG under Sahiron's leadership was dormant, passive, and conservative.  His primary operations are perceived to be self-serving criminal activities and territorial defense. Nevertheless, ASG members continue to respect the 68-year-old leader due to his seniority. Sawadjaan's pro-IS cell, in contrast, has been credited with pioneering suicide attacks in the Philippines despite strong cultural opposition toward such a tactic.
Having previously served under Sahiron, Sawadjaan is likely to face resistance from his older counterpart, who prefers a more conservative approach to militancy. It is uncertain if these kinks in operational preference have been addressed.
The Philippines government continues to face grave security challenges on multiple fronts. While significant resources have been channeled to address the worsening domestic COVID-19 outbreak as well as eradicating ASG-linked terrorism, other groups continue to also pursue extremism.
Another major group is the pro-IS Bangsamoro Islamic Freedom Fighters (BIFF). Of late, the BIFF has made renewed appeals for followers to launch attacks. Following the unhappiness caused by mosque closures to curb the spread of COVID-19, a BIFF leader, Sheik Muhiddin Animbang, alias Commander Kagi Karialan, urged fighters to launch attacks against government assets because they were "destroying Islam" by disallowing congregation in mosques.
Further appeals to exploit the COVID-19 outbreak to raise arms against the authorities are possible. BIFF militants are mainly located at the densely forested and mountainous regions of Maguindanao and Cotabato. There, loose firearms and explosive materials are not difficult to attain. Hence, an armed assault at a police or military outpost south of Mount Piapayungan of Maguindanao and Cotabato cannot be ruled out.
The unification of the Sawadjaan and Sahiron ASG factions and the appeals for attack by BIFF serve as a reminder that terrorism remains an ongoing threat in the Philippines. Hence, it is crucial for the government to double down on investigations of any linkages between terrorist and criminal groups to head off any opportunities for collaborations that can further raise the radical temperature on the ground.
Kenneth Yeo is a Research Analyst in the International Centre for Political Violence and Terrorism Research (ICPVTR), S. Rajaratnam School of International Studies (RSIS)