New Zealand and Australia Begin Relaxing COVID-19 Restrictions
Australia and New Zealand have begun easing restrictions and are discussing the possibility of a "COVID-safe travel zone" between the two countries.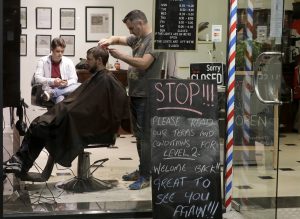 Earlier this week, New Zealand's Jacinda Ardern told New Zealanders they will soon be able to return to work and travel interstate. Ardern's announcement followed Australia's unveiling of a three-step plan for restarting its economy and letting Australians resume social activities. 
Throughout the month of April, New Zealand's restrictions were among the harshest in the world as they pursued a policy of eliminating the virus. Only supermarkets, petrol stations, and pharmacies were open and only one person per household could go to shops for essential items. Exercise was restricted to once a day.
Now, restaurants, shops, gyms, and playgrounds will reopen. People will be able to meet up with family and friends in groups of up to 10 people. Schools will gradually reopen from May 18. Businesses will be required to keep staff at a distance from one another and there are restrictions on how many people can sit at one table in a restaurant. Bars and pubs are set to reopen next week. 
Ardern said while there are still active cases in the country authorities are confident in slowly reopening.
"We went hard, and we went early," she said. "We got control of the virus and we are now in a position where we can ease those controls and open up our economy."
"We will have reopened most businesses in New Zealand and sooner than many other countries around the world…That fits in with our plan to go hard, go early, so we can get our economy moving again sooner."
Siouxsie Wiles, an associate professor and head of the Bioluminescent Superbugs Lab at the University of Auckland, told The Lancet journal earlier this week that one of the country's key successes has been the way in which COVID-19 was framed to the general public and how officials communicated their response. 
"We don't want the public to feel like they are being lied to," she said. "Elimination to everyone means that it is gone. But in epidemiological terms, it means bringing cases down to zero or near zero in a geographical location. We will still see cases… but only cases in people who have arrived from overseas." 
New Zealand is expected to consider further easing restrictions in a fortnight's time. 
In Australia, phase one of lifting restrictions will allow up to five visitors at home and up to 10 people for social gatherings outside. Cafes and restaurants are allowed to seat up to 10 patrons at a time, so long as they maintain four square meters of space per person. Childcare centers and schools will also open soon.
The government has lightened its tone on working from home, too, switching from "employers should allow people to work from home where possible" to urging people to work from home only "if it works for you and your employer."
While the federal government in Canberra announced its plan for easing restrictions, it has been left to state governments to decide when to implement each phase. When restrictions are lifted will mostly be guided by how each state is coping with its current case load as well as their preparedness to respond to future outbreaks. 
Phase two would allow slightly larger gatherings, while phase three would resemble a sense of normality: Cafes, restaurants, and food courts could operate at full capacity. Up to 100 people can get together for social events and authorities could consider opening bars and nightclubs. 
Morrison said while the national cabinet would hope to see phase three restrictions lifted by July, it is "totally up to states and territories" and "subject to the health advice."
By locking down early, both countries were able to win time for hospitals to ramp up their equipment and capabilities and commence widespread testing. New Zealand now has just 65 active cases while Australia has 594. Ardern claims they have successfully eliminated the virus. Australia is having similar success but is not publicly pursuing the idea of elimination. 
Both countries hope now to focus on kick-starting their economies. Allowing domestic travel will be a good start to boosting the tourism sector, but going a step further, leaders in Wellington and Canberra have floated the possibility of a trans-Tasman bubble. Principally motivated by economic necessity, the arrangement would allow tourism between the two countries without a two-week quarantine. 
With strong incentive from both sides to get the border open, it will likely come down to how soon Australia can match New Zealand's efforts in eliminating community transmission. Neither country has entertained the idea of opening their borders to the wider region anytime soon, although Fiji has shown willingness to be part of the travel bubble.
Both governments have cautioned their citizens to respond to the easing of restrictions in a responsible way. The Sydney Morning Herald reported yesterday that a meeting of Australia's top health experts expressed concerns that too many people were disregarding the government's coronavirus messaging following the announcement of an easing of restrictions. 
In New Zealand, Ardern said that while they can now claim they've eliminated the virus, there's still a long way to go.  
 "Go see your mum, but don't turn it into a massive reunion," she said. "We may have won a few battles, but we have not won the war. We are still recording new cases most days."