Indian Frustration With China Grows
New Delhi's responses to Beijing's efforts — such as raising the Kashmir issue at the U.N. — are becoming increasingly harsh.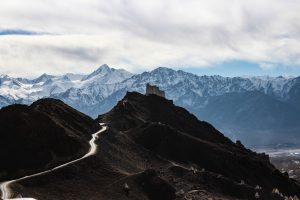 Since August 2019, China has consistently raised the Kashmir issue at the United Nations Security Council. Last week, on August 5, China again sought a discussion on Kashmir under the "Any Other Business" category in the UN Security Council.  This was the third time that China has done this, following earlier efforts in August 2019 and January 2020. 
Indian responses to such efforts, as well as Chinese comments, are becoming harsher, a possible  indication that the Indian government is losing patience with Beijing.  
Kashmir has not been on the U.N. Security Council's agenda since 1971. China resurrected the Jammu and Kashmir issue in the Security Council in August 2019 following the Indian decision to nullify Article 370, the special status given to the state of Jammu and Kashmir under the Indian Constitution. China has continued to describe the Indian action to remove the special status of Jammu and Kashmir and bifurcate the state into two union territories as affecting its territorial claims in the Ladakh region. In August 2019, China said the Indian decision was "unacceptable." India rejected China's criticisms, saying the decision was an internal matter with no impact on its external borders. China has persisted. 
After last week's UNSC meeting, India's Permanent Representative at the UN in New York tweeted, "Another attempt by Pakistan fails!" Although the tweet did not name China, Indian officials elsewhere explicitly named China as responsible. The Indian Ministry of External Affairs (MEA) in a statement said:
We have noted that China initiated a discussion in the UN Security Council on issues pertaining to the Indian Union Territory of Jammu & Kashmir. This was not the first time that China has sought to raise a subject that is solely an internal matter of India. As on such previous occasions, this attempt too met with little support from the international community. We firmly reject China's interference in our internal affairs and urge it to draw proper conclusions from such infructuous attempts.

Unnamed Indian officials pointed out that the United States and France have been especially notable in rebutting Chinese attempts. They have told the Indian press that the United States took the lead in in challenging China's actions and was followed by other UNSC members as well.  
Indian responses to Chinese comments have become angrier. For example, Chinese Foreign Ministry spokesperson Wang Wenbin stated that Beijing pays close attention to the Kashmir issue and that "any unilateral change to the status quo in the Kashmir region is illegal and invalid." The spokesperson added that the issue has to be "and peacefully resolved through dialogue and consultation between the parties concerned." Wang added that "China sincerely hopes that the two sides can properly handle differences through dialogue, improve relations and jointly safeguard peace, stability and development of the two countries and the region."  
Despite that slightly gentler tone, India responded harshly, stating that "The Chinese side has no locus standi whatsoever on this matter and is advised not to comment on the internal affairs of other nations." This kind of response is becoming more common among Indian officials, a possible reflection of the frustration that New Delhi is feeling with Chinese behavior. During a recent interview, Indian Foreign Minister S. Jaishankar pointedly stated that "the state of the border and the future of our ties… cannot be separated," in essence suggesting that the standoff at the border will affect the bilateral relationship. 
This is a link that India has been made before, but not (as starkly) in the recent past. For example, during President Xi Jinping's visit to India in September 2014, Prime Minister Narendra Modi made this link in response to a border confrontation that was ongoing during that state visit. Modi said publicly, with Xi at his side, that he had "raised our serious concern over repeated incidents along the border. We agreed that peace and tranquility in the border region constitutes an essential foundation for mutual trust and confidence and for realizing the full potential of our relationship." He went on to add that "peace and stability in our relations and along our borders are essential for us to realize the enormous potential in our relations," explicitly making the linkage between the border and peaceful bilateral cooperation. 
India is also stepping up its strategic partnership with like-minded Indo-Pacific partners. This is prompted by a number of factors, including the pandemic and Chinese military pressure in Ladakh, rather than just China's antics at the UNSC, but there appears to be an effort to signal further linkages. Tweeting about his conversation with U.S. Secretary of State Mike Pompeo, Jaishankar stated that he also "(D)iscussed meeting in the Quad format in the near future." A day later, the minister had a virtual meeting with Pompeo, Australian Foreign Minister Marise Payne and others.

There is little doubt that frustration is growing among officials in New Delhi at the intransigence from Beijing, both in terms of the Ladakh confrontation but also about bilateral relations more broadly. Even if the current problems are resolved, Sino-Indian ties are unlikely to swing back to normal for some time.