Don't Underestimate India's Sidelining of Huawei
New Delhi didn't "ban" Huawei at the behest of Washington. It sidelined the Chinese company for its own complex array of reasons.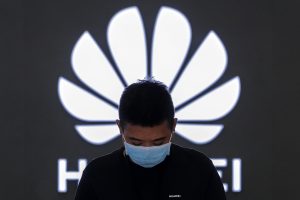 The Chinese telecommunications firm Huawei has become a regular in the parlance of technology-focused diplomats, not to mention anyone following the company's highly controversial rise as a global leader in 5G cellular communications technology. When other countries were not focused on fifth generation technology, the Chinese government was; it propped Huawei up through subsidies and tax breaks. When other companies were not able to offer everything in the 5G "stack" from cell phones to radio towers, Huawei was rapidly pushing those systems off the manufacturing line — and selling them to countries at a massive discount.
In December 2019, the Indian government permitted Huawei to participate in the country's 5G trials, effectively refusing to conform with the United States government's insistence that partners and allies worldwide stop the Chinese state-backed firm from supplying core parts of their next-generation communications infrastructure. But now, the Indian government is sidelining Huawei in its domestic telecommunications market. This move, a reversal from New Delhi's earlier stance, should not be underestimated.
First off, "sidelining" is a better descriptor than "ban" precisely because the Indian government has not, currently, issued any kind of legal prohibition on Huawei 5G technology. In June, Reuters reported that officials instructed state firms to keep Chinese telecom equipment out of their networks in favor of domestically sourced technology. In late August, the Financial Times reported that Indian officials are likely to quietly push Chinese telecommunications gear, including from Huawei, out of the country's networks, rather than publicly implement a legal block and risk further rebuke from Beijing amid mobile app bans and other political tensions.
Attributing this change to the Trump White House would be a fundamental error. The real risks of Huawei 5G technology are numerous, from Huawei equipment serving as a vector for Chinese government espionage to the economic issues with an authoritarian-state-backed firm dominating the global market of a critical emerging communications technology. But the U.S. campaign against Huawei did not clearly emphasize those risks, or delineate between them, or provide evidence of risks like espionage at Beijing's behest. Hence why it has taken so long for so many countries to come around to — or to somewhat align with — the United States' position.
A more accurate explanation for India's shift is a combination of political and economic factors in India, from border tensions with China to Prime Minister Narendra Modi's growing skepticism of Chinese tech investment and equipment. There's also surging tech-nationalism in the country: Indian citizens hurling televisions marked "Made in China" off their balconies is a stark demonstration of this point.
The Indian government changing its position here is significant. Despite much theatrical bonhomie at every gathering, President Donald Trump and Modi have diverged on a number of technological issues. Even if not attributable to any semblance of coherent American diplomacy, the Indian government's recent decision to sideline Huawei and its 5G technology does put the U.S. and Indian tech policy positions into some alignment. Politically speaking, at a time in which the Chinese government's technological advocacy — including its promotion of a state-controlled, authoritarian vision of the internet — is going increasingly unchallenged, this general alignment is significant. It may not be any time soon, nor under the current leaderships, but great potential for bilateral tech cooperation awaits.
Much of this also comes back to the economic effects of New Delhi sidelining Huawei. The Chinese telecom already has an incredibly small share in the Indian smartphone market, for example; it is utterly outcompeted by the likes of Xiaomi (based in China) and Samsung (based in South Korea). Gaining a foothold in 5G technology would therefore be a financial coup for the company. With over 1.3 billion people, India is the second most populous country on earth. It has a rapidly growing technology sector and a government that is very interested in digitalization. Huawei has in recent years positioned its Honor smartphone brand as a potential game-changer for its market share in India, but 5G technology was always a part of that as well — the hope being that low prices, rapid product deployment, and the unique offering of every product across the 5G "stack" would give Huawei a critical edge.
Getting pushed out of India's telecommunications ecosystem, via the government telling firms to exclude its equipment (or at least to "preference" equipment made elsewhere), hurts this vision. In turn, the room for competitors to squeeze out Huawei and other Chinese technology companies in India only grows. The Modi administration's numerous app bans have already shifted the landscape of cloud computing competition between U.S. and Chinese firms in India, possibly to American companies' advantage, and excluding Huawei could have similar effects.
Furthermore, it's worth noting the additional market significance of a country as large and influential as India sidelining Huawei's 5G technology: standards. The development of open standards, or the agreed-upon technical rules by which digital devices operate, has enabled the global internet we see today. The reason many brands of laptops and smartphones can connect to many brands of routers and radio towers to — at least in places with a free and open internet — communicate around the world is that standards were developed through an open and interoperable process. This meant companies, academics, and other expert stakeholders assembled in multi-stakeholder forums and figure out the agreed-upon rules that would enable digital interoperability. No matter the company stamp on the back of the device, many of the rules for internetworking and communication were shared.
When 5G standards are open, it's therefore possible for a vendor to mix and match different kinds of equipment — after all, that gear would use the same digital rules for transmitting data. Contrarily, when standards are closed, as many Chinese internet companies prefer, vendors "lock-in" results: because the rules for digital communication weren't developed with many stakeholders having a say, one firm's equipment might not plug-and-play well with others. In a chaotic and inarticulate U.S. diplomatic campaign, this is another economic risk that hasn't received much attention. If Huawei has a 5G foothold in a country like India, the worry goes, it won't just lock vendors into staying with its equipment, or buying its equipment across the whole stack from radio towers to smartphones; that market dominance might give Huawei further leverage in setting the rules for the software applications developed to run over the 5G systems.
Collectively, this is why India's sidelining of Huawei should not be underestimated: It was not necessarily a long time coming, nor was it the inevitable result of an American campaign against Huawei, nor is it merely political signaling. But the recent shift puts the Trump and Modi administrations into far more alignment on 5G economic and security issues. It notably hurts Huawei's prospects at getting any more market share in India, and thereby hurts its prospects at securing a notable market foothold in places outside of China (given how much India composes of that potential global market). And on the standards front, too, the pushing of the Chinese state-backed firm's 5G equipment out of Indian telecom networks is bound to have significant impacts on competition and interoperability of this next-generation technology.
Justin Sherman (@jshermcyber) is a fellow at the Atlantic Council's Cyber Statecraft Initiative and a research fellow at the Tech, Law & Security Program at American University Washington College of Law.