India and Japan's Proactive Convergence Continues: The ACSA and Beyond
The conclusion of the ACSA is another milestone in a nearly two decade-long process of strategic convergence.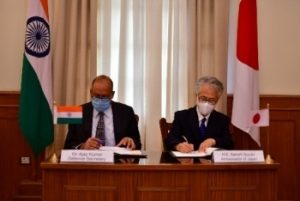 A little less than two years after they began formal negotiations on the matter after an October 2018 leader-level summit, India and Japan last week concluded their Acquisition and Cross-Servicing Agreement (ACSA). Like the Logistics Exchange Memorandum of Agreement (LEMOA) with the United States and ACSA agreements that New Delhi maintains with five other countries, the bilateral arrangement will allow the armed forces of both countries to "exchange supplies and services on a reciprocal basis during exercises in which both participate," as The Diplomat's Abhjinan Rej explains.
The ACSA speaks to what has been a near-two decade process of strategic convergence between New Delhi and Tokyo, two major swing powers in the Asia-Pacific. Following a visit to India by Japanese Prime Minister Yoshiro Mori back in 2000, the two countries have found much to agree on insofar as their geopolitical interests in the Indo-Pacific region are concerned. In fact, together, India and Japan anchor the two ends of the Indo-Pacific. Given their growing concerns about China, it's unsurprising to see continued progress building on landmark past agreements, including their 2006 declaration of a "strategic and global partnership" and 2008 conclusion of a joint declaration on security cooperation. The preamble to their 2008 agreement, for instance, observed that both countries have a "mutual stake in each other's progress and prosperity." That remains as true today as it was then—particularly as concerns rise in both New Delhi and Tokyo about the sustainability of Asia's regional security architecture in the face of a rising and more ambitious China.
For Japan's outgoing prime minister, Abe Shinzo, the conclusion of the ACSA with India represents a capstone on a longstanding strategic project. Abe, who more so than any single Japanese leader in the past two decades has driven Indo-Japanese convergence, saw Tokyo's fate in Asia as very much intertwined with New Delhi's. The origins of the Indo-Pacific as a geostrategic concept can be traced back to a speech Abe delivered to the Indian parliament back in 2007, during his first non-consecutive prime ministerial term. Abe then referred to the "confluence of the two seas," and in the ensuing years, India and Japan developed their bilateral security partnership while further pursuing networked minilateral consultations, including in the quadrilateral format with the United States and Australia.
In this context, the ACSA should be understood as an enabler of greater Indo-Japanese cooperation. Since 2015, Japanese Maritime Self-Defense Force warships have become a regular presence in the Indian Ocean and arrangements like ACSA can and should facilitate longer deployments for the MSDF and encourage additional interactions with the Indian Navy. It's clear that Tokyo sees this agreement as critical to a broader strategic project: preserving the regional status quo. The Japanese Foreign Ministry's readout underscores that the agreement will "enable [India and Japan] to actively contribute to international peace and security."