Indian Defense Minister Visits Tehran Amid Predictable Complications in Ties
Having lost significant leverage over Iran, India must now contend with the warming ties between Beijing and Tehran.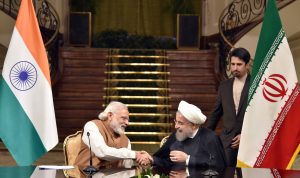 Indian Defense Minister Rajnath Singh met with his Iranian counterpart in Tehran on September 5 amid growing concern in New Delhi about the future of Afghanistan. As Singh tweeted on Sunday: "Had a very fruitful meeting with Iranian defense minister Brigadier General Amir Hatami in Tehran. We discussed regional security issues including Afghanistan and the issues of bilateral cooperation."
Singh flew to Iran's capital from Moscow where he had attended the Shanghai Cooperation Organisation (SCO) defense ministers' meet and also held bilateral talks with Chinese Defense Minister General Wei Fenghe, among others. Singh's Iran trip comes against a backdrop of growing Indian tensions with China, whose patronage has been enthusiastically sought by Iran, as well as the Iranian clerical leadership's vocal concern about the state and welfare of India's Muslims in Kashmir and elsewhere.
It also comes at a time when India-Iran relations have encountered structural constraints, not least from U.S. sanctions on Iran which have impinged on Indian infrastructure projects there. In the recent years, the Modi government has vastly diversified its relationships in the Middle East, and significantly deepened its outreach to Saudi Arabia as well as Israel, Iran's regional nemesis. India has also reached out to the UAE whose recent decision to establish ties with Israel has angered Iran.
Like many countries in the region, Iran has found – and sought to exploit – the increasingly zero-sum nature of the U.S.-China strategic rivalry. Since the Trump Administration pulled the U.S. out of the landmark Joint Comprehensive Plan of Action (JCPOA) in 2018 – under which Iran agreed to curb its nuclear ambitions in exchange of relief from sanctions – China has stepped in on Iran's, and the JCPOA's, behalf. Beijing also rebuked Washington after the U.S. assassinated key Iranian Revolutionary Guard Corps commander Qasem Soleimani in January.
Reports emerged in July this year that Iran and China are on the verge of signing a wide-ranging agreement spanning economics and security issues, following up on a proposal made by Chinese President Xi Jinping during his trip to Iran in 2016. While details of the agreement are yet to be finalized, it is likely to offer Tehran additional leverage over the West. As Ellie Geranmayeh of the European Council on Foreign Relations has argued, Iran can dangle the possibility of an agreement with China in front of Western capitals in order to secure "some useful bargaining chips in future negotiations with Europe and the U.S. over sanction easing: Tehran can portray itself as a balancing force in Western capitals' relationships with Beijing and Moscow."
It is quite likely that Tehran's calculus vis-à-vis New Delhi would be similar. As part of India's strategic infrastructure development initiatives, the country has committed to opening up land links between Iran and Afghanistan and developing parts of the port of Chabahar on Iran's coast. Both initiatives have strategic import for India. As the Hindu's Suhasini Haidar explained, the rail link between Chabahar and Zahedan on the Iran-Afghanistan border will end Pakistan's ability to control access to the landlocked nation. Furthermore, India's foothold in Chabahar will be the country's answer to the Pakistani port of Gwadar, virtually next door, which is being developed by China.
That said, both projects continue to languish due to complications arising from U.S. sanctions provisions that came into force following the American withdrawal from the JCPOA. (For more on this, see the 2018 report chapter that I wrote on the subject.) In early July, reports emerged that Iran was pushing India out of the Chabahar-Zahedan railway project, something the Indian foreign ministry has denied. India has also made little progress with the development of the Farzad-B gas block in Iran. The Indian foreign ministry announced in July "that in the immediate future, Iran would develop the field on its own and would like to involve India appropriately at a later stage." India stopped importing oil from Iran in May last year in order to comply with U.S. sanctions regulations, an amount that made up 10 percent of its total petroleum imports.
With these unpleasant developments in the background, the risk India now must manage is the possibility of an expansion of the Chinese presence in Iran and the attendant complications in Afghanistan. Having lost significant leverage over that country for a variety of reasons, Tehran may indeed play its China card even more pronouncedly in its relations with New Delhi. How potent that may be remains to be seen.