Japan's Suga Set to Authorize Arms Sales to Vietnam
Prime Minister Suga is also promising to bolster Japan's economic engagement with Southeast Asian Nations.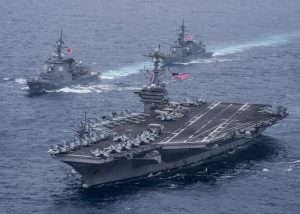 On his maiden overseas trip, Japan's newly appointed Prime Minister Suga Yoshihide is expected to sign an agreement allowing his government to export defense equipment and technology to Vietnam.
The likely move, which was reported by Nikkei Asia on October 14, is intended to stiffen the military capabilities of Southeast Asian partners who share Tokyo's concerns about China's growing maritime power. Suga will sign the deal on his upcoming state visit to Vietnam, part of a tour that will also take him to Indonesia, another important Japanese partner in Southeast Asia.
In 2014, Abe ended a decades-long ban on the export of weapons and military hardware, a move aimed at helping Japan assume a larger regional security role in the face of China's increasingly assertive actions in the region. The export ban, instituted in 1967, was one of the most visible pillars of Japan's pacifist postwar foreign policy, along with its pacifist constitution, which Abe tried (but failed) to amend.
Since the lifting of the ban, Japan has struggled to find markets for its defense equipment. The only sale for a finished product has been a deal that it signed with the Philippines in August to export a warning and control radar system developed by Mitsubishi Electric. According to the Nikkei report, Suga's government is also in negotiations with Indonesia and Thailand over possible defense equipment transfers.
The arms agreement will no doubt be welcomed as a victory in Hanoi, which has consciously sought to court powerful partners that can help it offset its crushing proximity to China. In May 2016, then U.S. President Barack Obama lifted of a long-standing embargo on the sale of weapons to Vietnam, describing the ban as a "lingering vestige of the Cold War."
The impending agreement – and Suga's visit to Vietnam and Indonesia – more generally are a clear and unambiguous signal that he intends to continue and deepen his predecessor Abe Shinzo's vision of the "free and open Indo-Pacific," as well as Abe's special focus on the Association of Southeast Asian Nations (ASEAN). Vietnam and Indonesia were also the first countries Abe visited after he began his second stint as prime minister in December 2012.
Under Abe, Tokyo's relations with Hanoi warmed considerably, driven by increased trade and Japanese backing for large-scale infrastructure development. In 2014, the two countries announced an "extensive strategic partnership," and security ties have deepened apace. Just this week, three ships of the Japan Maritime Self-Defense Force joined the U.S. Navy for a series of drills in the South China Sea. The exercises which involved a port call at Vietnam's Cam Ranh Bay – just the most recent of a number of visits that Japanese ships have made since 2016.
Hanoi and Tokyo are united by a number of shared interests: most notably, a common concern about China's growing power and influence in their immediate neighborhood. Both countries have active maritime disputes with China – in the East and South China Seas, respectively – while engaging in tens of billions worth of trade with China each year.
On Suga's upcoming trip, he is also expected to announce the enhancement of a program aimed at encouraging Japanese businesses to expand production bases to Southeast Asian nations. According to Nikkei Asia, the Japanese government will cover up to half the cost of relocating such investments within ASEAN for large companies, and as much as two-thirds for smaller businesses. While the policy is explicit that it is not intended to encourage relocation out of any particular country – China is not mentioned – it is broadly consistent with Tokyo's desire to diversify vital supply chains away from their current heavy concentration in China.