What a New US Administration Means for Australia
What it comes to climate change and China, what do the results of the U.S. presidential election mean for Australia?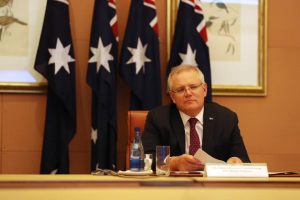 In recent weeks, Australia's allies, Japan and South Korea, and its largest trading partner, China, have committed to achieving net-zero emissions by 2050 and 2060 respectively, while British Prime Minister Boris Johnson directly stressed to Australian Prime Minister Scott Morrison last month that "we need bold action to address climate change."
Add the United States to the list and Australia has a problem. President-elect Joe Biden has continually stressed that climate change will be at the top of his agenda. For Australia's "coal-loving government" this has caused concern, as it means they will likely come under pressure from abroad to take climate change more seriously once Biden takes office. 
The Morrison government has escaped climate scrutiny from Washington in recent years as President Donald Trump continued to disconnect the United States from meaningful climate action, but Biden is sure to recommit the U.S. to the Paris Agreement and commit the United States to net zero emissions by 2050.
Morrison told parliament on Monday that "when it comes to the matter of net zero by 2050, Australia would like to meet that as quickly as possible – as quickly as it's able." He added, though, that he would not commit Australia to net zero because of diplomatic pressure from elsewhere. 
Morrison is restrained by the more conservative side of his government. Liberal MP Craig Kelly warned Monday that signing up to net zero would be an act of "political suicide." Morrison's coalition government won the 2018 election against the opposition's commitment to net zero. 
Opposition Senate leader Penny Wong told the ABC earlier this week that "the Biden victory demonstrates that a center-left party can be elected with an ambitious climate policy."
"President-elect Biden's policy is not only net zero by 2050, it's zero emissions from the electricity sector by 2035, it's a massive investment in clean energy – and that demonstrates that we have the world's greatest power on track to be part of the fight against climate change," she said. 
Conservative media in Australia, mostly Murdoch-owned newspapers and Sky News, have also come under intense pressure to answer for their role in swaying public opinion in favor of the government's non-approach to climate friendly policies. A petition started by former Prime Minister Kevin Rudd calling for an inquiry into Murdoch-owned media and their influence over politics has amassed the most signatures (more than 500,000) of any petition in Australian history. The petition reached the Senate yesterday and passed.
Rudd tweeted on Sunday that "Biden's victory looms as a game-changer on climate, where Morrison has foolishly put all his eggs in the Trump basket. I call on Morrison to stop hiding in the Trump corner, change course and adopt new 2050 and 2030 carbon reduction targets."
Another former Australia prime minister, Malcolm Turnbull, who led the same party Morrison now leads, told Insiders that Morrison needs to stand up to the right-wing commentariat and other Coalition members of Parliament.
"Now, Trump has lost. Murdoch's man in the White house has been defeated. The Americans are going to be taking a leading position, globally, on climate action once again," he said. 
"Now is the time for Scott Morrison to say; 'right, the global landscape has changed, the people that have been holding us back, holding the Coalition and the country back on this issue, are out of the way – I don't have to go with all of the BS about a gas-led recovery.'"
Morrison has already been seen in Washington as too cozy to the Republican Party and Trump, after reports emerged in 2019 that while on a two week visit to the United States he didn't meet with a single senior Democrat, yet he did have time to attend a Trump rally in Ohio. 
Australian Senator Tim Ayres told Sky News that Morrison "damaged Australia's national interest" by going "to a Trump rally with the thumbs up with everybody with the 'Make America Great Again' hats and all of that nonsense."
Another contested issue for Australia to consider ahead of a Biden presidency will be its relations with China. Under Trump, Australia's relationship with China grew increasingly strained, with China labeling Australia as America's "deputy sheriff" and banning the import of Australian beef, wine, grain, and timber. Just last week the Australian government had to scramble to save $2 million worth of live rock lobsters stranded on the tarmac in Shanghai. 
It's expected that the Biden administration's relationship with Beijing will be less volatile but just as tough, as U.S. views about China are broadly bipartisan, regarding China as a threat to global security. 
It is possible that a Biden administration would show much more interest in Australia's backyard, however. One of the first world leaders to invite Biden to visit once he took up the presidency was Fijian Prime Minister Frank Bainimarmara. 
If Biden takes up the offer, it would show that the White House will be equally as engaged and interested in a region many U.S. policymakers and their global allies view as increasingly important – something Australia would very likely welcome.