'Timber Mafia' From India Running Amok in Bhutan
Illegal logging is depleting forest cover in the region, aggravating the fallout from climate change.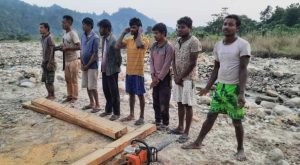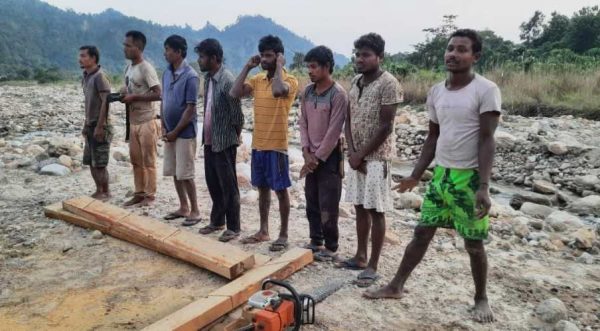 Vast swathes of ancient primary forests in Bhutan have been felled by the "timber mafia" from neighboring Assam in India's northeast, setting alarm bells off in the Himalayan kingdom.
The phenomenon has been discernible for over a decade, but has increased in the last couple of years, an official claimed, with more areas being impacted in the southern districts of Bhutan that border Assam.
Assam shares a border of 265 kilometers with Bhutan, along which an Indian paramilitary force, the Sashastra Seema Bal (SSB), is deployed, but there are wide gaps that facilitate the illegal timber trade. Nor does Bhutan have adequate infrastructure for the effective patrolling of the border zones to prevent smugglers from sneaking into the country.
In recent years, timber smugglers have been most active in Assam's border district of Udalguri, once a hotbed of insurgency. According to local sources, the stretch around Rajagarh is frequently made use of for transporting felled trees from Bhutan.
Across the border is Jomotshankha Wildlife Sanctuary where large tracts of pristine forests have been cleared, prompting the Bhutan government to appeal to India to check the menace.
A senior Bhutanese government official was quoted by media as saying that the Kherkheri area, located above the Corramore Tea Estate, has been a hotbed of smugglers, but no steps have been initiated in Assam to put an end to their activities. He warned that the region could lose its entire green cover if Indian authorities did not swing into action.
An official informed that the central government has issued instructions to Assam for immediate measures to check the activities of the timber smugglers. Udalguri district administration has ordered the forest, police, and SSB to firm up a plan to prevent smugglers from entering the Bhutan forests.
Jayanta Das, honorary wildlife warden in Udalguri, said that he complained about the illicit trade to the district administration months ago. He added that at least half-a-dozen sawmills near the border had been shut down and the equipment confiscated after Bhutan lodged a complaint.
"But there are more sawmills in the region that are still functioning. The activities of the timber smugglers have somewhat reduced since the last month," he said.
Almost all the districts of Assam bordering Bhutan have such sawmills, which are established with equipment worth only 30,000-40,000 Indian rupees (between $411 and $548). In May of last year, timber was seized and a sawmill shut down at Bongaigaon, about 200 kilometers west of Udalguri.
There is a huge demand for timber in Assam and other parts of India. The mafia have been exploring and tapping alternate sources to sustain supply following a ban on timber logging in India's northeast was imposed in 1996.
Besides Bhutan, timber is illicitly imported from Myanmar's Chin State through multiple routes into the region. In India's northeast, the hill states of Arunachal Pradesh and Meghalaya have also been heavily impacted by illegal logging, which thrives allegedly with the connivance of a section of local government officials and politicians.
The loss of tree cover has aggravated climate change fallout – something that is vividly apparent in certain areas of Meghalaya. Rainfall patterns have turned erratic, resulting in the reduction of the agricultural output. Growing instances of man-elephant conflict are another outcome of the phenomenon, with Udalguri being among the worst affected districts in the region.
 Rajeev Bhattacharyya is a senior journalist in Assam, India.