Indonesia Bans Mandatory Religious Attire in Schools
The move followed a social media outcry about high school students in West Sumatra being forced to wear the Muslim hijab.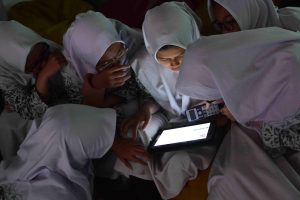 Earlier this week, the Indonesian government banned public schools from making religious attire mandatory for teachers and students, in the government's latest apparent attempt to fight a rising tide of religious intolerance.
The decree came after the news emerged last month that a state high school in Padang, in West Sumatra province, had ordered all of its female students to wear a hijab. The issue captured national attention because of a protest by the parents of one of the girls, which prompted widespread pushback on social media.
"The essence of this decree is that students, teachers and education officials have the right to choose," said Minister of Education and Culture Nadiem Anwar Makarim, in announcing the decision on February 3. "Wearing religious-oriented attire is an individual decision."
The move was applauded by human rights groups. Andreas Harsono, a researcher at the organization Human Rights Watch, told Reuters that schools in more than 20 provinces still made religious attire mandatory in their dress code. "Many public schools require girls and female teachers to wear the hijab that too often prompt bullying, intimidation, social pressures, and in some cases, forced resignation," he said. The ban will not apply in Aceh, a conservative province on the western tip of Sumatra.
Religious attire has been a hot-button culture war issue in Indonesia in the past. The issue was taken up by Jakarta's controversial Chinese Christian governor Basuki Tjahaja Purnama, who in 2016  condemned public schools forcing students to wear a headscarf and called for a ban. "[The headscarf] that they wear looks like a napkin. I think the napkin in my kitchen is better," said the governor, commonly known by his Hokkien nickname Ahok. "When they go out of the school gate, they remove their headscarves as soon as they jump on their father's motorbike."
Ahok, a close ally and former deputy to President Joko "Jokowi" Widodo, was subsequently railroaded by hardline Islamic groups, who accused him of blasphemy after he quoted a passage from the Quran in an election campaign speech. In May 2017, he was convicted and sentenced to two years in prison, a dramatic example of the increasing power of Islamic pressure groups.
The school attire decree is one of a number of recent moves by Jokowi's government aimed at curbing religious intolerance and the groups that promote it. Last month, Yaqut Cholil Qoumas, Indonesia's recently appointed Minister of Religious Affairs, promised to uphold the rights of the religious minority groups like the Shia and Ahmadiyah and to work to prevent their persecution. Announcing this week's ban on mandatory religious attire in public schools, Qoumas described the Padang case as just the "tip of the iceberg." "There are no reasons to infringe upon others' freedom in the name of religious expression," he told a news conference.
Among the recent steps the government has taken to combat religious intolerance was its decision to ban the Islamic Defenders Front (Front Pembela Islam, FPI), an influential fundamentalist pressure group that has done much to contribute to the atmosphere of hostility toward religious minority groups, and was also active in the campaign against Ahok. Weeks later, however, Indonesia granted Abu Bakar Bashir, a cleric suspected of planning the 2002 Bali bombings, an early release from prison on "humanitarian" grounds, leading some to accuse the Jokowi administration of sending "mixed messages" in its approach to radical Islam.