The South Korea-US 2+2 Talks: Who Came Out Ahead?
While the two sides were careful to avoid open disagreement, there are clear areas of tensions, from approaches to China and North Korea to alliance issues involving Japan.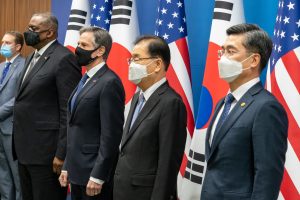 Last week in Seoul, after a five-year interlude, South Korea and the United States held "2+2" talks between their foreign and defense ministers. The stakes are high at this important juncture. South Korean President Moon Jae-in's administration has only one year left to implement its nuanced strategy toward the United States and North Korea, following the contentious DPRK-U.S. summits of the Trump era. And new U.S. President Joe Biden is in a hurry to clear up Trump's mess by reestablishing U.S. global security alliances around the globe, sending the message that "America is back."
Ahead of the 2+2 talks, it was anticipated that the United States would urge South Korea to sign up to a new foreign and diplomatic initiative, as yet undeclared and perhaps unformulated, intended to manage relations with China and North Korea. Some commentators have speculated that if South Korea does not play ball, then the United States would likely wait for a more cooperative administration, holding only ceremonial meetings for the time being.
Let us look at the context of the meeting. The U.S. team visited Japan, South Korea, and India, followed by talks with Chinese diplomats in Alaska. The delegations went to Tokyo first, to ensure that they are on the same page with Washington regarding North Korea and China, then to Seoul, which Biden likely perceives as a weak link in his policy of containing China. Moon's administration will surely hold firm against U.S. pressure to change its stance on North Korea and China. Although Biden often refers to the Indo-Pacific region, he does not mention the Indo-Pacific strategy because he wants to signal a significant policy shift: "America First" is over. The Moon administration sees former President Donald Trump's Indo-Pacific strategy as overtly directed against China, and will therefore not consider joining the Quad.
The U.S. team visited the region before Biden announces the results of his administration's policy review on China and North Korea. Japan is happy to toe the U.S. line, whatever that may be, but to U.S. eyes South Korea is altogether too well-disposed toward China and North Korea. India too has distinct views on dealing with China and the Indo-Pacific region, so the United States wants to collect observations and impressions from all three countries in hopes of narrowing some substantial differences of opinion. For its part, the Moon's administration would like to continue to play an active role by implementing some of the policies agreed by the DPRK-U.S. talks at the Singapore summit.
Biden sent his diplomatic and military heads to visit these three countries immediately before the crucial meeting in Alaska between high-level policymakers of the United States and China. While the Biden administration might hope to enlist all its regional allies and partners to stand together against Chinese economic coercion and military expansionism, for now the United States will be content if they speak with one voice on democracy and human rights. In the ongoing U.S.-China strategic competition, these issues provide a useful stick with which to attack the Chinese, especially since the outbreak of the COVID-19 pandemic. South Korea, however, will continue to balance carefully between the United States and China and is most unlikely to buy in to any explicit condemnation of China.
Against this background, then, what was discussed and what was decided during the 2+2 talks between the U.S. and South Korea?
U.S. Secretary of Defense Lloyd Austin raised one of the most difficult issues: how to develop the future of the alliance. The United States sees South Korea as an essential bulwark in maintaining the security of Northeast Asia and also in protecting democracy and human rights. To this end, Austin advocated the expansion of the ROK-U.S. alliance into a regional and global structure with a much broader agenda, including Taiwan, the South China Sea, Hong Kong, and even Myanmar, to which Moon referred when he received the two U.S. secretaries in the Blue House. The United States also wants to reinvigorate the trilateral security cooperation between the U.S., Japan, and South Korea, and would also like Seoul become a member of the Quad Plus. Regarding the controversial transfer of wartime operational control (OPCON) to South Korea, Austin made clear that both militaries need more time to complete procedures for full operational control in the event of a condition-based OPCON transfer.
South Korea's Minister of National Defense Suh Wook said that the ROK military had done its best to conduct the first half of the Combined Forces Command (CFC) exercises. He also mentioned the desirability of improving cooperation with Japan's Self-Defense Force, but noted that, given the current state of relations between South Korea and Japan, this would be difficult. Suh hoped for OPCON transfer to be completed before May 2022, by the end of Moon's term of office, but given the three essential conditions, more time was required – both ministers declared their agreement on this issue. In response to Austin's explicit request for South Korea involvement in the Quad, Suh stated that he hoped to find some indirect ways to contribute to the support of Quad, and mentioned that the South Korean armed forces chiefs had recently talked by telephone with defense chiefs in Australia, India, and NATO, to discuss enhanced cooperation.
Meanwhile, U.S. Secretary of State Antony Blinken reported that, at the 2+2 talks in Tokyo, the United States and Japan had fully agreed on all issues about China and North Korea. He expressed his concerns about violations of human rights in North Korea, and asked for the common interests and values shared by the United States and South Korea to be given greater weight in Moon's polices toward China and North Korea. Blinken did not use the North Korea denuclearization terminology of the Trump administration, but of course he mentioned the North Korean nuclear and missile threats. He wants to use the democracy and human right issues as tools to pressure North Korea and China, and would like South Korea to follow this approach. The United States wants China to do more about North Korea, and this leaves no room for Seoul to improve relations with the North. Blinken referred to the way that China had punished South Korea for allowing THAAD deployment and warned that similar problems would occur in the future. He urged Seoul to make common cause with the United States in defending democracy against Chinese coercion, arguing that trilateral security cooperation and involvement in the Quad Plus were the most effective way for South Korea to achieve this.
South Korea's Minister of Foreign Affairs Chung Eui-yong insisted that South Korea cannot afford a lopsided strategy, because the Korean economy depends upon trade with China, so that strategic ambiguity is inevitable. He argued that it is counterproductive to allow Sino-U.S. competition to overshadow Korean issues. Cheng wants a more nuanced approach so that Seoul can make better progress with North Korea, pointing out that South Korea is the only intermediary available to connect the DPRK and the U.S. without the involvement of China.
Despite their differences, Chung and Blinken agreed that the problem of North Korean missiles and nuclear weapons is an urgent one, and requires close cooperation. Their diplomatic efforts to reach a peaceful solution will be based on working together with a coordinated strategy, not a common strategy.
With Austin and Blinken in Seoul, the United States and South Korea also held a signing ceremony for the 11th Special Measures Agreement (SMA). This commits South Korea to paying 1,183 trillion won ($1 billion) in 2021 toward the costs of U.S. Forces Korea, a 13.9 percent increase from 2019, and to raising payments over the next four years at a rate that tracks the increase in Seoul's own defense spending.
Uncertainly remains about the CFC exercises: Will they help to complete the full operational control (FOC) procedures necessary for OPCON transfer? Notably, the first-half exercises were completed via computer simulation scenarios, rather than the field training which the USFK requires to evaluate FOC. These exercises were held from March 8 to 18 without any substantial outcomes. The FOC procedures were not mentioned, so presumably FOC was not implemented during the first set of drills. Is it possible for the second half of the exercises to provide clarification or qualification for FOC?
Now that the 2+2 talks have agreed that OPCON needs more time to establish further procedures, it appears that Moon has abandoned his schedule for the first year of OPCON transfer to be 2022. This may be why Moon has ordered the Ministry of National Defense to build a light aircraft carrier. He has also directed the Joint Chiefs of Staff and the Defense Acquisition Program Administration to complete associated procedures in strategic documents. It therefore seems that he is trying to reassure U.S. policymakers that the alliance between South Korea and the United States has a strong and reliable future in which Seoul will contribute effectively to containing North Korea and discouraging China's military expansionism. It would be a great demonstration of this intention if Moon commits to buying F-35Bs for the ROK's aircraft carrier in the near future.
To summarize the outcome of these 2+2 talks, the United States sought to repair the strained alliance with South Korea after a similar, successful visit to Tokyo, but Seoul proved a much greater challenge. There were positive results for Washington: a less active pursuit of OPCON transfer by the Moon administration, the agreement on increased payments under the new SMA, and the prospect of buying more weapons and equipment from U.S. companies to operate the new ROK carrier. But there were negatives for the U.S. as well: South Korea declined to join the Quad Plus and signaled that military cooperation with Japan will not be harmonized anytime soon. Meanwhile, U.S.-ROK alliance is still centered on North Korea, rather than the much broader agenda that the United States desires.
Korean reactions to the 2+2 talks were predictably mixed. Liberals were disappointed with the outcome. They view the future of the ROK-U.S. alliance in terms of the changing geopolitical environment, declining U.S. influence, and China's rise. They seek a more autonomous security framework, and saw this meeting as an opportunity promote a pan-Korean approach to a peace settlement and denuclearization. They also want to expedite final verification of FOC for OPCON transfer. Conservatives criticized the Moon administration for naively believing in Chinese and North Korean statements on denuclearization. They fear that half-hearted cooperation with the United States will erode the security alliance, leading ultimately to the withdrawal of U.S. troops from South Korea.
In conclusion, South Korea came out ahead at these talks, for the moment, anyway, with the United States largely unsatisfied. Even though the U.S. brought its big guns, Seoul held out for strategic autonomy, or at least strategic ambiguity, in dealing with North Korea and China. There may be no public disagreement revealed between the U.S. and the ROK, but the cracks will likely grow wider and deeper. The United States will surely be looking forward to the next ROK administration in 2022, and will be hoping for a conservative party victory.