Taiwan at the Nexus of Technology and Geopolitics 
The tightening nexus of geopolitics and geotechnology will make U.S.-China competition increasingly fraught. But Taiwan's core challenge is not a near-term crisis.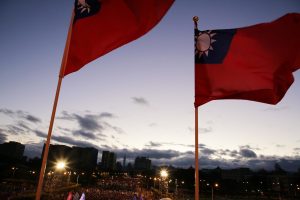 The Economist raised eyebrows recently by characterizing Taiwan as "the most dangerous place on Earth." President Tsai Ing-wen herself responded, noting that Taipei has "actively worked to strengthen our national defense, especially our asymmetric capabilities." Many other recent assessments would suggest an armed confrontation over Taipei is approaching. "Beijing may be planning an invasion of democratic Taiwan in the next few years," one warns. "China is readying itself for American and Japanese involvement in any Taiwan Strait conflict," another advises.

While military frictions and technological competition between the United States and China will pose increasing strategic risks, the near-term chance of a fight over Taiwan remains low.

In the quarter century since the 1995-96 Taiwan Strait crisis, which ended in a humiliating retreat for China, the People's Liberation Army has undergone a sweeping modernization – sufficiently impressive, in fact, that U.S. officials and analysts increasingly question whether Washington would prevail in a conflict with Beijing over Taipei. Taiwan reports that 25 Chinese military jets, including four nuclear-capable bombers, penetrated its air defense identification zone on April 12th – a single-day record – just one demonstration of China's escalating campaign of air and naval pressure. While Taipei is investing more in "porcupine" defenses such as sea mines and anti-ship missiles that could forestall or at least slow down an incursion by Beijing, the military imbalance between them continues to grow in China's favor. The United States and Taiwan signed a memorandum of understanding in March to establish a coast guard working group, and U.S. Secretary of State Antony Blinken has warned Beijing that "it would be a serious mistake for anyone to try to change the existing status quo by force."

Escalating technological competition between the United States and China reinforces – and is, in turn, reinforced by – growing military frictions.

Washington has come to regard Beijing's technological advancement as a challenge to its national security and a mechanism for seeding authoritarianism beyond China's borders. Beijing, meanwhile, believes that Washington seeks to constrict its resurgence; Wall Street Journal reporters Bob Davis and Lingling Wei observe that China saw the Trump administration's March 2018 announcement of tariffs on Chinese exports as "its version of America's Sputnik moment – a foreign threat that requires the country to redouble its technological efforts."

At the core of those efforts are semiconductors. Taiwan is home to the most dominant firm in that arena: TSMC produces 84 percent of the world's most advanced chips. As Washington and Beijing recalibrate the terms of their interdependence, each is looking to accelerate its indigenous chip production.

The Biden administration seeks to allocate $50 billion to semiconductor research and production, and TSMC is building a 12-inch wafer fabrication plant in Arizona. But the United States is in catch-up mode. A September 2020 report found that its share of semiconductor manufacturing capacity had fallen from 37 percent in 1990 to 12 percent and estimated that that proportion would fall to 10 percent by 2030. The Phoenix-based TSMC site, in addition, is not slated to open until 2024, and it will be producing 5nm process nodes, whereas TSMC is already constructing a more advanced, 3nm facility in Taiwan.

China invested $35.2 billion last year in semiconductor development, an over 400 percent increase over 2019, but it remains heavily dependent on other countries. China imported nearly $380 billion of chips last year, compared to $330 billion in 2019. A growing number of assessments question whether it can achieve 70 percent self-sufficiency in semiconductors by 2025.

In short, neither Washington nor Beijing will soon be able to wean itself off of TSMC. Washington worries that a linchpin of the global economy is headquartered on an island that is subject to growing Chinese coercion. Beijing worries, meanwhile, that despite being situated on what China considers its sovereign territory, TSMC could become a supplier of high-end inputs for the U.S. military. As the United States and China look to reconfigure global supply chains for economic, technological, and military advantage, the firm's paramount – and growing – importance will further strain their relationship.
This assessment offers little ground for comfort. Still, it is important to distinguish between accumulating stresses and imminent dangers.
Believing both that "time and the situation are in [China's] favor" and that the United States has entered into a terminal phase of decline, Chinese President Xi Jinping sees no reason to concede on Beijing's stated core interests. Even as he avows that his country's "great rejuvenation" is predicated upon reunification with Taiwan, he does not betray any urgency to undertake that effort. Contrary to some speculation, the Chinese Communist Party has not accelerated its deadline for fully modernizing its military to 2027, the centenary of the PLA's establishment; the date for achieving that objective remains 2035. In addition, as Xi looks to pull off the Winter Olympics next February and secure a third term at the 20th Party Congress next fall, he can ill afford to attempt something as reckless as an assault on Taipei.

Launching a full-scale amphibious incursion 130 kilometers from the mainland would be a daunting exercise, and the PLA has not had major combat experience since 1979. Beijing would risk major resistance from Taipei as well as a devastating military response from Washington. In addition, it would do grave, if not, irreparable damage to its ties with the United States and the European Union, not to mention the four militarily and economically formidable democracies it counts as neighbors: Australia, India, Japan, and South Korea. Indeed, it is hard to think of an action that would do more to jeopardize China's long-term strategic prospects. It would be far less risky for Beijing to continue its present lines of efforts: increasing its bilateral military advantage across the Taiwan Strait, working to undermine Taipei's self-confidence, and persuading Taiwan that it will eventually have to acquiesce to resolving cross-strait tensions on China's terms.

China has certainly been willing to incur widespread diplomatic opprobrium in the defense of its declared national interests; witness its mass internment of Uyghurs and other Muslim minorities in Xinjiang and its suppression of pro-democracy activism in Hong Kong. An attack on Taiwan would risk vastly more, including massive military damage and punishing economic sanctions – not to mention significant technological setbacks, as a U.S.-China armed conflict would imperil TSMC's operations.

The tightening nexus of geopolitics and geotechnology will constrain Taiwan's freedom of maneuver and make U.S.-China competition increasingly fraught. But Taipei's core challenge is not a near-term crisis. Its central imperative instead lies in resisting a conclusion that China would prefer to impress upon it without a fight: namely, that its de facto reabsorption into Beijing is merely a matter of time.