Malaysia Announces Massive COVID-19 Aid Package as Thailand Tightens Restrictions
Until Southeast Asian nations achieve widespread vaccination distribution, they will continue to struggle with periodic outbreaks and lockdowns.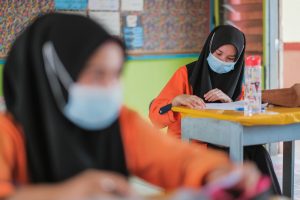 Malaysia's Prime Minister Muhyiddin Yassin yesterday announced a 150 billion ringgit ($36.2 billion) aid and stimulus package as the country continues to battle one of Asia's worst outbreaks of COVID-19.
Speaking during a televised national address, the Malaysian leader said the National People's Well-Being and Economic Recovery Package (Pemulih) was intended to relieve the financial pressure on needy households and businesses and to bolster the country's vaccination efforts.
"I hope this financial package is able to help you continue with your lives in the coming months," he said. "I am aware many of you are impacted badly, as a result of battling the COVID-19 pandemic for more than a year."
For the past few months, Malaysia has experienced a vicious coronavirus outbreak that has pushed it into the unenviable position of having the highest number of per capita infections in Southeast Asia.
While new daily coronavirus cases have dipped from the peak of more than 9,000 that they reached last month, the disease remains stubbornly persistent. Malaysian health authorities reported 5,218 new infections yesterday, bringing the country's total to 739,266. The country has also seen 5,001 deaths from the disease.
On June 1, the country went into a near-total lockdown that was due to expire yesterday but Muhyiddin said over the weekend that it would remain in place until new infections fall below 4,000 a day and at least 10 percent of the population has been fully vaccinated. According to the Our World In Data tracker, some 16.08 percent of Malaysians had received one dose of vaccine as of June 26, and 6.25 percent were fully vaccinated.
The crowded Pemulih package includes cash handouts for 11 million households, senior citizens, and workers who have lost their jobs due to the crisis. An additional 3.8 billion ringgit ($916 million) will be used for wage subsidies in addition to tax breaks, grants, a six-month loan moratorium, and other measures to support businesses.
Perhaps most importantly, Muhyiddin said the government will spend another 1 billion ringgit ($241 million) to ramp up its inoculation program, including 400 million ringgit ($96 million) to buy more vaccines. This will be enough to cover 130 percent of the country's 33 million people, including people as young as 12, he said.
"The government is working hard, even within limitations, to ensure the country remains on the right track of recovery … vaccination will be the key to our success in fighting COVID-19," Muhyiddin said.
The Malaysian announcement came after authorities in neighboring Thailand tightened restrictions in a bid to get a handle on a parallel outbreak dating back to April.
Under the new restrictions, announced Sunday, construction workers will be isolated in camps in Bangkok and five neighboring provinces, and in the country's four southernmost provinces. There will also be a ban on indoor dining and gatherings of more than 20 people.
Since the beginning of April, Thailand has experienced a similarly determined COVID-19 outbreak in which it has clocked thousands of new infections per day. The nation yesterday reported 5,406 new infections, the third-highest daily total since the beginning of the pandemic, following previous peaks on May 17 and May 31. Thailand's total caseload now stands at just under 250,000 cases, the fifth-worst in Southeast Asia in per capita terms.
As the outbreak continues, officials have warned that Thailand's hospitals could be on the verge of being overwhelmed, despite the establishment of field hospitals to handle the glut of patients. The country's vaccination program has also been sluggish, and Prime Minister Prayut Chan-o-cha's government has come under pressure for failing to secure timely and adequate supplies of vaccines after navigating the first year of the pandemic with relative success.
Thailand began its mass vaccination campaign relatively late, in the first week of June, and just 3.65 percent of the country's 69 million people had been fully vaccinated as of June 25, while 9.22 percent have received at least one dose.
The struggles of Malaysia and Thailand – to say nothing of Indonesia, which trembles on the brink of an India-like mass outbreak – indicate both the dogged nature of the COVID-19 threat, and the importance of vaccines to the ultimate victory over the disease.
In a new Bloomberg ranking published yesterday that rated 53 nations' recovery from COVID-19, there was an unsurprisingly close correlation between rates of vaccination and nations' progress in reopening. The United States ranked first, and the top 10 was dominated by nations that had achieved widespread vaccine distribution, while the highest ranking Southeast Asian nation – Singapore – was also the nation that has inoculated the largest proportion of its population.
Thailand came in 39th out of the 53 nations surveyed by Bloomberg, while Malaysia ranked 51st, indicating just how far these two nations – and Southeast Asia as a whole – have to go.