China's Growing Ties With Indonesian Provinces
Getting close to Indonesian provinces is a key goal of Chinese diplomacy and crucial for the implementation of the Belt and Road Initiative.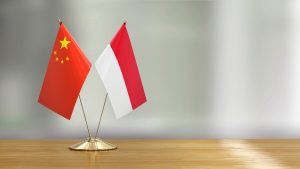 In the midst of growing ties between China and Indonesia, one facet has been largely overlooked: the increasing partnership between both countries' provinces. As a trading partner and export destination as well as the second largest investor in Indonesia, China has begun to look at the economic potential in a number of provinces in the archipelago.
This month, for example, the Central Sulawesi provincial government signed a cooperation deal with China in the agricultural sector, especially the cultivation of soybeans in the region. Under the agreement, Beijing is expected to provide assistance for soybean seeds and agricultural technology.
It is, however, important to note that China's ties with Indonesian provinces are not a new development. Rather, China has been cultivating such relationships for several years, especially since the Belt and Road Initiative began to be implemented in Indonesia.
For instance, China has also shown a great deal of interest in West Kalimantan. During a webinar entitled "Exploring the Economic Potential of China-West Kalimantan Post Pandemic" early this year, it was shown that the ties have been going on for some time. The deputy governor of West Kalimantan, Ria Norsan, said that there are 10 leading West Kalimantan export commodities sent to China, including mining goods, fishery products, and crude vegetable oil. Both sides are also reportedly planning to expand their ties in the furniture sector.
Some provinces have additionally established sister province cooperation with their counterparts in China. Besides Jakarta's relationship with Beijing, West Java province has established sister province ties with Guangxi, Chongqing, Sichuan, Henan, and Heilongjiang. These agreements have resulted in closer ties in the fields of agricultural culture, tourism, and manufacturing industry.
In September 2019, the Chinese province of Shandong started cooperation with the Riau Islands in the development of Special Economic Zones (SEZs) in Bintan, namely in Galang Batang. In the same year, Lumajang District of East Java Province also discussed ties with Tianjin in the fields of investments, tourism, and exports.
Bengkulu is another province that has forged its own ties to China. China has helped with the construction of Bengkulu's Electric Steam Power Plant (PLTU), which will have an impact on the economic growth of the province. Further, in 2019, representatives from Bengkulu and China met to discuss the possibility of future cooperation, especially in the agricultural sector, with coffee commodities as the focus.
Not far from Bengkulu, China has also sought to cooperate with South Sumatra and Lampung provinces. With Lampung, for instance, China has partnered with the Lampung Agricultural Technology Study Center (BPTP) on the monitoring and evaluation of hybrid rice development cooperation activities since 2013. The partnership also includes training researchers and other relevant stakeholders and the development of laboratories and other supporting facilities.
Moreover, Bali has also been in cooperation with Yunnan Province in the economic and tourism fields since 2013. In 2019, there was a plan for the two provinces to open a direct flight to pave the way for more expansive business and people-to-people exchanges.
East Java has also cultivated ties with Chinese provinces, especially Shanghai, Tianjin, Guangxi, Shandong, Zhejiang, and Jiangxi. Many Chinese companies have also made investments in East Java. While a Chinese consulate has been established in East Java's capital, Surabaya, the province has also founded the Center for Exchange and Cooperation in Tianjin, with various activities being organized such as a Chinese Cultural Knowledge Competition. In addition, parliamentary representatives from East Java frequently exchange working visits with their Chinese counterparts.
North Sumatra has also cooperated with China in recent years. This is particularly apparent with the presence of Chinese investments in the province, such as China Harbor Engineering Co. Ltd., which invested in the Medan-Kualanamu Airport toll road project. In addition, Shanghai Electric Power Construction Co. Ltd. invested in the 2×150 power plant project in the Medan Industrial Estate, and Guangdong Power Engineering invested in the first phase of the 2×150 MW Pangkalan Susu power plant project. Not only that, ties have also expanded into the fields of  trade and education, so that the provincial government agreed to open direct flights to Guangzhou, Xiamen, and Chengdu in China.
Another Indonesian province that has strong ties with China is West Nusa Tenggara (NTB). The ties began in 2004 after Beijing established a consulate in Bali. Cooperation mainly takes place in the fields of fisheries, animal husbandry, tourism, and the geothermal development plan. Investments have also been on the agenda, such as the cultivation of sisal on Sumbawa Island. Sisal is a plant widely used in making rope and certain textiles; Chinese investors are taking advantage of the potential for growing the crop on Sumbawa Island. It is also noteworthy that NTB has close ties with China's Ningxia Province, particularly in the education, tourism, and halal product sectors, given the significant number of Muslims in the two provinces.
Other provinces that have established ties with China include North Sulawesi on the development of Bitung as a Special Economic Zone; Pekanbaru on infrastructure development; Central Java and West Sulawesi on investments in infrastructures, electricity, solar plants, and tourism.
The above developments show that China, in its ties with Indonesia, is not only engaging with the central government in Jakarta. In Beijing's view, getting closer with Indonesian provinces is not only crucial for the implementation of the BRI; rather, it is a key goal of Chinese diplomacy. China wants to establish cultural links by encouraging people-to-people and cultural exchanges at the local level.
With China's ties with Indonesia expanding, we can expect more provinces in Indonesia cooperating with China.