Indonesia Bracing for COVID-19 Outbreak to Worsen: Official
There are alarming reports that the Delta variant has penetrated more remote regions of the archipelago.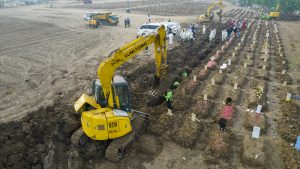 Indonesia's COVID-19 situation will get worse before it gets better, a senior minister said today, as infections continue their near-vertical climb, overwhelming the country's health infrastructure.
In a streamed news conference, Luhut Binsar Pandjaitan, the senior minister in charge of Indonesia's pandemic response, said that infections had spread faster than anticipated due to the more virulent Delta variant and that the country was already "in our worst-case scenario."
"If we're talking about 60,000 [cases per day] or slightly more than that, we're okay. We are hoping not for 100,000, but even if we get there, we are preparing for that," he said.
The comments came a day after Indonesia overtook India to become the Asian epicenter of the COVID-19 pandemic, as infections in the country continued to spiral upwards. Yesterday, Indonesian health authorities reported 54,517 new cases of the disease, marking yet another single-day record. It also reported 991 deaths, a mortality rate 10 times that of early June.
Java and Bali went into a hard lockdown over the weekend to help contain the outbreak. But given the lag between the containment efforts, daily caseloads will likely continue to rise in the days and weeks to come, before lockdowns begin to bring down the curve of infection.
Indonesia's devastating wave is believed to have been driven by widespread travel at the end of the Muslim fasting month of Ramadan, as well as the increased contagiousness of the Delta variant. Southeast Asian's largest nation is now reporting more cases a day than hard-hit India, making Indonesia the top source of COVID-19 infections in Asia. After experiencing a deadly surge of COVID-19 earlier this year, India is now reporting an average of about 44,000 cases and 1,028 deaths per day.
However, it is widely believed that the official numbers understate the extent of the pandemic's deadly march through the Indonesian archipelago, given the low rate of testing and poor contact tracing.
A survey published on July 10 found that nearly 45 percent of the 10.6 million residents of the capital Jakarta had COVID-19 antibodies, suggesting that they had contracted the disease. This was more than 12 times the number of cases officially recorded in Jakarta at the time when the research was carried out in the second half of March.
Dicky Budiman, an Indonesian epidemiologist at Griffith University, told ABC News that Indonesia was now the epicenter of the pandemic in Asia, and could soon become the global epicenter. "If you look at the population difference between India and Indonesia then the pandemic is far more serious than in India," Budiman told ABC.
In parts of densely populated Java, the surge in cases has overwhelmed hospitals, leaving scores to die at home. Indonesian Health Minister Budi Gunadi Sadikin told legislators on Tuesday that across the country, more than 90,000 of the 120,000 hospital beds for COVID-19 patients are occupied, and many hospitals are running out of oxygen, leaving desperate family members to line up for hours in order to obtain what scarce supplies remain.
Health authorities are also concerned that the Delta variant of COVID-19 has already penetrated Sumatra and Kalimantan and more remote regions like West Papua, where health facilities are poorly equipped to handle a major outbreak.
The Industry Ministry said today that given the short supply, it plans to convert up to 80 percent of the country's industrial oxygen supplies for medical use. In his press conference, Luhut said that the government has converted several buildings into isolation facilities, deployed fresh graduate doctors and nurses to treat COVID-19 patients, and imported oxygen from a number of countries. He called on Indonesians to get vaccinated in order to help prevent the further advance of the virus.
The alarming thing for Indonesia is that its vaccine rollout remains very much in first gear. Concerned about the economic impact of prolonged lockdowns, President Joko "Jokowi" Widodo's government has put its faith on inoculation as Indonesia's ladder out of the pandemic, and aims to distribute 181.5 million doses by the end of the year. But as of July 13, the country had administered a single dose of vaccine to 36.4 million people, around 13.1 percent of its population, while only 5.5 percent have been fully vaccinated, according to the Our World In Data tracker.
In Jakarta, where the government has offered vaccines to everyone over 18 years of age since mid-June, only around 2 million people – some 18 percent of the city's population – have been fully vaccinated. This means that even once this current wave subsides, the country will be shadowed by the possibility of further outbreaks.
Yesterday, Jokowi said that vaccines were Indonesia's – and the world's – only "hope to recover from this global health crisis," calling for the fair and just distribution of vaccines. "Fair and equal access to vaccines must be guaranteed since we see there is still a wide gap in vaccine access throughout the country," he said.
Yet in many ways, the Indonesian government is paying the price for its reluctance to impose proper lockdowns at an earlier stage, fearful of the economic repercussions. As in many places, COVID-19 is quickly revealing this to be a false economy, and the economic costs of Indonesia's current runaway outbreak are likely to be much greater, in both human and economic terms, over the long run.