Myanmar Junta Imposes Fresh Charges on Aung San Suu Kyi
The military is attempting to sideline the 76-year-old leader from Myanmar politics permanently.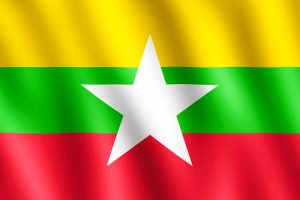 Myanmar's military junta has heaped more legal charges onto the head of the country's deposed leader Aung San Suu Kyi, nearly six months after it overthrew her government in a coup. Yesterday, Aung San Suu Kyi's lawyer Min Min Soe said that the head of the Nobel laureate and leader of the National League for Democracy (NLD) was facing four additional criminal charges, filed in a court in the country's second biggest city, Mandalay.
Min Min Soe said that the politician's legal team had little information about the latest charges, except that they relate broadly to corruption. He said that two charges have also been leveled at Min Thu, a former minister in her government.
Aung San Suu Kyi was arrested during the coup on February 1 and has since been held in an undisclosed location, most likely in the capital Naypyidaw. Since then, the junta has pasted her with a raft of charges, including causing "fear and alarm," the illegal importation and possession of walkie-talkie radios, violating COVID-19 protocols, and unspecified breaches of the colonial-era Official Secrets Act. She has also been accused of illegally accepting $600,000 cash and 11 kilograms of gold from the former chief minister of the Yangon Region, a political ally.
Convictions on even a small number of these charges would be an effective life sentence for the 76-year-old leader, who was elected in a landslide at elections in November 2020. Aung San Suu Kyi is currently in trial on the first charge, with the full litany of criminal accusations likely to tie her down in court more or less permanently.
No serious analyst doubts that the barrage of charges is designed to immure Aung San Suu Kyi in a form of permanent, confined retirement, freeing up the junta to steer Myanmar into a new era of direct military rule.
However, Senior General Min Aung Hlaing's dreams of a seamless takeover continue to face two significant obstacles. The first is the persistent opposition of a large swath of the Myanmar population, which has held near-daily protests since the Tatmadaw's coup, while mass walk-outs of civil servants have paralyzed many basic state functions.
As the security forces have responded with brutal force, killing more than 900 protesters and bystanders since the coup, the large-scale protests have fractured into covert violent resistance against the junta, including attacks on government and military facilities and the assassination of collaborators. At the same time, the junta's advent has inflamed long-running conflicts with ethnic armed groups in outlying regions of the country. This hard kernel of popular resistance represents a formidable block to the return to normality as long as the military reigns in Naypyidaw.
The second great obstacle is COVID-19, which has surged in to fill the vacuum left by the near-total collapse of state capacity in the months since Min Aung Hlaing's putsch.
The junta registered a record 80 COVID-19 deaths and 5,014 new cases yesterday, with positive results from more than a third of people tested, the state-run broadcaster MRTV reported. The real rate of infection is likely to be far higher given the sharp drop-off in testing since the coup. These surging caseloads have been accompanied by reports of oxygen shortages in urban centers including Yangon and Kale in Sagaing Region.
Yesterday, Tatmadaw spokesperson Zaw Min Tun told a press conference that military authorities were preparing 14 locations for COVID-19 treatment in military hospitals across Myanmar. He added that oxygen plants would be operated at full capacity in order to ensure adequate supply. In an address yesterday, however, Min Aung Hlaing denied reports of oxygen shortages, describing them as fake news being spread for political purposes.
Myanmar's ongoing political crisis also complicates efforts from outside countries to aid and support the country's attempts to fight COVID-19 and ramp up vaccinations, given the reluctance of many of the world's wealthiest countries to legitimize junta rule.
Taken together, these two challenges ensure that even if Myanmar's rightfully elected leader remains in custody, her self-appointed successor will rule over a restive, resistant, and increasingly desperate population.