Malaysia's New PM Calls For a Political Truce. Will He Succeed?
Newly-appointed prime minister Ismail Sabri Yaakob takes crucial first step towards a more inclusive political landscape.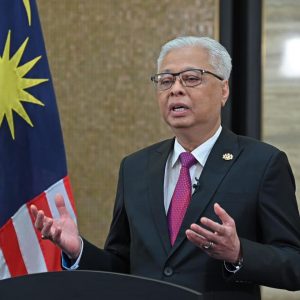 The appointment of Ismail Sabri Yaakob, a deputy leader of the previous government, as Malaysia's new prime minister promises little change to the country's political dynamics, as the new cabinet is expected to be just as shaky as the last.
Without anti-hopping laws in place to warrant loyalty from parliament's 220 lawmakers, the new coalition's own survival remains its biggest challenge.
Fortunately for Ismail, King Sultan Abdullah Sultan Ahmad Shah has warned MPs to get their priorities sorted and redirect their focus to combatting the COVID-19 crisis and reviving Malaysia's battered economy.
This not only gives Ismail a head start in a progressive direction; it also presents him with an opportunity to succeed where his predecessor failed: a bipartisan deal to win over opposition MPs and hedge against the prospect of those in his coalition who might withdraw their support.
Unlike Muhyiddin Yassin's offer, which came too late and seemed insincere, Ismail's first-mover advantage offers hope of a fresh start.
In his maiden address as Malaysia's ninth prime minister on Sunday, Ismail pledged to steer the country out of the coronavirus crisis by calling all politicians to find common ground to help the nation recover, in addition to ramping up vaccination efforts.
"Political stability must be swiftly achieved through unity, and this includes cross-party cooperation," said Ismail, who is vice president of the scandal-hit United Malays National Organisation (UMNO).
Opposition lawmakers who unanimously rejected Muhyiddin's proposal last week now say they are willing to consider Ismail's invite to be part of the National Recovery Council and special committee for dealing with the COVID-19 pandemic.
Ong Kian Ming, former deputy trade minister under two-time premier Mahathir Mohamad's Pakatan Harapan (PH) government and Democratic Action Party (DAP) MP, described Ismail's offer as a "good start," although he said greater clarity on the positions offered is needed.
Ong told local news channel Astro Awani that Muhyiddin's initial offer made up of only one seat for the opposition bloc in the National Recovery Council. "If there is greater sincerity (on Ismail's side), PH should be offered more seats in both the recovery council and COVID committee."
Other opposition figures, including DAP Secretary-General Lim Guan Eng, the People's Justice Party's Sim Tze Tzin, Parti Amanah Negara's Dr. Dzulkefly Ahmad, and Malaysian United Democratic Alliance's Syed Saddiq Syed Abdul Rahman, shared similar views.
As opposition lawmakers keep an open mind, the bigger question is how Ismail's own coalition will react to the uneasy truce. With Muhyiddin blaming the collapse of his coalition on his refusal to "compromise with kleptocrats," it will be interesting to see if UMNO will further divide.
UMNO, a political giant which ruled for 61 years following the country's independence, has been struggling to regain its dominance as a political force since its defeat in the 2018 election.
The party is deeply fractured and has a party president who faces corruption charges involving millions of ringgit. UMNO's party elections were supposed to be held on July 7, but its president Ahmad Zahid Hamidi announced the poll's postponement after it decided to sever ties with Muhyiddin's Parti Pribumi Bersatu Malaysia.
Those who backed calls for UMNO to postpone its polls included those deemed the "court cluster," such as former premier Najib Razak, who last year was found guilty of corruption and sentenced to over a decade in jail for abuse of power at state fund 1Malaysia Development Berhad (1MDB). The sentences were stayed pending an appeal.
Other UMNO leaders such as Khairy Jamaluddin, Reezal Merican Naina Merican, and Annuar Musa have openly criticized the move to delay the polls, saying that the party's internal crisis must be resolved before the next general election.
Ismail, who went against the party's decision by backing Muhyiddin, may want to consolidate his power by calling for party elections sooner.
The move could work in Ismail's favor if he can scour enough support from both sides of the political aisle. However, any favors in Malaysia's dysfunctional political landscape would likely involve backdoor deals and prearranged pacts that may soil Ismail's relatively untainted image.
For cross-party collaborations to work, Ismail must consistently prove that his judgment can be trusted.
Ismail must also face a confidence vote in parliament soon. With parliament scheduled to sit on September 6, political observers say it may be too early for anyone to switch sides, which again would put Ismail at an advantageous position to do what is right: that is, to avoid any delays and get his majority tested as soon as possible.
An early pullout from defectors, just over two weeks into Ismail's reign, could backfire and be seen as misleading the king, who met in person all 114 MPs who vouched for Ismail. Those who plan to defect could take comfort knowing that Ismail's coalition will face the federal budget test, set to be tabled at the end of October.
In short, Ismail's coalition still hangs by a fragile thread.
This high-level insecurity could eventually push Ismail down the same path as Muhyiddin, whose preoccupation with his own survival resulted in him being disconnected from the realities on the ground and resorting to devious schemes to remain in power.
Muhyiddin's short-lived term as prime minister, which he himself described as a "footnote" in history, shows that the situation is so complex that an attempt to control everything will only guarantee an early demise.
The only way forward is to give and take, as two of Ismail's immediate predecessors come to realize before both their terms abruptly ended. Ismail has taken a positive first step. But as ordinary Malaysians have learned over the past year, idealism can be fallacious.