The Rohingyas' Lost Haven in New Delhi
Rohingya refugees living in a makeshift camp in New Delhi lose their homes.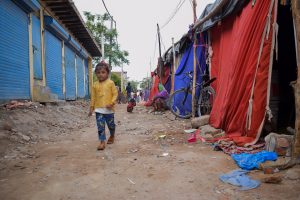 On July 22, a makeshift mosque was bulldozed at a Rohingya camp in the Madanpur Khadar area of New Delhi. Constructed of tarpaulin sheets and bamboo sticks, the mosque was built on land belonging to the Uttar Pradesh government's irrigation department.
Sixteen Rohingya families living in the camps were evicted. Along with the mosque, their washrooms and water pipes were destroyed by the police forces of the Delhi government and the Uttar Pradesh government. After the demolition, the families were asked to relocate to roadside tents.
The Rohingya community alleges that they were not notified ahead about the demolition nor were they allowed to capture any footage of the flattening of their homes. Residents of the camp had asked officials not to demolish their only place of worship, but their pleas went unheeded and the police went ahead to destroy the mosque and homes.
Rohingyas are a Muslim ethnic minority native to Myanmar. They have been described as "amongst the world's least wanted" communities and also "one of the world's most persecuted minorities." In 2017, the Myanmar government's brutal crackdown on Rohingyas living in Rakhine State forced thousands of people to flee Myanmar and seek refuge in neighboring countries like Bangladesh and India.
But the Indian government has not welcomed them. It regards Rohingyas as a threat to India's security. India's Minister of State for Home Affairs Nityanand Rai told Parliament recently that "illegal migrants, including Rohingyas, pose a threat to national security." They are "indulging in illegal activities," he said. Many right-wing Hindutva outfits describe Rohingyas as "terrorists" and have accused them of carrying out terror attacks across the country.
Sanjida Begum, one of the Rohingyas displaced from the camp in New Delhi, came to India in 2012. She says that she has always obeyed the Indian government. "If the government wants, they can put us behind bars and if they wish, they can drown us in the sea or send us back home. I assure you that as soon as the situation in Myanmar gets better then we shall go back. We are not here to stay forever but perhaps leading a life like this is God's will."
Sanjida alleged that "men in uniform asked the 16 families living in the camp to relocate to roadside tents." "They didn't even let us take our belongings nor did they allow us to photograph the demolition," she says.
"They have evicted us from our homes and put us on the road. We have nowhere to go," says 32-year-old Mohammad Khalid, an e-rickshaw driver. "We don't have toilets or water to drink now. We are leading a miserable life here."
"It will be difficult for us to sleep in these tents, especially if it rains, "he says adding that "there is more water in the tents than outside."
If the camp residents had tried to stop the demolition of their homes, "they would have called us traitors," Khalid said.
We meet Kabeer Ahmed, a 36-year-old carpenter, in the road. The Delhi Water Board's water tanker had just arrived. He sits on a rock to perform wuzoo (ablution ritual before prayers) for namaz.
"The Indian government is treating us like animals," he said, pointing out that "human beings don't live like this."
"We built our sacred place of worship and they demolished it," Ahmed says. "What kind of humanity is this?"
Following the outbreak of the pandemic in India and the imposition of a nation-wide lockdown, the Rohingya refugees struggled immensely. After the lockdown was lifted, things improved for people living in other parts of India but it has only worsened for the Rohingya refugees in Delhi.
Community members feel that they have been robbed of the prospect of a better life. They feel vulnerable and are staring at a bleak future.
"We left Burma in search of safety," says Sanjida. "But day by day we are feeling more unsafe here."