Should India Accept the Taliban's Invitation?
Shutting down its educational and capacity building work among Afghans is simply not an option.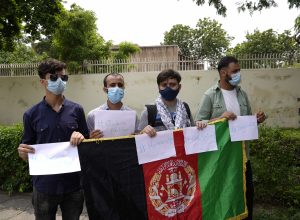 The Taliban regime in Afghanistan has been reaching out to the Indian government in recent weeks. In addition to asking for the reopening of commercial flights between the two countries, it wants New Delhi to facilitate the travel of scholarship students to India.
The first official communication from the Taliban came a day after the interim government was announced. In a letter dated September 7 to the chief of India's Directorate General of Civil Aviation Arun Kumar, Afghanistan's new interim Minister for Civil Aviation and Transport Alhaj Hameedullah Akhunzada said that Kabul airport, which was "left damaged and dysfunctional by American troops before their withdrawal" was operational now. He sought the resumption of flights operated by Afghan carriers Kam Air and Ariana Afghan Airline to and from Delhi and asked India to "facilitate their commercial flights." Only a small number of aid and passenger flights are currently operating from Kabul airport.
New Delhi does not officially recognize the Taliban regime in Afghanistan. However, its officials have engaged with the Taliban in recent months. In early June, the Ministry of External Affairs (MEA) said that India was "in touch with various stakeholders" in Afghanistan, obliquely suggesting that New Delhi may have reached out to the Taliban.
Then on August 31, it announced that India's Ambassador to Qatar Deepak Mittal met Sher Mohammad Abbas Stanekzai, the head of the Taliban's political office in Doha, at the Indian Embassy in Doha, "on the request of the Taliban side." More recently, India engaged Afghan officials with regard to the kidnapping of a businessman of Indian origin in Kabul. "We are in touch with all concerned," the MEA told journalists in New Delhi.
However, India is a long way from recognizing the Taliban regime. Drawing attention to the fact that "the regime change [in Kabul] hasn't been inclusive and has taken place without any negotiation," Prime Minister Narendra Modi cautioned the international community against rushing to recognize the Taliban regime.
Of particular concern to India is the sizeable presence of Pakistani proxies like Sirajuddin Haqqani and other Haqqani Network leaders in the interim set-up.
India avoided engaging the Taliban for decades as it perceived the insurgent group to be a protégé of Pakistan. New Delhi has been particularly opposed to the Haqqani Network, as it has been functioning as Pakistan's "sword arm" in Afghanistan and has carried out attacks on Indian interests and nationals there at the behest of the Inter-Services Intelligence (ISI). The July 2008 suicide attack on the Indian Embassy in Kabul, for instance, which killed 54 people, including two top Indian officials, was executed by the Haqqani Network but orchestrated by the ISI. This makes it difficult for New Delhi to recognize or even deal with the new regime in Kabul.
Still it may need to engage in some way with Kabul.
Over the past two decades India has invested around $3 billion in Afghanistan's infrastructure, capacity building, and more. Thousands of Afghan students have studied in Indian institutes and universities on Government of India scholarships and many times that number come to India for medical treatment. India has provided Afghan women with training in skills development, accounting and running small businesses. These efforts not only earned India enormous goodwill in Afghanistan but have also transformed Afghan lives.
Several of these initiatives have ground to a halt now.
The Indian Council for Cultural Relations (ICCR), the MEA's cultural relations wing, offers 800 Afghan students scholarships to study in India each year. Cancelled flights and suspended visas have adversely impacted the chances of these students coming to India to avail the opportunity. This is also impacted those who were hoping to come to India for medical treatment.
Then there are those who had come to India for treatment and are now stuck here, unable to take a direct flight home. They can, of course, return home via third countries but this costs more and they also may need transit visas.
There are thousands of Afghan students, who have completed their studies in India. Their visas are expiring. Many prefer to stay given the political turbulence in Afghanistan but the Indian government hasn't been sympathetic to their plight.
If India halts its capacity building and development work in Afghanistan, it would not only hurt its own decades-long effort to build influence and goodwill in the country but also, this would impact the lives and livelihoods of thousands of Afghan youth and especially women. Shutting down this work is therefore simply not an option.
New Delhi will therefore have to hold its nose and engage with the Taliban regime.
This does not mean it recognizes the regime or that it supports its outlook or ideology. All it means is that India is willing to deal with the Taliban in ways it chooses to.  And in this, New Delhi must opt for initiatives that benefit the Afghan people.
Of course, the Taliban will not allow India's democracy-supporting or women empowering work in Afghanistan. But it appears to be keen on India opening up travel and education to Afghans again.
This is a small step that India must take. It could be the beginning of a leap in support of the Afghan people.