'Battle Royale' Begins for Melaka State Voters
The outcomes of the state polls will allow political parties to chart a clearer course ahead of the 15th General Election, including forming new alliances.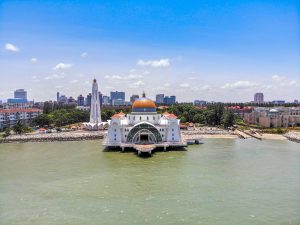 Malaysians will head to the polls once again on November 20, this time in Melaka, where three of the country's biggest political coalitions – Pakatan Harapan, Barisan Nasional, and Perikatan Nasional – will battle it out in every single constituency in the historic state.
The Melaka state election comes just as the country begins to reopen its borders for vaccinated travelers after multiple prolonged lockdowns in the past two years decimated the travel industry and wiped out small businesses that had lasted for generations.
It is also the second state poll to be held in a little more than a year, following a COVID-19 disaster election in Sabah, as political infighting persists. With federal elections slated for 2023, many parties will be looking to test their strategies in Melaka in search of a winning formula.
Melaka's diverse demographic make-up – racially, economically, and by age – means that the lessons learned in this state election will be invaluable for contesting parties to chart a clearer course ahead of the 15th General Election, including forming new alliances.
Pakatan Harapan has already accepted two former assemblymen from the United Malays National Organization (UMNO), the dominant party in Barisan Nasional, to contest in Melaka under the coalition's banner, despite its general stance against party-hopping.
Political observers view the move as an attempt by the group to try and capture a portion of Malay votes from UMNO. One of the two ex-assemblymen, Idris Haron, was a former party leader and Melaka chief minister during Najib Razak's administration.
He was partly responsible for the collapse of the Melaka state government on October 4.
Idris will be contesting in a six-way battle for the Asahan seat on November 20. His opponents include candidates from Barisan Nasional, Perikatan Nasional, and three independents.
Multi-cornered fights like the one in Asahan, some 40 kilometers away from the state capital, have become increasingly common in Malaysia as more race-based political parties emerge, all vying to woo the same crop of rural Malay voters.
Malay voters living in villages, particularly those residing on land settlement schemes known as Felda projects, have long been a traditional power base for UMNO. In Melaka, there are six settlements, the federal agency's website shows.
Farmers who work and live on Felda schemes represent a majority vote in almost a quarter of the country's 222 parliamentary seats. Over a decade ago, it was estimated that Felda settlers make up 1.2 million voters – a valuable Malay vote bank.
But fiscal scandals involving Felda's listed arm, FGV Holdings Berhad, and Najib's collusion in the 1Malaysia Development Berhad (1MDB) scandal managed to divide Felda's Malay voters in the last general election. As a result, Pakatan Harapan succeeded in capturing 19 out of 52 Felda seats.
However, with UMNO back in power and COVID-19 taking center stage in the past two years, it would appear that all is forgiven as Najib rides a popularity wave on social media. The former premier has over 4 million followers on Facebook and Twitter.
Meanwhile, major political parties are also giving attention to younger voters, with 30 of the 112 registered candidates aged below 40. The youngest electoral candidate is a 21-year-old female student who will contest for Pakatan Harapan in Sungai Rambai.
Muar MP Syed Saddiq Syed Abdul Rahman's youth-centric political party MUDA (Malaysian United Democratic Alliance) initially intended to contest in the Melaka state polls but decided against it following Pakatan Harapan's move to field two UMNO defectors as candidates.
Analysts say it is a missed opportunity for the unregistered party to test its appeal with voters. The Election Commission (EC) previously announced that more than a third of 495,196 registered voters for the upcoming state polls were below the age of 40.
Candidates will be campaigning over the next few days, with strict health restrictions in place to avoid another surge in COVID-19 cases. Political rallies, walkabouts, and home visits have been disallowed, with the EC advising candidates to maximize the use of online channels.
Candidates can, however, campaign on vehicles equipped with loudspeakers to deliver their speeches, subject to police approval, as long as the vehicle keeps moving. They are also allowed only one primary operations room for each state constituency.
On polling day, voters with COVID-19 symptoms such as coughing, breathing difficulties, or a body temperature exceeding 37.5 degrees Celsius will have to vote in a separate tent.
With that, the pre-election machinations are in place. The stage is set, the rules are clear, and the players are out on the field. It is going to be a tight match.