Violence in Bangladesh Triggers Tensions in Indian Border State
Following violence against Hindus in Bangladesh, Muslims in bordering Indian states are facing increasing pressure and harassment.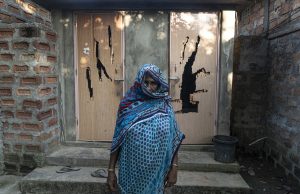 KADAMTALA, NORTH TRIPURA — Amid an uneasy calm in the north of the Indian border state of Tripura, people from both Hindu and Muslim communities are being cautious. Less than a week ago, communal tensions in the state resulted in the damaging of property and mosques after Hindu activists rallied to protest violence in neighboring Bangladesh against Hindus.
The northeast Indian state of Tripura – bordered by Bangladesh on three sides – hosts a minority Muslim population and is ruled by Prime Minister Narendra Modi's right-wing Bharatiya Janata Party (BJP).
Muslim activists in the area reported that over a dozen mosques were vandalized and shops owned by Muslims were burnt down by angry mobs.
Ajmal Hussain, 30, is a shopkeeper. Last Monday night he went home in peace, but when he returned on Tuesday morning, he found his shop vandalized. "I heard the Hindus took out a rally, shouting anti-Muslim slogans that were very hurtful. But I had no idea they broke down shops and mine was also damaged," Hussain said.
He says an extremist group, the Vishwa Hindu Parishad, an ally group of the ruling BJP, wanted to attack Muslims after Hindus were subjected to violence and vandalism in Bangladesh over rumors of desecration of the Quran during the annual festival of Durga Puja.
"They had no other reason for this sudden hateful action," Hussain told The Diplomat.
Hundreds of members of the VHP and the Bajrang Dal (BD), the youth wing of the BJP, rallied across Tripura to protest against the violence in Bangladesh, where at least six people were killed. However, local police officials said there were "no attacks by any Hindu groups in his area."
"Some Muslims came out in rallies after a mosque was vandalized. There were no rallies by Hindus," Jayanta Das, the inspector of police in Churaibari, said.
A pharmacist, Pallav Achari, 38, had left his shop at 9:30 in the evening when his neighbor, Payal Saha, who lives next to the shop, called him to say that some people were breaking into their car.
"I asked her to close everything since I knew her husband was away and told her to stay inside the house," he said.
Achari says that what happened was not right. "This was a peaceful place. There has been no violence over religion here before. We have always lived in harmony with the Muslims," he told The Diplomat.
Saha was with her mother at their home when they heard a noise. 
"Before we could make sense of the situation, some bottles were thrown at our house. We heard them damaging our cars. It was so scary we did not even dare to peep through the window," she said.
Saha says she has never seen any such thing happen before. "I was crying. We did not even sleep because of fear."
The next day they found their balcony full of broken glass bottles and the damaged car outside.
People of both Hindu and Muslim communities have accused each other of inciting the violence; however, reports said that the violence erupted only after Hindus rallied against Muslims. 
"They even chanted slogans that were provocative and meant to hurt our religious sentiments," said 21-year-old shopkeeper Shamsul Haq.
"When I came to my shop in the morning, it was completely damaged, the fridge was broken, and my laptop was taken. As if they had hit everything there was in the shop."
Haq says they know it was done by the VHP and BD people. 
"Not all of them [Hindus] believe in what VHP does. But there are elements who create a ruckus. I'm feeling very bad. My Hindu friends used to visit me but not anymore. It's a strange feeling. I am heartbroken," he said.
A local youth activist, who is a Muslim and did not want to be named, was attacked by some Hindus. He said that it all began on October 21 when the Hindus rallied and "chanted derogatory slogans."
"Numerous mosques have been burnt. We know it. We saw it but the police refuted, saying it was fake. If [the state] allows the media to visit, they will find out the truth but they won't let them."
State police have said the situation was "peaceful" and a fact-checking investigation committee has been set to find out how the violence erupted.
In a nearby district, Rowa, seven shops belonging to Muslims have been burnt. A local cleric of a mosque in Rowa told The Diplomat, "This is actually the work of the RSS [the Rashtriya Swayamsevak Sangh – a core extremist Hindu group] and the VHP. They are spreading hatred among communities. It's not only happening here but in all of India."
The cleric said the incident was not only triggered by the events that took place in Bangladesh. "It is their [Hindus'] motive to call us second citizens. It's their ideology. It's a long term plan. Elections do play a part but the larger picture is how to make a Hindu Rashtra (nation). They are now doing it openly," he said.
After hundreds of Muslims came out to protest the vandalizing of mosques, the local administration imposed restrictions in the area.
Women from Muslim families in the area, with whom The Diplomat spoke, said they were "traumatized."
29-year-old Rahina Begum, along with her 10-year-old daughter, rushed from their house to the bushes when they heard the sounds of Hindus chanting from the nearby mosque. "We understood that we were in danger so we ran. It was an instinct," she said.
Rahina's family and six other Muslim families live in close proximity. Akhlema Begum, her neighbor and relative, said she saw a few men carrying knives, rods, and large sticks. "I started running from the backyard of my house along with my grandkid. I was shaking and shivering. I looked for help while I was crying. We came back after several hours," she said.
Akhlema says everything in her house was ruined when they came back. "We had about 40,000 INR ($530) here, they took it along with some gold items."
Her family, like all the others, are living in fear now. 
"We do not sleep at night. For the first few days, we slept at our relatives' house far away. We are on vigil all night."