Uttar Pradesh 2022: A Blueprint for the Yogi's Hindu Rashtra
The expected victory of Yogi Adityanath in India's most populous state, offers valuable lessons abut the BJP's aspirations for national hegemony and an ethnic democracy.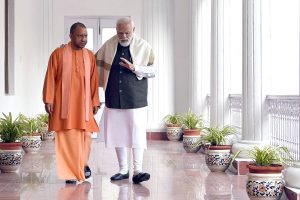 On November 21, Uttar Pradesh (UP) Chief Minister Yogi Adityanath tweeted a picture of himself in deep deliberation alongside Prime Minister Narendra Modi with a caption suggesting that the two of them shared a common vision for a "new India." The caption roughly translated from Hindi reads: "We have embarked on a journey with an aim and have dedicated ourselves to it. We long for sunshine, to go beyond the skies and to build a new India."
Apart from the obviously targeted positioning of himself as the ideological and political heir to Modi, the picture is also highly indicative of the paramount importance UP plays in the political calculations of the Bharatiya Janata Party (BJP). Since the 1980s, a critical element of the political aspirations of the BJP has been the Ram Janmabhoomi movement and the dispute over the Babri Masjid in Ayodhya, a city in UP. The dispute was a potent means of political mobilization for the Hindu Right, which until then had been relegated to the political fringes at both the state and national level. The destruction of the Babri Masjid in 1992 and the communal clashes it ushered in turned the BJP into a major political player; it formed the state government for a brief period from 1991 to 1992 and then from 1997 to 2002. Yet the BJP in this period could be described as formidable but not as indomitable as it seems today. 
In 2017, riding on the Modi wave of 2014, and without projecting a viable chief ministerial candidate, the BJP won election by an overwhelming three-quarters majority of 325 seats out of 402 seats, improving its seat tally by a whopping 265 seats. Since then, in just one term, they have relegated opposition parties to the fringes of the political conversation, entrenching Chief Minister Yogi Adityanath in his seat of power and unleashing the clearest vision of a Hindu Rashtra thus far.
Winning UP is critical as the BJP aims to strengthen their grip on states already within their control and extend their hegemony across the rest of India. The end game is the establishment of a Hindu Rashtra, an ethnic democracy predicated on their ideology of Hindutva, an ethno-religious nationalism holding that the cultural values of Hinduism (as interpreted by the Hindu Right) are indistinguishable from the national identity of India.
Age of the Yogi
At the center of UP's accelerated saffronization has been the rise of Yogi Adityanath, the firebrand monk and politician serving as UP's chief minister. The head priest (mahant) of the powerful and influential Goraknath Mutt, Adityanath succeeded Mahant Avaidyanath as a member of parliament (MP) in 1998 and as mahant in 2014 before being offered the chief minister position in 2017. The yogi has always effectively blended realpolitik with religion and like his predecessor, he employed the antagonisms over Ayodhya as a means of stoking communal discord for political currency, securing himself victory in five parliamentary elections in his stronghold of Gorakhpur. He was also quick to appreciate the value of a cult of personality, establishing a vigilante organization called the Hindu Yuva Vahini, which has functioned as the Yogi's personal stormtroopers. 
Since becoming an active politician and especially in his first term as chief minister, Adityanath's political repertoire has been closely aligned with the Hindu right wing's greatest hits. Along with the Ram Janmabhoomi agitations, Adityanath has been a purveyor of anti-minority hate speech and violence (particularly toward Muslims) and a maven of misinformation and conspiracy theories. As an exponent of hate spin, he has been at the forefront of a multitude of disinformation campaigns alleging conspiracy theories such as love jihad, corona jihad, coerced mass conversions of Hindus, and the mass slaughter of cows. These campaigns position minority groups as grand conspirators targeting Hindus (and by extension, India) and have inspired vigilante violence by the Hindu Yuva Vahini and other affiliated groups. 
This is a playbook inspired by Modi's Gujarat back in 2002. Mobilizing communal sentiments cemented Modi's hold over the state early in his tenure and he remained indomitable for nearly 13 years before he stepped aside to dominate national politics. It is hard to ignore the parallels with Adityanath. Like Modi in Gujarat, Adityanath seems impervious to political crises. His governments' devastating mishandling of the COVID-19 second wave saw many hospitals running out of oxygen and fatalities rising sharply. Despite this, Adityanath's popularity in the state remains seemingly unassailable. With no effective political opposition, like Modi before him, he has managed to deflect from impending crises by focusing on his brand of majoritarian nationalism laced with a potent dose of strong-man populism.  
The UP Laboratory of Ethnic Democracy
Adityanath's machinations in his first term have heralded a proliferation and institutionalization of Hindu supremacy, achieved by systematically chipping away at legislative hurdles by passing new laws that openly target minority groups, including a law specifically meant to stymie the "threat" of love jihad by targeting religious conversions during interfaith marriages. His government in UP has also undertaken revisionist nation-building exercises, like renaming cities to bring back the "lost glory of Hindus" – the renaming of Allahabad to Prayagraj is an example of this. 
This has enabled the creation of a state of pernicious polarization, a term political scientists use to describe a scenario in which one major political cleavage supersedes all others, sharply fracturing society into a two strongly separate camps, the divide becoming deeply entrenched and self-reinforcing. Societies ailing from pernicious polarization have a higher tendency to turn toward populist autocrats and support increasingly anti-democratic policies that seemingly privilege "their camp." The creation of a Hindu Rashtra is hence essentially a mission of democratic decline, shifting India from its aspirations of being a liberal democracy, which recognizes diversity and promotes inclusion, by backsliding toward the creation of an ethnic democracy: a system that maintains democratic institutions while enshrining and privileging a singular majoritarian national identity. 
Adityanath's seemingly inevitable second term may offer a sobering insight into the roadmap toward this eventual goal.