Biden's Asia Policy, 1 Year In
One year into the Biden administration, what should we make of its policy toward Asia and the Indo-Pacific?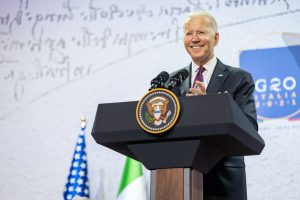 Even before taking office last year on January 20, U.S. President Joe Biden had announced the appointment of an "Asia Czar" at the White House, reached out to key leaders in the region, and pledged to take on the challenges posed by the United States' most serious competitor, China. So, one year into the Biden administration, what should we make of his policy toward Asia and the Indo-Pacific?
Both Biden and his foreign policy team brought to bear considerable diplomatic experience and a carefully reasoned approach to international affairs, prioritizing domestic renewal and the rebuilding of U.S. partnerships and international influence. To some extent, this approach simply made a virtue of necessity, given the urgency of multiple domestic issues, beginning with the COVID-19 pandemic. But Biden, who had learned a thing or two about dealing with communists during the Cold War, saw that the Chinese leadership was convinced that the U.S. and the West were in decline. They seemed equally certain that China had a favorable wind at its back with both a "window of opportunity" and the strong gravitational pull of its economy. The Biden team rightly calculated that unless and until the United States showed itself to be back on a credible path of domestic renewal, the Chinese side would remain inflexible and uncooperative.
From the outset, the Biden presidency was faced with far more than the usual set of challenges that greet a newcomer to the Oval Office. At home and abroad, the new administration confronted thorny problems on virtually every front – economic, social, political, health, environmental, and geopolitical. Asia was certainly no exception, although an early series of initiatives and outreach won back a degree of confidence in the United States and bought the administration some time. These included rejoining the Paris climate accord and the World Health Organization on day one, quickly hosting leaders from Japan and South Korea in Washington, dispatching cabinet secretaries and later the vice president on visits to the region, and in March holding a virtual summit with the leaders of Japan, India, and Australia to reboot the Quad, followed by an in-person meeting between the four leaders in September.
Solidifying the Quad 2.0 is perhaps the Biden administration's most significant Indo-Pacific accomplishment in year one. Both the early virtual summit and the September face-to-face meeting in Washington deftly dealt with the critical issue of China by jujitsu-ing it – forgoing bombastic anti-China invective in favor of a much more subtle and potent approach. In 2021, the Quad shrewdly focused not on China, but on what the four countries could offer the region through collective action focused on real priorities such as vaccine distribution. This and other work launched by the Quad in effect challenged China in a race to the top and gave countries in the region something even more valuable than vaccines – a credible alternative to what China was selling. Going forward, the Quad process will have to keep delivering on its ambitious promises, and find a way to include others even if on an issue-specific basis, but it remains a highly creative and effective early move by the Biden team.
In Northeast Asia, the Biden administration has bonded with two consecutive Japanese prime ministers who, thanks to China, are now willing to do far more to bolster the alliance and regional security. Biden quickly resolved the ugly fight his predecessor had picked over South Korean subsidies for stationing U.S. forces on the Korean Peninsula and has adeptly handled some of Seoul's questionable initiatives, like an ill-considered "end-of-war declaration" that would bolster Pyongyang's campaign to delegitimize the U.S.-South Korean alliance. And when it comes to North Korea, no U.S. administration over the last four decades has had much to show for its attempts to curb Pyongyang's steadily growing WMD threat. Given that reality, an administration's North Korea policy is better measured by its mistakes, and on that score the Biden team has done well in avoiding them. It has opened the door to diplomacy but avoided the trap of trying to entice the North with unilateral concessions and has quietly bolstered defense and deterrence without the risky bluster of "fire and fury."
Southeast Asia in 2021 has been a more difficult terrain for the Biden team. The disastrous military coup in Myanmar, setbacks to democratic governance in partner countries, and the region's timorous "go along to get along" approach to China have been complicating factors.  And while the Biden administration has sustained and enhanced the United States' role in protecting maritime rights in the South China Sea, there is simply no viable diplomatic track to manage the conflicting territorial claims between China and the smaller claimant states. Although a surprising number of senior administration officials were able to travel to Southeast Asia and Biden joined the virtual ASEAN Summits, the constraints of COVID-19 put a damper on the kind of robust U.S. engagement that the region wants. If Biden's reported plan to host the region's leaders (minus Myanmar) early this year materializes, it will be a major achievement, but will need to be followed up with concrete initiatives.
Relations with Australia have flourished, and despite the flawed rollout of the AUKUS agreement, which infuriated the French by abruptly canceling Australia's multi-billion dollar submarine contract, the creation of a cutting-edge defense technology consortium that loops in a trusted major European partner, the United Kingdom, is a significant, strategic move. Like the Quad 2.0, AUKUS reflects an impressive degree of ambition and creativity. Furthermore, China helped in cementing the Australia-U.S. alliance by vindictively restricting a range of Australian imports to convey its displeasure with Canberra's call for an international investigation into the origins of COVID-19, among other complaints.
But what about China?
Biden's diagnosis that getting America's house in order is a prerequisite for dealing effectively with China was indeed correct, as was his focus on making common cause with like-minded allies, partners, and democracies. The problem has been that those two things are excruciatingly difficult to achieve and take considerable time to establish. In the meantime, China is not standing still and continues to gain ground through trade agreements, the Belt and Road Initiative, and its push to surpass the United States in technology by pouring massive amounts of subsidies and other types of financial assistance into domestic companies.
At home, the administration's early progress on the pandemic has been set back by the Delta and Omicron variants. Its domestic renewal agenda, despite initial gains, has been stymied by trench warfare in Congress. Its foreign policy agenda has been hindered by the sluggish pace of selecting, vetting, and confirming key sub-cabinet officials and ambassadors. And its options for dealing with Xi Jinping's truculent China have been skewed by an equally hardline Washington consensus that views China as the new Evil Empire. The political pressure to look tough on China seems at times to have produced more chest-bumping than checkmating.
That said, the Biden administration didn't opt to rush into premature deal-making, nor to let China set the terms for the relationship. It rejected the flawed barter arrangement that Beijing was pushing – China's cooperation on global issues in exchange for concessions on areas the Chinese Communist Party decrees are "core issues," such as Taiwan and human rights. And while the initial diplomatic engagement by Secretary of State Antony Blinken and National Security Advisor Jake Sullivan was marred by an unseemly on-camera squabble, the administration has done its best to leverage Biden's decade-long relationship with China's supreme leader, Xi Jinping. But despite Biden's outreach at the November 15 virtual summit, there has been little visible progress beyond toned-down rhetoric on both sides, and the bilateral relationship remains dangerously fraught on many fronts.
In assessing the administration's overall approach to Asia and the Indo-Pacific in its first year, however, the absence of a credible economic and trade agenda may be the major shortcoming of Biden's first-year Asia policy. After all, the economic arena is the true battleground in Asia.  As demonstrated by the entry into force of the Regional Comprehensive Economic Partnership (RCEP) earlier this month, and of the Comprehensive and Progressive Agreement for Trans-Pacific Partnership (CPTPP) three years ago, trade agreements are prized in the region as vitally important vehicles to achieve growth, innovation, and development – as well as essential complements to a strategic agenda. Countries throughout the region would prefer that trade agreements include U.S. participation as both a means to secure access to innovative American products and services, not to mention the lucrative U.S. market, and to balance their exposure to China.
However, the stark reality is that none of them are waiting around for Washington to get cracking on trade agreements – an issue that remains mired in domestic politics. And in the meantime, China is making significant strides to fill this gap by strengthening regional supply chains, setting international standards, and shaping the rules of the road for trade and investment. And, in the irony of all ironies, last September Beijing submitted its formal application to join the CPTPP, the high-standard agreement shaped by the United States, only to be abandoned by the previous administration.
Clearly the Biden administration recognizes the need to up its economic game in Asia to protect and bolster the commercial success that U.S. companies and workers have achieved in this region. That is why it is now developing a new Indo-Pacific Economic Framework to address priorities such as supply chain resiliency, decarbonization, digital technologies, and workers' rights. Substantive and impactful initiatives in these areas are urgently needed if the Framework is to be taken seriously and win buy-in. But the fact remains that however much the Framework succeeds in strengthening U.S. economic engagement in the region, it is unlikely to be viewed as a convincing alternative to the CPTPP, which has steadily garnered credibility and appeal.
Although Washington circles seem to take it as an article of faith that the United States will not rejoin this high-standard agreement, it would be smart to now take a hard look to determine what revisions would be needed to make the deal serve our interests and to bring it in line with the economic, commercial, and technological realities of the day. The CPTPP's growing appeal in the region, and Beijing's decision to join it, warrant taking a fresh look at this option in year two of the Biden administration.
In assessing U.S. Asia policy in 2021, the Biden team deserves high marks for rebuilding alliances and partnerships while boosting competitiveness at home. Through in-person and virtual meetings, it has stepped up diplomatic engagement, championed democratic values, boosted security relationships, and set up creative new mechanisms to address shared challenges. Now comes the hard part. The next challenge is to produce tangible outcomes that can help make the Indo-Pacific region in 2022 more stable, prosperous, democratic, connected, healthy, and better prepared for the next black swan event.