Omicron Threatens to Derail Cambodia's ASEAN Agenda
Zoom conferencing won't work if the Southeast Asian bloc is to tackle the big issues.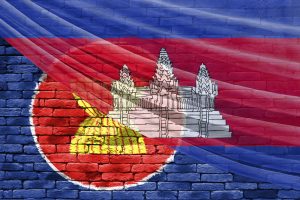 The rapid spread of the Omicron variant of COVID-19 across Southeast Asia is threatening to derail Cambodia's ambitious agenda as this year's chair of the Association of Southeast Asian Nations (ASEAN), which hinges on face to face meetings and backroom in-person negotiations among bureaucrats.
Topping Prime Minister Hun Sen's agenda are the "peace" talks with the junta in Myanmar and his plans to reinstate Naypyidaw within ASEAN's ranks after its military leaders were banned from the annual summits held by the 10-nation bloc in response to their February 1 coup d'etat.
The first test was to be this week's ASEAN Foreign Ministers' Retreat, when members thrash-out their differences frankly and confidentially, which was postponed indefinitely last week with officials citing travel difficulties.
Whether that was because ASEAN countries are split over efforts to bring Myanmar back into their fold or the looming reality of the Omicron variant – which has spread like a wildfire across much of the world – remains unclear.
But the enormous disparity in confirmed COVID-19 cases across mainland Southeast Asia must be a concern for authorities, particularly since Cambodia ceased rapid testing on September 30 when caseloads were near a thousand a day.
As host country, Cambodia now boasts a seven day average of less than 50 confirmed COVID-19 cases a day and a fully vaccinated rate just above 80 percent of the population since mid-November. 
Over the same period Vietnam's seven day average has hovered between 13,000 and 15,000 a day, with their vaccination rates, at 70 percent, catching up to Cambodia. Thailand's daily peak average over seven days is about half of Vietnam with a not too dissimilar vaccination rate.
Yet Vietnam has just recorded its first Omicron community transmission, Cambodia has confirmed about 350 cases and in Thailand the Omicron variant has accounted for 90 percent of all COVID-19 transmissions since the start of the year.
Assuming those official numbers are accurate, this does not bode well for ASEAN and in particular Cambodia and Thailand, which are desperate for foreign income, and for that reason alone the pair have spearheaded ASEAN's reopening of its tourism industry.
Whether tourists are prepared to navigate the pandemic, messy visa regimes, and constantly changing travel and health conditions is one question. Whether ASEAN leaders will travel to Cambodia for those backroom meetings and deal with the region's pressing issues is another. Myanmar aside, those issues also include a final agreement on the Code of Conduct for the South China Sea, shepherding Timor-Leste into ASEAN, and climate change as the Lower Mekong Basin enters its fourth year of drought.
Then there's ASEAN place amid the sharply shifting political dynamics of the wider region and a reassertion of Western power through the Quad and security pacts like AUKUS.
And a legacy-conscious Hun Sen – who intends to stand down in favor of his eldest son sometime after 2023 – would like to add a post-COVID-19 economic recovery to his wishlist alongside the pomp, legitimacy, and photo-ops that accompany regional summits and visits by world leaders.
They're the type of issues that simply cannot be resolved via Zoom conferencing in a bloc divided between democracies and authoritarian regimes and struggling to find a unified stance on competing U.S. and Chinese interests, all while dealing with the recalcitrants in Myanmar.
The much vaunted ceasefire extension that accompanied Hun Sen's trip to Naypyidaw earlier this month is already looking shaky and Singapore Prime Minister Lee Hsien Loong has said ASEAN should continue to exclude Myanmar's military junta from the group's meetings until it cooperates on an agreed peace plan.
Singapore also remains unconvinced about admitting Timor-Leste to ASEAN and, like others in the bloc, is equally wary in regards to Cambodia's cozy relationship with China.
Omicron is both real and a convenient excuse not to travel for regional leaders who would prefer not to deal with those outstanding issues.
As such, Cambodia's year as chair of ASEAN will be much the same as Brunei experienced over the previous 12 months: All virtual with little substance. Then it will be Indonesia's turn in 2023.