The Battle for Myanmar
The strong, armed resistance movement surprised the regime, but without greater international support, the situation will likely continue to deteriorate.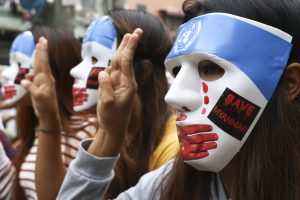 On February 1, 2021, Dr. Sasa awoke to terrifying news. Although his phone had no signal, it didn't take him long to learn that civilian leaders and activists around the country had been rounded up and arrested as part of a coup carried out by the Myanmar military.
"At first, I didn't even realize what was happening. I remember looking outside and the street was flooded with military vehicles. It was like a dream. I was thinking to myself – is this real?" recalled Sasa.
Soon after, he fled his hotel room in Myanmar's ghost town capital of Naypyidaw, disguised himself as a taxi driver, and headed toward the northwestern border to avoid arrest.
Today, Sasa has become one of the faces of the anti-military resistance movement, helping to establish the National Unity Government (NUG), a shadow government of politicians deposed during the coup, and now serving as its official spokesperson.
In the year since that panic-stricken morning, the military has continued carrying out systematic attacks across the country, detaining tens of thousands of people and killing nearly 1,500 of its own civilians, including babies only a few months old.
As Myanmar enters its second year under military rule, the growing armed resistance movement, the rising number of defections from the armed forces, internal shakeups within the regime, and the economic strain from the coup suggest that the junta's grasp on power could be in jeopardy. But even with the progress that has been made, the strength of the military's capabilities and the lack of international support could mean that the end is still a long way off.
Immediately after the coup, protests and strikes erupted across the country in what became known as the Civil Disobedience Movement. Within two months, the NUG had taken form and announced the establishment of a People's Defense Force (PDF), a network of local, anti-junta armed groups, which began appearing around Myanmar at an unprecedented rate.
"If you look at the PDFs over the last ten months, more than 200 local defense forces have been born. In the history of Myanmar there have never been these kinds of local resistance forces in urban places," said Sasa.
After several months, in a landmark turn on September 7, the NUG formally declared the beginning of a people's "resistance war" against the military. Since the establishment of the defense force, there had already been a stream of attacks levied against security forces, but the official declaration signaled a change in tactics that has seen an escalation in clashes between the two sides as well as an increase in soldier casualties.