How the Rise of Islamic State Khorasan in Afghanistan Feeds Uyghur Militancy
As the Taliban courts China with nascent regulations on Uyghur militants, ISK is trying to capitalize by boosting recruitment of Uyghurs.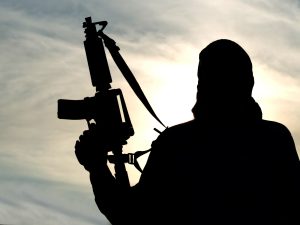 Six months into the Taliban's takeover of Afghanistan, the conditions facilitating Islamist militancy are taking shape. In early February the United Nations published its first report on terrorism since the U.S. withdrawal, shedding light on some of the emerging trends. The main takeaway is that Afghanistan is once again becoming a fertile ground for foreign and domestic terrorists.
Despite pledges by the Taliban not to allow foreign militants to reside in the country, al-Qaida, the Islamic Movement of Uzbekistan, the Islamic State Khorasan (ISK), and many others continue to reside in the territory. Although the Taliban leadership has repeatedly claimed that there are no al-Qaida fighters in Afghanistan, the U.N. continuously assessed their presence in Afghanistan in as many as 15 provinces. At the same time, ISK continues to regroup and has been carrying out attacks more frequently than ever before. Based on the U.N. report, its membership has almost doubled since August and the group now also receives funds from the Islamic State core in Syria.
With ISK becoming stronger, all signs point toward a clear potential that the history will repeat itself once again in Afghanistan. Institutions under the Taliban are weak and the country's economy is collapsing. All this is taking place amid a rising humanitarian crisis and the mass exodus of Afghans who are educated or have a chance of a better life abroad. This leaves the country very vulnerable to once again slip back into infighting among different Islamist groups, some of which are divided by ethnic lines or simply by different ideology. To put it simply, conditions are ripe for Afghanistan to become exactly what everybody feared the most: a safe haven and fertile ground for terrorist groups.
The Taliban might be putting little effort into appeasing the United States or upholding the pledges made to Washington, but the group is certainly trying to accommodate China. Beijing is probably the best shot the Taliban have to obtain international legitimacy and funding. The history of their pragmatic relationship serves as a useful basis for their developing ties. Although Beijing has refrained from outright recognizing the Taliban government so far, Chinese media have jumped on the opportunity to highlight economic opportunities the new Islamic leadership presents for China, particularly for lithium mining, which now seems at the forefront of their developing relations. Yet China has made it clear that its security interests are at the center of its interaction with the group, and the Taliban seem to have responded.
"There are no recent signs that the Taliban has taken steps to limit the activities of foreign terrorist fighters in the country," according to the U.N. report. However, there is a detail in the report that indicates otherwise and suggests that the Taliban is placing operational restrictions on a group that is of particular interest of China – the Turkestan Islamic Party (TIP). According to member states cited in the report, this Uyghur Islamist group has now been relocated from its traditional stronghold on the border with China – Badakhshan province – to other parts of Afghanistan, namely Baghlan, Takhar, and other provinces. This was reportedly done in an effort by the Taliban to "protect and restrain the group." Although it is unclear how this move serves to "protect" the group, it is reasonable to assume that the efforts to restrain it were made with Beijing in mind, particularly as the TIP was moved away from the border.
It remains highly questionable whether the Taliban are able to contain the TIP and deliver on its promises to China not to facilitate any Uyghur militancy in Afghan territory. For starters, the TIP still continues military training and planning terrorist attacks against Chinese interests. More specifically, some U.N. member states claim that the group collaborates with al-Qaida, the Pakistani Taliban, and JAB to mount attacks in Pakistan. And in what would be a detrimental development for China-Taliban relations, some TIP members reportedly remain intent on "return[ing] to Xinjiang for jihad."
In a more worrying sign, however, the rise of ISK might represent the biggest challenge for the Taliban when it comes to keeping control over Uyghur militancy. ISK perceives the Taliban as not radical enough and so has been trying to undermine the group's legitimacy and governance. Indeed there are already signs that ISK has been trying to capitalize on the dire conditions in Afghanistan. It has been reportedly recruiting TIP fighters under the leadership of a "Uyghur team." Indeed ISK and some media reports have claimed that a suicide bomber that attacked a Shiite mosque in Kunduz and killed dozens in October 2021 was an ethnic Uyghur from Xinjiang, although it is unclear whether he was a former member of the TIP.
All of this points to the existing attention ISK is paying to Uyghur militants in Afghanistan. On one hand this is not surprising; Islamic State has been using China's policy in Xinjiang as a rallying cause in its propaganda at least since 2017. In addition, ISK has probably recognized that striking China from Afghanistan would cost the Taliban one of its most powerful allies and strongly undermine its legitimacy – a goal ISK is desperately trying to achieve. So the question is whether ISK will be able to materialize its ambitions for Uyghur militancy.
Based on history, this is not at all impossible. With the Taliban becoming ever more friendly with Beijing, there is a chance that some TIP fighters will find this disconcerting and decide to join the Taliban's main rival, ISK. In such a scenario, however, it will not only be China that will suffer consequences. As history suggests, what happens in Afghanistan rarely stays there and more likely than not will have consequences on global jihadist landscape.