What Imran Khan's Struggle for Power Tells Us About Pakistan's Politics
Khan is pulling all the levers to avoid losing a no-confidence vote – and in the process highlighting the fault lines in Pakistan's democracy.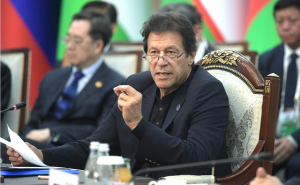 Pakistani opposition lawmakers moved a no-confidence motion against Prime Minister Imran Khan on March 28. It was the culmination of political turmoil that has engulfed the country for several weeks. After multiple delays on part of the National Assembly speaker to buy Khan time, the Pakistani Assembly will finally begin deliberations on the motion on March 31.
There must be a vote within seven days, leaving Khan with a short window for some last-minute political maneuvering and horse-trading. It is worth considering how he plans to escape what at this point seems like an inevitable fate.
Both Khan's Pakistan Tehreek-e-Insaf (PTI) and the opposition coalition known as the Pakistan Democratic Movement (PDM) recognize that the deciding factor will be Khan's coalition partners. While both sides have tried to influence these smaller parties to join their ranks, Khan's position at the head of government has given him more leeway to offer attractive inducements. For example, sources privy to the matter revealed that the PTI government was likely to offer the Ports and Shipping Ministry to coalition partner the Muttahida Qaumi Movement-Pakistan (MQM-P), which has seven members in Pakistan's parliament. In another major development, Chief Minister of Punjab Sardar Usman Buzadar, a man Khan has personally backed, resigned to allow estranged alliance partner Chaudhry Moonis Elahi of the Pakistan Muslim league-Quaid (PML-Q) to take over. The PML-Q holds five seats in Parliament. Khan's willingness to offer ministries and ministerships in return for votes can indeed win back partners and PTI dissenters.
Khan, however, isn't preparing solely for the no-confidence vote. He is also hedging against an adverse outcome in the short term by getting into campaign mode for a possible snap election. Interior Minister Sheikh Rashid has hinted at this.
In a mammoth two-hour long speech on March 27, Khan claimed attempts to dislodge him were part of a "foreign-funded conspiracy" in which his ministers were being bribed to vote against him. Khan has sought to position his battle against the PDM as a war against internal corruption and for Pakistan's sovereignty. Even if he loses the support of parliament, he is hoping the popular will of the Pakistani people will propel him back to the seat of government.
Khan's speeches have been intended to garner popular support in the long run, which would be useful in case a possible snap election is called. In any case, general elections in Pakistan are set for 2023. As Michael Kugelman a specialist on Pakistan and Afghanistan at the Wilson Center, said after the PTI rally on March 27, "today's rally was meant to showcase strength and public support, less in advance of the no-confidence motion vote and more in anticipation of upcoming election, whenever it is. His speech was a campaign pitch."
However, it is unclear how well his message is being received. Sections of Pakistan's electorate continue to blame the PTI government for Pakistan's compounding economic crises. The PTI's ties with the military establishment – often referred to as the "invisible hand" guiding Pakistani politics – have also waned. Khan referred to the Army as "animals" on account of their neutrality on the ongoing political crisis in Pakistan and refusal to back the PTI regime.
The most alarming part of Khan's strategy has been his willingness to use violence to intimidate his opponents. Despite protest from opposition members, local Islamabad police surged into parliament lodges on March 10 and arrested 19 people, including key opposition members in the National Assembly. Similarly, PTI supporters on March 18 stormed the Sindh house as part of their protests against dissenting members within the party, leading to police arrests. Khan in the past has also utilized Pakistan's ant-corruption watchdog to target the opposition. He publicly threatened to do so once again, asking opposition members in a speech if they were prepared to face what he would do if the no-confidence move failed.
The most intriguing part of Khan's strategy, however, has been his representation of India in public speeches. While he raked up the Kashmir issue at the 48th meeting of the Organization of Islamic Cooperation, he has not quite weaponized anti-India rhetoric in public speeches to the extent that has historically been visible in Pakistani politics, especially under weak regimes struggling to keep power. Khan instead has heaped praised on India's "independent" foreign policy during the Ukraine crisis, stating India was buying Russian oil despite global sanctions because its policy was for the betterment of the Indian people. Khan even drew a likeness between India's policy toward Russia and Khan's own efforts for Pakistan. Accusations of an international conspiracy also mainly seem to implicate the United States, rather than India.
Instead, Khan has been using India's example to demonstrate his resolve to resist external pressure and secure the interests of the people of Pakistan. Not only has this allowed Khan to project members of the opposition as Western supplicants, it has also deflected attention away from his mistimed trip to Moscow and created space to justify a deepening of ties with Russia. Pakistan has signed a trade agreement with Russia, which includes the construction of a $ 2.5 billion pipeline connecting Karachi to Lahore.
Khan is trying inducements, lobbying, threats, and hedging to see what sticks. It is difficult to predict if he will succeed, although it seems quite unlikely. The MQM-P coordination committee announced that it has ratified an agreement with the opposition coalition on the no-confidence vote. MQM-P leaders Farogh Naseem and Aminul Haque on Wednesday also resigned as ministers for Law and Justice and Information Technology and Telecom. This is a major blow for Khan's chances.
Excluding the MQM-P's votes, the opposition has already managed to gather the support of 169 members and remain only three short of the magical figure of 172 needed to gain a majority in the National Assembly and depose Khan as prime minister. However, it appears that the PTI is not done negotiating with the MQM-P. PTI leader Faisal Vawda said he has returned to Islamabad from Karachi on Khan's directions to hold talks with the MQM-P delegation alongside Pervez Khattak and Imran Ismail.
Whichever direction political headwinds in Pakistan take, the crisis has affirmed some long-standing assumptions about Pakistan's politics and disabused some others. On the one hand, Pakistan's domestic politics continues to be highly unstable and fragmented, with weak commitments to democratic institutions and practices. In fact, if Khan somehow manages to retain his prime ministership, we could witness greater abuse of executive power moving forward. In addition, we have seen that Islam remains the glue for Pakistan's leaders to fix any crisis of state legitimacy and distract from administrative deficiencies and inflationary pressures. In the 1950s, ordinary Pakistanis were often asked to tolerate high defense spending and reduce expectations of welfarism on account of ongoing military efforts to rescue Islam. This trend seems to persist 70 years later.
However, Khan has not painted India as the cause of Pakistan's domestic evils this time. Unlike his predecessors, he has refrained from securitizing the Kashmir issue for electoral gains. To some extent, he is constrained by the inability of his government to act in response to India's decision to revoke Jammu and Kashmir's special status under article 370. Raising the Kashmir issue more vociferously could thus backfire on Khan by inviting strong criticism from opposition members. It also seems that India doesn't provide a useful polarizing presence in a moment when there exists a hawkish consensus in Pakistan's politics.
Instead, in a break from the past, Khan has chosen anti-Americanism to paint Pakistan's opposition coalition as enemies of the state and justify the failings of his government on economic issues. A senior government official disclosed that the infamous letter Khan has been touting as evidence of a foreign conspiracy against his government was based on a telegram the prime minister received from Asad Majeed Khan, Pakistan's ambassador to the United States.
In light of the turmoil that Pakistan finds itself mired in, the only thing that can be said for certain is that the country's present is as uncertain as its future.