Blinken Emphasizes Cooperation, Including With Beijing, in China Policy Speech
Blinken emphasized cooperation with allies and partners, and even with China itself, in his long-awaited speech.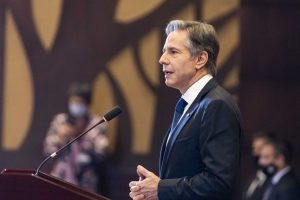 On May 26, U.S. Secretary of State Antony Blinken delivered a much-anticipated address outlining the Biden administration's approach to China. The speech was originally supposed to be given four weeks earlier, on May 5, but had to be rescheduled after Blinken tested positive for COVID-19.
A truly mind-boggling amount of Indo-Pacific news has broken in the meantime. In just the last week alone, we've seen President Joe Biden's trips to South Korea and Japan, including a Quad summit and the unveiling of the Indo-Pacific Economic Framework; the release of a new cache of data detailing China's oppressive campaign against the Uyghurs; and China's foreign minister embarking on a major tour of Pacific Islands countries, hoping to get 10 of them to sign on to a massive cooperation agreement.
Yet despite the avalanche of new developments, as promised originally, Blinken's speech contained "no surprises." In line with the administration's Indo-Pacific policy moves so far, there was a heavy focus on (re)building U.S. capabilities at home and strengthening alliances abroad. Competing directly with China was the last part of the framework Blinken outlined, which he said "can be summed up in three words – 'invest, align, compete'" :
We will invest in the foundations of our strength here at home – our competitiveness, our innovation, our democracy.

We will align our efforts with our network of allies and partners, acting with common purpose and in common cause.

And harnessing these two key assets, we'll compete with China to defend our interests and build our vision for the future.
The first part of this strategy have little to do with China, really, other than taking Beijing's growing power as the impetus for investing in sources of U.S. strength, from technological prowess to functioning infrastructure to U.S. democracy itself.
Likewise, steps to strengthen U.S. relationships around the world, with allies and new partners alike, don't necessarily have much direct bearing on China. Along with more obviously China-relevant examples like the recent Quad summit and U.S.-ASEAN Special Summit, Blinken's speech highlighted several achievements – U.S. COVID-19 donations and breakthroughs on trade spats with the EU – that are better understood as examples of restoring U.S. global leadership in general.
Even in the section of the speech devoted to competition with China, many of the prescribed solutions involved domestic investment in the U.S., whether in key economic sectors or in the U.S. military. It was much less clear how the Biden administration plans to directly confront or counter China along the many fronts of competition Blinken described.
For example, Blinken reiterated a point that China policy analysts in the United States have often raised: "For too long, Chinese companies have enjoyed far greater access to our markets than our companies have in China… This lack of reciprocity is unacceptable and it's unsustainable." It's unclear what the Biden administration intends to do about it, however – to turn to some of the examples he raised, will the U.S. government ban China Daily and WeChat in the U.S, or shut Chinese companies out of U.S. markets? That seems unlikely.
One of the few specific changes Blinken mentioned is a bureaucratic one: setting up a "China House" within the State Department. He described this as a "a department-wide integrated team that will coordinate and implement our policy across issues and regions, working with Congress as needed." Certainly as China policy becomes closely intertwined with U.S. diplomatic efforts across the globe – and even domestic policies – more coordination will be crucial.
Interestingly, Blinken not only spoke of the need to "sustain" and "defend" the "rules-based international order," but the need to "reform" it as well. "We want not just to sustain the international order that made so much of that progress possible, but to modernize it, to make sure that it represents the interests, the values, the hopes of all nations, big and small, from every region," Blinken said.
China has often couched its desired changes to the current order in the frame of "democratizing" the international system, which was created in the aftermath of World War II by the United States and a handful of European powers. The United States is now acknowledging that the current system does not fairly represent the interests of all countries – especially developing powers, including close U.S. partners like India.
Of course, in Blinken's framing China is an obstacle, not a welcome partner, in remaking the international order. "China is the only country with both the intent to reshape the international order and, increasingly, the economic, diplomatic, military, and technological power to do it," he said, adding that "Beijing's vision would move us away from the universal values that have sustained so much of the world's progress over the past 75 years."
Unsurprisingly, in that regard Blinken emphasized China's close relationship with Russia, even amid the Ukraine invasion: "Beijing's defense of President Putin's war to erase Ukraine's sovereignty and secure a sphere of influence in Europe should raise alarm bells for all of us who call the Indo-Pacific region home."
Despite harsh words on China's repression at home and aggression abroad, Blinken also spoke at length about the need and potential for cooperation with China on global challenges, which is perhaps the most marked change from the Trump administration. He particularly noted the need to work together on climate change – and indeed, the two countries' climate envoys have had more in-person meetings than any other officials from China and the United States since Biden took office. There was also a subtle dig at China's earlier assertion that climate change cooperation could not be held separate from overall bilateral ties: "No country should withhold progress on existential transnational issues because of bilateral differences."
Overall, the speech seems calibrated to try to avoid raising tensions with China – unlike past policy addresses by his predecessor, Mike Pompeo. "Put simply, the United States and China have to deal with each other for the foreseeable future," Blinken declared. "…We are not looking for conflict or a new Cold War.  To the contrary, we're determined to avoid both."
He also reassured listeners overseas, "This is not about forcing countries to choose [between the U.S. and China]. It's about giving them a choice." Blinken added, "At every step, we're consulting with our partners, listening to them, taking their concerns to heart, building solutions that address their unique challenges and priorities."
That's a wonderful sentiment, but somewhat at odds with the quasi-threatening tone the United States took toward Solomon Islands in the wake of its decision to sign a security agreement with China.
Beijing, of course, also claims to treat all other countries as equals and respect their concerns, but in practice that rarely plays out. This is one area where the U.S. must outcompete China if it truly wants to lead the international order into a new phase.