India's Supreme Court Pauses Sedition Trials
Although the Narendra Modi government said it will "re-examine" and "re-consider" the sedition law, its apparent change of heart is unconvincing.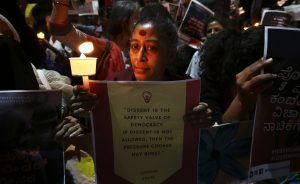 In a landmark order on May 11, India's Supreme Court put a controversial sedition law on hold.
"All pending trials, appeals and proceedings with respect to the charge framed under Section 124A of the IPC [Indian Penal Code] [should] be kept in abeyance," till the central government completes its promised review of its provisions, a three-judge Bench led by Chief Justice of India N.V. Ramana said. The apex court issued the order while hearing petitions for scrapping the law.
The judges have asked the central and state governments to refrain from registering any new cases that invoke sedition until the apex court finishes hearing petitions challenging the sedition law. Additionally, those already charged under the law, and in jail, could seek bail from trial courts, and if fresh cases are registered, the accused can seek relief from the courts, it said.
The sedition law was enacted during British colonial times to quash any challenge to the colonial regime. Several Indian freedom fighters, including Mahatma Gandhi, were tried under this law during colonial rule.
India's first Prime Minister Jawaharalal Nehru was strongly opposed to this law, describing it as "highly objectionable and obnoxious." "The sooner we get rid of it the better," he said. Yet his government retained this law and it remains in the rulebooks.
Section 124(a) of the IPC is India's sedition law. "Whoever, by words, either spoken or written, or by signs, or by visible representation, or otherwise, brings or attempts to bring into hatred or contempt, or excites or attempts to excite disaffection towards, the Government established by law in [India], shall be punished with" jail terms ranging from three years to life imprisonment, and fines," it says.
The sedition law has been challenged repeatedly in courts. In the Kedar Nath Singh vs Union of India case of 1962, the Supreme Court upheld the constitutional validity of the sedition law but clarified that "a person could be prosecuted for sedition only if his acts caused incitement to violence or intention or tendency to create public disorder or cause disturbance of public peace." Therefore, disaffection against the state, however strong, cannot be treated as seditious unless it incites violence the court said. In a 2015 ruling, the court differentiated between "advocacy" and "incitement;" only the latter was seditious, the court said.
Among the many problems with the sedition law is that it is anti-democratic and restricts a citizen's fundamental right to freedom of expression. It has been widely misused to silence criticism of the government, its policies and performance. Successive governments have used it against political rivals, journalists, and dissenting citizens.
In 2010, noted writer and activist Arundhati Roy was charged with sedition for her "anti-India" speech at a seminar on Kashmir in New Delhi. In January 2020, the principal and staff of a primary school in Bidar in Karnataka were charged with sedition for staging a play in which children questioned a controversial citizenship legislation. Journalist Siddique Kappan was arrested in October 2020 on sedition charges for attempting to go to Hathras in Uttar Pradesh to report a gang rape of a Dalit woman. Climate activist Disha Ravi was arrested on sedition charges in February 2021 for allegedly disseminating a "toolkit" for farmers protesting against the Narendra Modi government's farm rules. People cheering the Pakistani cricket team or hailing its victory in cricket matches too have been arrested under the sedition law.
While all of India's governments are guilty of misusing the sedition law, the number of people charged with sedition has grown since the Bharatiya Janata Party came to power in 2014.
Website Article-14.com's sedition database found that of the 10,898 individuals who were slapped with sedition charges between January 1, 2010 and December 31, 2020, 7,136 (61 percent) were charged after Prime Minister Modi came to power. Besides, there has been a 28 percent increase in the number of sedition cases filed each year between 2014 and 2020. As Justice Madan Lokur, a former judge of the Supreme Court observes: "It is now clear that the [sedition] law is not being misused, but is being abused."
The Supreme Court's suspension of the sedition law has been praised as a "historic judgment" and for its "progressive tenor." Without doubt, the apex court has taken a long-overdue step in the right direction.
However, it is too early to celebrate. It is only a temporary suspension of the sedition law. Besides, much will depend on how the Modi government responds. Early signs are not encouraging. Shortly after the court issues its order, Law Minister Kiren Rijiju warned against judicial overreach.
Although the government told the court in an affidavit on Monday that it had decided to "re-examine" and "re-consider" the sedition law as part of an ongoing process to shed "colonial baggage," including outdated laws, its apparent change of heart on the sedition law is unconvincing. The BJP had strongly attacked the Congress Party for promising to scrap the sedition law in its election manifesto in 2019.
Only recently, the Modi government strongly defended the sedition law. Its seeming willingness on Monday to "reconsider" this law could be aimed at stalling the Supreme Court's outright rejection of this law, and for now that attempt has succeeded.
Given the Modi government's abysmal record on dealing with dissent or even differences of opinion, along with its utter disregard for the constitutionally guaranteed rights and liberties of Indians, few expect it to act progressively in response to the Supreme Court order. It has not committed itself to a timeframe within which it will "re-examine" the sedition law. It could at best dilute the law but not substantially.
Even if it were to dilute the provisions of Section 124A or even jettison it, the government has a bouquet of other repressive laws like the Unlawful Activities (Prevention) Act, 1967 and the National Security Act that it can use to terrorize its citizens.
Democratic-minded Indians would do well to not hold their breath waiting for the Modi government to trash the sedition law or other similar laws.