North Korea's COVID-19 Crisis
Pyongyang may resort to a nuclear test when it fails to prevent the spread of the coronavirus nationwide.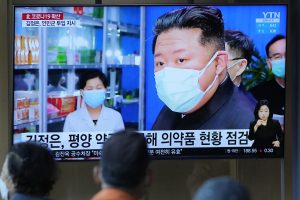 After the COVID-19 pandemic began in China in late 2019, North Korea claimed for over two years that the country had no cases of the virus, thanks to Supreme Leader Kim Jong Un's aggressive anti-pandemic measures such as closing the border with China since early 2020. Pyongyang has long been accused of hiding the actual figures, as experts suggested there was a high possibility of the coronavirus spreading into North Korea from China, the biggest ally and largest trading partner of the country. But Pyongyang continued to deny that the virus has entered North Korea – until last week.
At a time when most developed countries have gradually lifted their anti-pandemic measures after a vaccination campaign, North Korea unexpectedly reported its first case of the Omicron variant, a particularly contagious subvariant of COVID-19, on May 12. The North launched three short-range ballistic missiles toward its east coast 10 hours after the report.
Since confirming the first case of the Omicron variant last week, the North's state media has reported more presumed cases of the virus, along with the death toll. State media reported on Monday that "over 392,920 new persons with fever, some 152,600 recoveries and 8 deaths were reported" over the weekend. As of Monday, the state media reported over 1.2 million North Koreans had developed a fever since late April and at least 50 had died.
Given the state of its health care system, Pyongyang might not be able to test patients and confirm whether they are infected with COVID-19. It has consistently refused deliveries of pandemic-related aid, including necessary medical supplies. Along with this, North Koreans might not have access to buy proper medicine to treat their symptoms, as the government emphasizes traditional medicine and unscientific folk remedies.
It is also believed that the majority of North Koreans are not vaccinated. North Korea rejected an offer of Chinese vaccines last year and the World Health Organization confirmed it is not aware of any vaccines shipments to North Korea. The lack of vaccinations mean more and more North Koreans will likely get infected in the coming weeks. Some experts in Seoul predict that half of the North's population, about 12 million people, could be infected by the end of the month, considering the relatively fast speed of transmission of the Omicron variant. They also said that North Korea might be underreporting the number of patients showing symptoms, or might not have an exact number of the cases at this moment.
After the North's state media acknowledged the spread of the coronavirus in the country, South Korea's President Yoon Suk-yeol, who just took office last week, publicly expressed his will to provide "unsparing" aid, including vaccines, to North Korea during his speech at the National Assembly on Monday.
"If the North Korean authorities accept, we will not spare any necessary support, such as medicine, including COVID-19 vaccines, medical equipment and health care personnel," Yoon said in his speech. The new president also said that he will provide humanitarian aid to North Korea with no preconditions.
Hours after Yoon's speech, Seoul's Unification Ministry attempted to send a message with this offer to Pyongyang, but North Korea has not responded.
According to the Yonhap news agency in Seoul, North Korea has asked China for assistance to cope with the outbreak. Speaking in a press conference on Monday, a spokesperson for China's Foreign Ministry said "China is willing to strengthen anti-epidemic cooperation with North Korea," but did not provide any specifics or confirm that Pyongyang had indeed requested aid.
As Pyongyang seems unwilling to accept support from Seoul and the United States, some experts have raised the option to send aid to Beijing, so it can act as a go-between. However, it is unclear whether Beijing could work with Seoul and the international community as a broker to send necessary assistance to Pyongyang, as China's drastic measures to control the spread of the virus at home, particular in Shanghai, are often criticized abroad as a violation of human rights.
For the purpose of humanitarian support, Seoul and Washington will likely reach out to Pyongyang. They may even seek to build confidence to renew the stalled nuclear talks through anti-pandemic cooperation. However, as "self-reliance" is embedded in almost every policy from Kim Jong Un, Pyongyang may prefer to engage in talks only with Beijing to handle the outbreak.
Washington and Seoul have both said that North Korea's Punggye-ri nuclear site seems to be ready for use, raising the possibility that Pyongyang may resort to a nuclear test if the situation worsens in North Korea. Officials in Seoul and Washington said Pyongyang could conduct its seventh nuclear test late this month or early next month. As North Korea now faces a COVID-19 outbreak for the first time since the pandemic began in late 2019, Pyongyang may seek to distract with a nuclear test when it cannot control the spread of the coronavirus.