Pakistan's New Government Mends Ties With the US
Rapprochement could help ease Pakistan's troubles with negotiating loans from the IMF.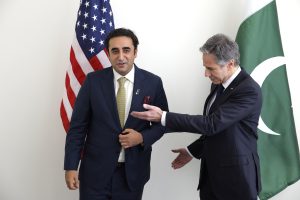 Pakistan's newly appointed Foreign Minister Bilawal Bhutto Zardari met U.S. Secretary of State Antony Blinken in New York on Wednesday. During the meeting, both leaders reaffirmed the need to strengthen broad-based and comprehensive ties.
After the meeting, Bhutto Zardari took to Twitter to announce that he had a "very productive" meeting with Blinken on "issues impacting regional peace and security including Afghanistan."
"We discussed expanding cooperation in trade and investment, energy and climate change, health and education, IT and tech and agriculture. The importance of trade over aid. We will continue cooperation in defence and CT sectors," Bhutto Zardari wrote.
Similarly, in his brief comments to the media, Blinken said that the meeting with Bhutto Zardari represented an important opportunity to talk about many issues of mutual interest. "We want to focus on the work we're doing to strengthen economic and commercial ties between the United States and Pakistan, of course, focused on regional security," he remarked.
In a separate statement, the U.S. State Department said that the meeting between the two leaders affirmed the "shared desire for a strong and prosperous bilateral relationship."
"The Secretary and the Foreign Minister discussed expanding partnership in climate, investment, trade, and health as well as people-to-people ties," the statement said.
The high-level engagement comes after a year-long turbulent phase in the bilateral relationship. Former Prime Minister Imran Khan's anti-U.S. outlook and criticism of Washington's regional policies undermined bilateral ties greatly. Khan's criticism of U.S. President Joe Biden's decision to freeze $7 billion in Afghan funds held in the U.S. and apparent refusal to offer military bases for counterterrorism operations in Afghanistan, among other developments, virtually brought the relationship to a standstill. Moreover, Khan's government made it worse by not criticizing Russia for the invasion of Ukraine. The relationship broke down further when Khan decided to visit Russia on the eve of Moscow's invasion of Ukraine.
This annoyance resulted in Washington making it clear to Pakistan's policymaking circles that under Khan's government, the bilateral relationship was not going anywhere. The issue of the so-called "threat letter" that Khan has been using in his rallies to charge his political base is nothing more than a reflection of Washington's displeasure over the direction of Pakistan's foreign policy under the Pakistan Tehreek-e-Insaf (PTI) government.
This dip in the bilateral relationship came at a time when Pakistan's financial stability was under severe threat and arguably required the support of the International Monetary Fund (IMF) and Western capitals. Many in Pakistan's policymaking circles believe that Pakistan's weakened ties with the U.S. are one of the key reasons for the IMF's tough conditions for Islamabad.
The new government in Pakistan is being seen by the country's leaders, particularly the military, as an opportunity to reverse the broken relationship with the U.S. and its allies. Under the new government, Pakistan has already adopted a new position on the issue of the Russia-Ukraine conflict, something that Washington has asked for months. Moreover, there appears to be a realization in Islamabad that the country cannot hope to build an economic and diplomatic relationship with Russia at the cost of its already established ties with the United States. For instance, the majority of Pakistan's exports and revenue come from Western capitals or countries that are allied with Washington. Pakistan cannot afford to undermine all this by pushing a foreign policy direction that has no economic or diplomatic standing at the moment.
Last month, Pakistan's army chief tried to amend this misstep under Khan's government by saying that "the good army we have today is largely built and trained by U.S. The best equipment we have is American equipment. We still have deep cooperation with U.S. and our Western friends." He also slammed Russia's military attack on Ukraine, saying that "despite legitimate security concerns of Russia, its aggression against a smaller country cannot be condoned. Pakistan has consistently called for an immediate cease-fire and cessation of hostilities."
The change in government and Islamabad's condemnation of Russia's invasion of Ukraine has been welcomed by the Western capitals. We may see Pakistan's financial troubles easing in the coming days as far as Islamabad's negotiations with the IMF are concerned.
Secretary of State Blinken's mentioning of trade relationship with Pakistan is an indication that Washington is supportive of Pakistan's efforts to stabilize its economy. It is important to note here that last week, the U.S. State Department said that Washington will not let "propaganda, misinformation and disinformation – lies" get in the way of any bilateral relationship. Arguably, the statement was meant to reject allegations related to Washington's alleged role in the ouster of Khan's government.
However, it is too early to say if this new engagement will change anything fundamental between the two countries. It is unlikely that a change in government in Pakistan will alter the United States' security-focused and transactional view of the relationship with Islamabad. We may still see Washington burdening Pakistan with its expectations related to counterterrorism operations in Afghanistan.
In any case, the fresh engagement between the two countries is an encouraging development, allowing both countries to take a break from the tumultuous last year of derailment under Khan.