China, Climate Dominate Pacific Islands Forum Meeting
The U.S. and Australia cannot meaningfully counter China's rising influence without addressing the Pacific Islands' top concern.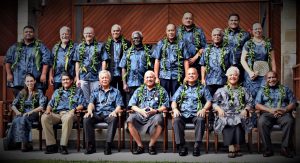 This past week unprecedented levels of world attention focused on Suva, Fiji, for the 51st Pacific Islands Forum (PIF) Meeting. Fijian journalist Stanley Ian Simpson observed that when he first covered PIF in 1999, only six journalists showed up. Fast forward to 2022, and over 60 international journalists ventured to Suva for the first in-person PIF meeting since 2019.
The reason for the huge shift in interest and attention on the Pacific, according to Simpson: geopolitics and climate. The story of this week has been the contest between geopolitics and the Pacific's leading concern, the climate crisis. These intertwined dynamics echoed in Suva and beyond, especially in Australia and the U.S., as these nations reckon with Pacific geopolitics and climate action.
Geopolitics intruded into the 2022 PIF in numerous ways, despite the 21 PIF dialogue partners (including both the U.S. and China) being disinvited from the meeting some weeks ago. The reasoning behind that decision was to allow the 18 PIF members (16 Pacific nations and the two French territories, New Caledonia and French Polynesia) to focus on regional concerns and unity. Yet the plan was derailed before the meetings began when it was leaked that I-Kiribati President Taneti Maamau had withdrawn Kiribati from the peak regional body. Speculation about the role of China in Kiribati's decision has been rife in the days since.
I-Kiribati opposition leader Tessie Lambourne stressed that Kiribati's needs were best met by staying within the forum and continuing to engage in "dialogue and diplomacy." She said she hoped that "external sources" did not influence Maamau's decision. Former I-Kiribati President Anote Tong went further, saying that Maamau was "cooking something" with China that may resemble the controversial security deal Solomon Islands signed with China in April. Greater Kiribati allegiance to China, Tong said, would likely begin with opening up the Phoenix Islands Protected Area, the largest protected marine area in the world, for China's exclusive use for fishing. Given China's history in the South China Sea, that might lead to "gray zone" militarization of islands that abut U.S. maritime borders.
In addition to Kiribati, three other member states (the Marshall Islands, Nauru, and Cook Islands) were also not present or their leaders did not attend the PIF Meeting, though this does not present the threat to regional unity that Kiribati's departure entails.
Maamau's move did not come as a complete surprise to the leaders who brokered the Suva Agreement, which prevented the five Micronesian states from departing the forum en masse. Describing the withdrawal of Kiribati as "not an ideal situation," Samoan Prime Minister Fiame Naomi Mata'afa revealed that during the Suva Agreement meetings "last month there was concern that Kiribati wasn't engaging, hadn't been engaging for a while." Although Kiribati and China created waves throughout the week, one breakthrough came when the PIF chair, Fijian Prime Minister Frank Bainimarama, finally spoke to Maamau, leaving the lines of communication, and the offer of Kiribati's return, open.
As well as playing a perceived spoiler role in Suva this week through Kiribati's withdrawal, China also held a Pacific dialogue on the same day as the PIF leaders' meeting on July 15. And when U.S. Vice President Kamala Harris addressed PIF leaders via video on Wednesday and announced a raft of measures to increase the U.S. presence in the region, Chinese defense attaches, unauthorized to attend, had to be escorted from the room. Despite not being at PIF 2022 in the same capacity as the U.S., China was making its presence very much felt as it recalibrates its approach to the region following the PIF's rejection in May of China's proposal to create a bloc of "China-Pacific Island nations." The PIF's agenda and its demonstrations of unity present an ongoing challenge for China.
Despite the challenges, the read-out of PIF 2022 was reassuring for New Zealand Prime Minister Jacinda Ardern. She contrasted the mood in Suva to that in Tuvalu in 2019, the last time Pacific leaders met. Three years ago "there were serious arguments and even shouting, crying, people, leaders were shedding tears," then-Tuvalu Prime Minister Enele Sopoaga said.  The reason for the acrimony was the "watered down" communique on global warming that was pushed by then-Australian Prime Minister Scott Morrison, who made no secret of his ardor for fossil fuels, especially Australia's leading export of coal. By contrast, in Suva this week, Ardern said, there was a "strong sense of unity and a strong sense of regionalism" as well as "strong agreements" across a range of issues.
Geopolitics and the Solomon Islands' security deal with China were not among these points of unity, though Solomon Islands Prime Minister Manasseh Sogavare has been at pains throughout the week to reassure PIF leaders – and in his first media interview for some time, the wider world – that there would be no Chinese military installation in his nation's territory.
Where Ardern saw the greatest consensus was over climate action, as articulated in the PIF's 2050 Blue Pacific Strategy. PIF leaders agreed to take immediate action to rectify the situation that makes 72 percent of Pacific Islands' electricity production dependent on fossil fuels and the associated energy market fluctuations and climate issues. Instead, sourcing 100 percent of regional energy from renewables was agreed to and is being implemented. Ardern also noted that there was strong consensus to support Vanuatu's pursuit of climate action through the International Court of Justice (ICJ). Vanuatu's Prime Minister Bob Loughman said his country had gained "unanimous support" from forum members for a call for the United Nations General Assembly to back an ICJ case.
The PIF's resounding support of strong climate action presents problems for both Australia and the U.S., particularly after Harris pledged bold action on this front in her address to the forum on Wednesday. For Australia's newly elected government, it is all about revising emission targets, though Bainimarama urged Australia to go further and cut emissions to meet the "1.5 degree target." Australia's other great dilemma is about coal – its export and mining. Prime Minister Anthony Albanese maintains that Australia's coal industry (currently experiencing a boom due to the acute energy shortages resulting from the Russia-Ukraine War) can continue alongside a marked reduction in emissions.
This is a struggle Albanese is going to have to fight at home given the significant bloc that climate activists now occupy in both Australia's lower and upper houses of parliament. In the latter, Albanese's Labor Party will need the support of Green senators to pass legislation. Yet Australian coal country is Labor Party heartland. Something is going to have to give in Australia, and given the ways that power has been divided, things may well go in the Pacific's (and the world's) favor.
For the Biden administration, their ambitious climate agenda was dealt a fatal blow on July 15, the day after Harris' PIF address, when Senator Joe Manchin III declared he would not support any spending on Biden's climate agenda. Described as a "massive setback" for Democrats facing a tough fight in the upcoming midterm elections, this is also a massive setback for the Pacific Islands and U.S. overtures to the region. And this latest blow to the U.S. climate agenda comes only weeks after the Supreme Court hampered the Environmental Protection Agency's ability to mandate carbon emission reductions.
This is all bad news, not only for the Pacific and its ability to meet the existential threats of climate change, but also for the United States' Pacific outreach, spurred by the rise of China, a circumstance that alarms and unites Congress across party lines. Yet there is a confounding disconnect between climate action and Pacific geopolitics for the Republican Party and Manchin, a Democratic senator representing the coal-heavy state of West Virginia. Manchin has been a strong voice supporting U.S. bonds with the Pacific Islands, but when it comes to supporting climate action aimed at preventing these same nations from sinking under rising sea levels, he has looked away.
The U.S. government in all its branches must understand that climate action and Pacific geopolitics are inextricably aligned. To not act on climate fundamentally undermines America's outreach to the Pacific. The Pacific Islands Forum could not have been more clear about climate action, as they have been again this week.