North Korea Trashes Yoon's 'Audacious Initiative' for Denuclearization
Calling Seoul's offer "an absurd dream," Kim Yo Jong derided the South Korean president with North Korean-style insults.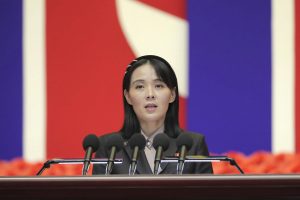 In a statement published in North Korea's state-controlled KCNA on Friday, Kim Yo Jong, the powerful sister of North Korean leader Kim Jong Un and the main voice on inter-Korean relations, showed off her belligerent stance over South Korean President Yoon Suk-yeol and his "audacious initiative" – which has been introduced by Yoon and his officials in recent days.
"A knave who talks about 'bold plan' today and stages anti-North war exercises tomorrow is none other than 'mastermind' Yoon Suk-yeol," Kim said in her statement. She was referring to the joint South Korea-U.S. military drills, which kicked off their pre-drills this week. Pyongyang has consistently demanded Washington and Seoul halt the drills by calling it one of the so-called "hostile policies."
Yoon's "audacious initiative" is a plan to help rebuild North Korea's devastated economy if Pyongyang takes concrete steps toward denuclearization. He had laid out more details regarding the initiative in a speech on Monday, Liberation Day, which marks the nation's freedom from Japanese occupation.
Kim denounced Yoon's speech by saying that "dogs will always bark, as a pup or an adult, and the same goes for the one with the title of 'president."
"The most repulsive point was when he recited absurd words impertinently of proposing us a 'bold and broad-based plan' to radically improve the economy and public welfare if we would stop nuclear development and turn toward substantial denuclearization," Kim said. She belittled his speech, saying that "it would have been more favorable for his image to shut his mouth."
As Yoon's audacious initiative is based on the assumption that North Korea takes steps toward denuclearization, Kim clearly reiterated Pyongyang's position on this precondition.
"His 'bold plan' is the height of absurdity as it is an impracticable one to create mulberry fields in the dark blue ocean," Kim said. She continued to mock Yoon by saying that she was stunned by his "bravery" and "excessive ignorance" as his plan seems to disregard Pyongyang's side.
Kim called Yoon's plan "a replica" of conservative President Lee Myung-bak's "Denuclearization, Opening and 3000" plan to entice Pyongyang to denuclearize. Yoon "is really foolish" as he called the copied policy towards the North "a bold plan," she scoffed. Most of the officials who devised Yoon's audacious initiative previously worked for Lee Myung-bak, who held office from 2008 to 2013.
For the past few decades, South Korean progressive and conservative presidents have tried dovish and hawkish overtures to bring the North to the negotiating table to reach an agreement for denuclearization. However, none of their administrations made substantive progress for denuclearization; instead, they all failed to deter Pyongyang's nuclear and missile developments.
"All the predecessors in the South and even their master the U.S. failed to 'make the North abandon nukes,' but [Yoon] uttered pipe-dream-like remarks, which made him look so miserable as we wondered why he quickly read the text that must be wrongly written, not knowing what it means," Kim said.
Calling Yoon "simple" and "childish" over his attempt to negotiate the North's nuclear weapons with his "economic cooperation" initiative, Kim said "no one barters its destiny for corn cake." She warned that North Korea will respond to any such offer with "bitter contempt."
Today's statement from Kim is the most belligerent statement directed toward Seoul, and Yoon personally, since he took office in May. Kim not only denounced his audacious initiative and approach to the North, but she also shut the possibility of engaging in any dialogue with him while he is in office. She bluntly stated that "we don't like Yoon Suk-yeol himself."
"Though he may knock at the door with what large plan in the future as his 'bold plan' does not work, we make it clear that we will not sit face to face with him," Kim added.
She also warned Yoon to consider "what serious threat the reckless confrontational remarks his hirelings have made irregularly and ignorantly will bring."
North Korea tested two cruise missiles on Wednesday, hours before Yoon held his press conference to mark his first 100 days in office. After Yoon's press conference, Seoul's Joint Chiefs of Staff (JCS) released limited information about the location of the missile launch.
Kim said that the JCS published inaccurate information, saying that the missiles were launched on the "Kumsong Bridge in Anju City of South Pyongyang Province, not the Onchon area." However, the South Korean military said the area Kim mentioned was flooded at that time.
South Korea's Presidential Office released a statement and expressed regret over Kim's rude remarks. It also stated that such belligerent remarks are not helpful for the peace and prosperity of the Korean Peninsula and reiterated that Seoul will keep pursuing the denuclearization of the Korean Peninsula with Yoon's audacious initiative.
South Korean Unification Minister Kwon Young-se also expressed "grave regret" over Kim's distortion vis-à-vis Yoon's audacious initiative with her rude and undignified words. Kwon added that his government will stay patient with Pyongyang to entice it to pursue dialogue, as Kim's belligerent reaction was predictable. Similar expressions of regret over Kim's statement were also made during a phone call between South Korean Foreign Minister Park Jin and his U.S. counterpart, Antony Blinken, on Friday.
After calling the possibility of lifting the sanctions against North Korea a "complete hypothetical" on Monday, Ned Price, the spokesperson of the U.S. State Department, said on Thursday that Washington is still open and ready to engage in diplomacy and dialogue if North Korea indicates a willingness to pursue them.
"Were the DPRK to accept the offer that they have heard from us, from our treaty allies in the region as well, that would be a welcome first step, and we could start the conversation from there about what those incremental steps would look like," Ned said. (DPRK is the acronym for North Korea's official name: Democratic People's Republic of Korea.) However, Price again sidestepped any possibility of lifting sanctions against the North.
More provocative measures and statements from Pyongyang will likely come out in the next coming weeks as the joint military drills between South Korea and the United States officially kick off on Monday.
Based on the belligerent remarks of Kim Jong Un and Kim Yo Jong toward Seoul and Washington in the past few weeks, it is likely we will see more advanced missiles tested by North Korea. As for the possibility of dialogue, Kim closed the door tightly when she said, "It is our earnest desire to live without awareness of each other."