Timor-Leste Denied Entry to ASEAN – For Now
Dili has been told that membership could happen next year.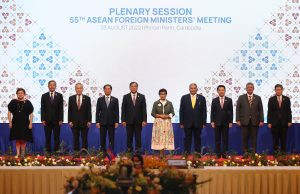 Expectations that Timor-Leste would be shepherded into the Association of Southeast Asian Nations (ASEAN) this year by Cambodian Prime Minister Hun Sen have been formally dashed amid concerns the tiny country is not ready for membership in the bloc.
Hun Sen, who holds this year's rotating chair of the 10-nation bloc, insisted Timor-Leste's "accession process is advancing well" and that he was confident "that by next year we could welcome this country to the ASEAN family."
But that was cold comfort for a struggling country that has spent more than a decade trying to get into a club with a combined GDP of $3.2 billion, and which is ranked fifth among world economies.
The decision was announced as Hun Sen delivered his opening remarks at this year's ASEAN Foreign Ministers' Meeting in Phnom Penh, alongside dialogue partners from countries that include the United States, Russia, and China.
Sources said there were several reasons for its failure to muster the required unanimous vote among the existing members, including its ability to meet the required costs, its close ties with China, and a failure to speak out against the junta in Myanmar.
Dili did not vote on last year's resolution in the United Nations General Assembly against the Myanmar junta, outraging human rights groups which then accused the government of appeasing the military and later Cambodia in order to win their support and a fast-track entry into ASEAN.
That decision surprised many, given past atrocities committed under Indonesia's occupation, which came to an end in 2002 through a hard-won independence. ASEAN membership was touted about five years later and Dili formally applied in 2011.
As Phnom Penh assumed the ASEAN chair earlier this year, Hun Sen asked Timor-Leste to buy Cambodian rice and invest in local rice mills and warehousing after he formally backed Dili's bid to become the 11th member of ASEAN, insisting this would happen under his stewardship.
That was not to be with sources adding that Singapore still has reservations.
Timor-Leste President José Ramos-Horta had already indicated that he knew it was unlikely his country would be admitted this year, saying it was easier for his Catholic country to get into heaven than pass through the gates of ASEAN.
"Sometimes as a human being, I feel frustrated. It seems like the road to heaven – to reach the perfection of heaven – is easier than to reach the gates of ASEAN," Ramos-Horta told the Foreign Policy Community of Indonesia in Jakarta last month.
"It seems as if to reach ASEAN, you have to fulfill all the criteria to enter heaven. And then the next step is ASEAN," he added.
The addition of Timor-Leste would serve ASEAN well.
While impoverished, with a population of just 1.3 million people, it ranks seventh in all of Asia and Australasia as a robust democracy, the type of government that is sliding backwards in ASEAN.
Of mainland ASEAN states, a military junta controls Myanmar, Thailand and Cambodia are military backed and authoritarian, while Laos and Vietnam have been communist since 1975.
ASEAN summits, like this one, are often derided as a toothless talk-fest, and more about style than substance. And not one ASEAN country was ranked as "free" in the 2022 annual index on political rights by the U.S.-based group Freedom House, but Timor-Leste did.
Indonesia, the powerhouse within ASEAN, will take over the rotating chair from Cambodia in 2023, signaling a very different year ahead, and has already backed Timor-Leste's accession into ASEAN.
Membership would provide a much-needed financial boon through the ASEAN Economic Community, a trade deal covering eight industries that would enable Timorese to work across Southeast Asia while opening up its markets to about 655 million people.
While reservations among some ASEAN members persist, Dili is well aware of those obstacles and potentially it has much more to gain by persisting than simply giving up. There's always next year.