As Russia Mobilizes, Central Asian Embassies Warn Citizens Against Joining a Foreign War
The risks of Central Asian migrant workers being pressured into joining Russia's war effort have intensified in tandem with Moscow's desperation.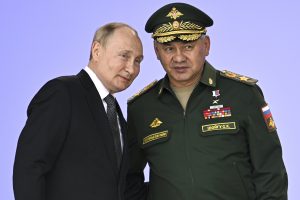 On September 21, after Russian President Vladimir Putin announced a "partial mobilization" and increased support for "volunteers" fighting Russia's war in Ukraine, the governments of Uzbekistan and Kyrgyzstan again warned their citizens residing in Russia against joining the fight.
The mobilization decree, Russian Defense Minister Sergei Shoigu said, may call up as many as 300,000 reservists, but the wording of the decree is vague and sparked immediate protests. The Associated Press noted that one clause in the decree was kept secret. 
As of 2021, according to Russian government statistics, more than 4.5 million Uzbek citizens and nearly a million Kyrgyz citizens were working in Russia.
From the very start of the Russian invasion of Ukraine — an operation Moscow euphemistically refers to as a "special military operation" — there have been concerns that the large population of Central Asian migrant workers in the country could be pressured or induced into joining the Russian military. Indeed, since the early days of the war, there have been reports of Central Asians taking part. For example, a "driver from Fergana" made a video that went viral of him driving into Ukraine with Russian forces. He said he'd accepted a three-month contract as a driver in exchange for Russian citizenship, housing, and a salary of 50,000 rubles a month. He allegedly found the job listing on a migrant job website. As early as March, there were reports of Central Asians being killed with the Russian Army in Ukraine.
Even before the mobilization announcement, on September 20 the Russian State Duma adopted amendments simplifying the citizenship process for foreigners who serve a one-year contract with the Russian military.
Later the same day, Moscow Mayor Sergei Sobyanin announced that the city would be opening a military recruitment center for foreign citizens at the Sakharovo migration center. As Yan Matusevich, a PhD candidate focused on Central Asia and migration, pointed out on Twitter, the Sakharovo migration center is where migrant workers go for mandatory medical testing and work permit processing. It will "now house Ministry of Defense recruiters who will offer foreign citizens expedited citizenship in exchange for joining the Russian army."
The risks of Central Asian migrant workers being pressured into joining Russia's war effort have intensified in tandem with Moscow's desperation. The war is not going well for Russia, with recent setbacks in the face of a Ukrainian counteroffensive in Kharkiv. And while the Russian economy has been hard-hit by sanctions, it remains a prime destination for Central Asian migrant workers, whose prospects in their home countries are even dimmer than working in Russia.
In the wake of Putin's mobilization announcement, and legislation simplifying the acquisition of Russian citizenship for foreigners who take military contracts, the embassies of Uzbekistan and Kyrgyzstan again warned their citizens against joining any conflict on foreign soil.
Uzbekistan had already warned its citizens that participating in "hostilities on the territory of foreign states" was illegal in August after a video surfaced of an Uzbek migrant leader in Perm, Russia, proposing the creation of a "volunteer battalion" to join the war. The August press release reminded citizens that participating in a foreign conflict could result in a 10-year jail sentence.
In a new note to citizens, Uzbek authorities reiterate the message that joining a foreign conflict is illegal. It also stresses that Uzbekistan does not recognize dual citizenship, raising the stakes for any Uzbeks who decided to take Moscow up on the apparent offer of expedited citizenship in exchange for military service.
Kyrgyzstan's embassy in Russia also warned citizens against taking part in "armed conflicts or military actions on the territory of foreign states." Kyrgyz authorities, like the Uzbek government, point to domestic legislation outlining criminal liability for participating in hostilities on foreign soil. The Kyrgyz authorities asked citizens to contact the embassy if they receive a call to war.
Central Asians represent the largest migrant worker community in Russia — numbering in the millions. It's a pool of (mostly) young men that Russia is clearly aiming to recruit. Authorities in Central Asia may warn their citizens against joining the war, but Moscow's offer of citizenship and a salary will be attractive to many.
Update: After initial publication, Tajikistan also warned its citizens against "participating in hostilities on the territory of foreign states."