Kazakh President Urges Calm and Care for Russians Fleeing Mobilization
"We must take care of them and ensure their safety. This is a political and humanitarian issue," Kazakh President Tokayev said of the influx of Russians.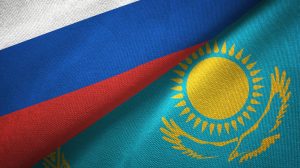 Thousands of Russians have fled across the border with Kazakhstan, forming long lines at border crossings following Russian President Vladimir Putin's announcement last week of a "partial mobilization."
This week, amid a visit to the southern Turkestan region, Kazakh President Kassym-Jomart Tokayev urged the country to welcome the fleeing Russians. 
"In recent days, many people from Russia have been coming to us. Most of them are forced to leave because of the current hopeless situation," he said, after stressing Kazakhstan's neutrality in international forums, like the U.N. and the primacy of national unity and territorial integrity.
"We must take care of them and ensure their safety. This is a political and humanitarian issue," he said of the arriving Russians. He did add that "visitors from abroad" would be assisted, "but they will not receive any preferences." Tokayev stressed the importance of adhering to the law.
The same day, Kazakhstan's Internal Affairs Ministry put out a press release reminding Kazakh hosts of the necessity to register foreign visitors with the ministry, whether staying at a hostel, hotel or apartments.
Minister of Internal Affairs Marat Akhmetzhanov seemed to convey in comments to RFE/RL's Kazakh Service that Kazakhstan would not extradite Russian draft dodgers. He stressed that extraditions are tied to criminal cases. "If they are looking for military registration and enlistment offices, then this is not a legal basis for their extradition," he said.
Russian passport holders can enter Kazakhstan without a visa for 90 days, which makes it an ideal emergency exist for young men afraid of being drafted into the Russian military amid the war in Ukraine. The Internal Affairs Ministry last week noted that in 2022 1.66 million Russian citizens entered the country and 1.64 million Russian citizens left, indicating that most Russians who arrived in Kazakhstan do not remain there.
The current flow, however, may be different and raises considerable issues from the domestic labor market and rental market concerns to political relations with Russia. Since September 21, the Internal Affairs Ministry said, 98,000 Russians had entered Kazakhstan and two-thirds of that number had already departed. According to Tengrinews, 13,000 Russians filed for individual identification numbers (IINs) in a single day.
Kazakhstan's Minister of Labor and Social Protection of the Population Tamara Duysenova told media on September 26 that the influx of Russians would not affect Kazakhstan's labor market. 
Kazakh Prime Minister Alikhan Smailov instructed the government to coordinate the registration of arriving Russians and resolve labor issues within the Eurasian Economic Union framework. He also noted rising rental prices and stressed that the government's priority is Kazakh citizens.
Tokayev's statement on September 27 stressed calm amid chaotic reports of desperation among Russians entering Kazakhstan.
"In general, in such a difficult situation, one must first of all show humanity, patience, and organization. We have no crisis, no panic. The government must do its job," Tokayev said.
The mobilization in Russia, and the influx of Russians into Kazakhstan, further escalates tensions in the region. Kazakhstan has walked a careful diplomatic line, maintaining a degree of neutrality with regard to the Ukraine war that seems increasingly untenable. Adhering to its stated position — hewing tightly to the themes of territorial integrity and sovereignty without necessarily criticizing Russia for invading Ukraine — has increasingly put Astana at odds with Moscow.
In Tokayev's remarks in Turkestan this week, he referred to a "massive war" going on right next to Kazakhstan. That can only be a reference to Ukraine, though he did not directly mention Ukraine in his remarks.
It's worth noting that some Ukrainians previously also fled to Kazakhstan. As RFE/RL's Kazakh Service reported this week, while most Ukrainians who have fled the country because of the war have traveled to neighboring states — like Poland — some have made the trip to Kazakhstan, either because they are originally from Kazakhstan or have family or friends in the country. The Kazakhstan Bureau for Human Rights told RFE/RL that 228 Ukrainians have been granted asylum seeker status, with most applications occurring earlier in the year as the war began. But asylum seeker status is not a guarantee of attaining refugee status, so there's a sense of limbo for those who have arrived. Some intend to stay, others to return when the war is over. 
The influx of Russians could stoke tensions, with some Kazakhs and Kyrgyz interviewed less than sympathetic toward Russians who did not flee or protest when Russia invaded Ukraine, but have only fled when they might be pulled into the conflict themselves.