Imran Khan Sweeps By-Elections in Pakistan
But Khan is on a road to nowhere as his push for early general elections is unlikely to materialize and winning power remains a distant dream.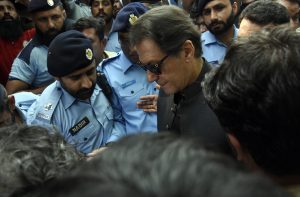 The Pakistan Tehreek-e-Insaf (PTI) has managed to win six out of eight National Assembly (NA) seats that were up for grabs in the by-elections held in three provinces on October 16. In seven NA seats, PTI chief Imran Khan was contesting the election against candidates of the ruling Pakistan Muslim League-Nawaz (PML-N)-Pakistan People's Party (PPP) coalition and other independent contestants.
Khan's decision to contest these seats himself was aimed at not only preventing the ruling coalition from winning these seats but also to make the point that he is the only national leader who is capable of winning from anywhere in Pakistan. However, in his attempt to prove that brand Imran Khan remains the first choice of the electorate, the PTI chairman may have exposed his party's several weaknesses.
The results of Sunday's electoral exercise suggest that Khan's reliance on conspiracy theories to prepare the Pakistani nation for some sort of electoral revolution, which involves him coming back to power, has been proven wrong. The election didn't offer Khan a thumping win: in almost all constituencies where Khan won, the opponents put up a strong fight.
For instance, in the NA-22 Mardan by-election, Khan secured 76,681 votes while the Jamiat Ulema-e-Islam (JUI-F) candidate Muhammad Qasim stood second with 68,181 votes. In NA-24 Charsadda II, Khan won by acquiring 78,589 votes while his opponent from the Awami National Party (ANP) Aimal Wali Khan secured 68,356 votes. The results are more or less similar in other constituencies where Khan contested. In a constituency in Karachi, the PPP candidate Abdul Hakim Baloch won by obtaining 32,567 votes, while Khan secured 22,493.
That voters are not too impressed by Khan's political campaign was evident from the low voter turnout in urban and rural constituencies alike. According to a Free and Fair Election Network (FAFEN) report, only 35 percent of registered voters came out on election day, with one constituency recording only a 14.8 percent turnout. This shows that voters not only remain bitterly divided at a time when Khan's popularity is at its peak but also remain unconvinced about a PTI win benefitting them.
Here is the logic voters may also be considering: Khan may have won six NA seats due to his popularity, but he will have to give them all up as he is already a member of the NA. This essentially means PTI will have to field a different candidate, who may not get the votes which Khan received. Apparently, Khan is happy to contest elections to settle scores with opponents but doesn't want his political party to return to the parliament to participate in the legislative process concerning the next general elections and represent millions of people who have been voting for the PTI for years. It is unfortunate that the head of one of Pakistan's largest political parties is winning polls just to make a statement to his opponents.
The by-poll results do not indicate that PTI as a party is in a position to have a similar electoral impact across Pakistan that Khan may have made because his name was on the ballot in Sunday's vote. For instance, the only seat where Khan didn't contest was in Punjab and won by the PPP candidate. This happened in a constituency where the daughter of PTI's vice chairman and former foreign minister Shah Mahmood Qureshi was contesting. To an extent, this means that voters may like Khan, but they are not ready to support the PTI with the same vigor. This prospect should worry the PTI as its second and third tier of leadership is not ready to match the charisma of their leader.
In the next general election, which is unlikely to be held before late next year, Khan cannot contest all the NA seats. There will be all sorts of political arrangements, alliances and seat adjustments that will give PTI candidates a tough time across the country.
Khan's populist rhetoric is already fading and will diminish further in the coming months. His hard-fought victories in constituencies, where the PTI earlier gave up seats, show that the next general elections are not likely to happen anytime soon. A government official told The Diplomat on condition of anonymity that "only a clean sweep by PTI may have counted or added to our worries."
"It has not happened," he added.
The polls have also buried Khan's narrative that the Election Commission of Pakistan (ECP) was helping the government in any way. Moreover, it has also quashed Khan's claims that state institutions are trying to keep his party out of power by rigging elections. If anything, Khan has a lot to worry about in the coming days and weeks as his plan to force early elections may not materialize, meaning the victory in by-polls is a road to nowhere.
It is important to mention here that in Sunday's by-elections, the PTI lost two NA seats which it had won in 2018, meaning the incumbent government has gained two additional seats in the parliament. This could be useful to Prime Minster Shehbaz Sharif if the PTI should decide to bring a vote of no-confidence against him in the coming weeks.
Moreover, the development also shows that all is not lost for the ruling coalition. Going forward, strong economic recovery and containment of inflation should be the government's key concerns. Additionally, the ruling coalition needs to work on addressing internal rifts and making necessary political alignments in Punjab and Sindh, where smaller parties are eroding their vote bank.
However, all of this makes one thing clear: Khan will persist with pushing the contentious rhetoric that he has pitched to his voter base since his ouster from power in March. The PTI chairman may have realized by now that his call for early elections is not going anywhere and his attempts to involve the security establishment is also not paying off as well.
In the coming days and weeks, Khan will be more desperate to force some sort of change. This essentially means he will be more aggressive in his targeting of areas that have brought him thus far electorally since his ouster from power. He has announced the start of his long march toward Islamabad later this month if the government didn't announce the elections. However, it is unclear how the march could benefit Khan with his party making enemies left, right and center.