Kazakhstan Headed for Election Lacking Competition 
As usual, there will be multiple names on the ballot come November 20 but only one real choice.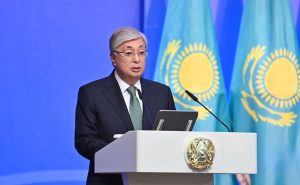 On October 6, current Kazakh President Kassym-Jomart Tokayev was unanimously nominated by the leading Amanat party to contest the snap presidential election which Tokayev called for last month. The election is set for November 20, nearly two years early, and new parliamentary elections are expected in early 2023.
Presidential candidates in Kazakhstan must be nominated by an officially registered organization, such as a political party. As such, there is little room for surprises and no space for genuine opposition.
Of the three political parties currently represented in the lower house of the Kazakh parliament, the Mazhilis, all have backed Tokayev. A majority of delegates from Ak Zhol, which holds 12 seats in the parliament, voted to back Tokayev rather than front a candidate from the party. The People's Party of Kazakhstan (10 seats) did the same. 
Amanat, which holds 76 seats in the parliament, was until March 2022 known as Nur-Otan. Nur-Otan, founded by Nursultan Nazarbayev in 1999 as just "Otan," has since its founding been the political vehicle of Kazakhstan's president — first Nazarbayev and now Tokayev. Tokayev in March pushed through the party's renaming and then stepped down officially as its leader.
A day earlier, on October 5, a group of organizations announced their intention to also nominate Tokayev. The organizations included the National Volunteer Network, the Civil Alliance of Kazakhstan, the Qazaqstan Team Youth Association, the Organization of Veterans, and the Kazakhstan Union of Athletes. In their announcement, the various organization leaders echoed Tokayev's favorite talking points about creating a "listening state" and various reforms.
There are, technically, three other officially registered candidates for the presidency. It's a bevy of political nobodies: Zhiguli Dairabaev, the chairman of the Association of Farmers of Kazakhstan, by the Auyl party; Nurlan Auesbaev by the National Social Democratic Party (OSDP); and Meiram Kazhyken by the Amanat Trade Unions Commonwealth.
Despite promoting reforms as opening space for opposition politics, no new political parties have been registered recently in Kazakhstan. Instead, the leader of at least one notable unregistered political party — Zhanbolat Mamai, of the Democratic Party of Kazakhstan — remains in jail facing charges of organizing mass riots in January. Mamai was arrested in February, after organizing an unapproved rally to commemorate those killed in the Bloody January unrest. For years, Mamai has tried to register his Democratic Party of Kazakhstan but he and the party's supporters have faced arrest and harassment.
At a recent meeting in the Pavlodar region, Tokayev declared: "There is a revival of the domestic political field." He even bragged that a number of organizations were vying to nominate him, citing it all as clear support for his reforms. Another way to look at it: There are no other viable candidates available. Tokayev may have seen through a de-Nazarbayevification of Kazakhstan's political space but he's dancing to much the same tune as Nazarbayev.
Ahead of the election, Tokayev saw through a potentially consequential reform: the lengthening of the presidential term from five to seven years and the introduction of a single term limit. Tokayev, of course, is not counting his current term and thus running for president again. Once re-elected, he'll be able to stay in power until 2029 (which he would have been able to do had none of the rules changed). In theory, Tokayev would not be eligible to run for another term after 2029, but that's only if the rules aren't changed again at some point in the next seven years.
Since 1999, Kazakhstan has never held a presidential election as initially scheduled. In 1998, Nazarbayev saw through the lengthening of the presidential term from five to seven years, it was shortened again in 2007 to five years with a two-term limit introduced for everyone except Nazarbayev. In total, Nazarbayev was in power for 27 years until he resigned in 2019 at which time Tokayev assumed his place.