South Korea's Deafening Silence on the Iran Protests
In contrast to other wealthy democracies, Seoul has remained silent over the protests – and crackdowns – in Iran.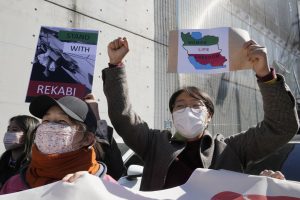 It's tough getting global attention these days – so the fact that Iranian protesters marched their way into the international spotlight says something. The protests continue to grow in the face of increasing violent repression, making a democratic transition in Iran a real possibility. This would not only be a win for human rights in Iran, but also for other places harmed by the regime's foreign policy, such as Ukraine, which is facing the onslaught of Iranian drones. Now is the time for the friends of the Iranian people and democracy to stand together with the protests to give them every chance of success.
Is South Korea one of those friends? There are many reasons to think it should be. As is intoned at virtually every Iran-South Korea meeting, the two countries are tied by a medieval Iranian poem recounting the marriage of a Persian prince to a Korean princess. One of the busiest roads in Seoul is named after Iran's capital, Tehran. More importantly in the current context, street protesters won democracy for South Korea in the 1980s, and it remains one of only a handful of Asian liberal democracies. What's more, Iranian cooperation with North Korea's missile and nuclear programs undermines South Korean security.
Yet, in contrast to other wealthy democracies such as the United States, Canada, Denmark, Germany, France, and Italy, Seoul has neither implemented sanctions to target members of the regime nor proposed to do so. Unlike Australia, South Korea has not condemned the regime's crackdown. The government has not even publicly mentioned the protests. No legislators have referred to the protests, either. To date, pressure over the protests has come solely from the civil society or South Korea's Iranian community.
This deafening silence grew acute when Iranian sports climber Elnaz Rekabi competed in South Korea without a head covering on October 16, defying the regime. She was whisked out of Seoul under circumstances suggesting coercive pressure on her family back in Iran, and is now reportedly under house arrest. This incident within its borders remains completely unremarked upon by the South Korean government.
This is in keeping with Seoul's longstanding policy toward Iran. Its consistent focus has been expanding the market share for South Korean products, including cultural exports such as K-dramas, and securing energy and other raw materials. Security issues – at least when not related to North Korea – are largely ignored, as are human rights issues. Meeting with his Iranian counterpart at the United Nations on September 19, three days after the protests had begun, Foreign Minister Park Jin emphasized that "the Korean government and companies are making full preparations to resume economic cooperation" and the need to create a "friendly atmosphere for the restoration of bilateral relations."
Only pressure from its U.S. ally has made Seoul look beyond this commercialism. Washington strong-armed Seoul into complying with sanctions, with the freezing of Iranian funds in South Korean banks provoking an angry response from Tehran. Two-way trade, at least of the openly and acknowledged kind, has been reduced to a trickle. Rather than as a necessary step in support of the liberal order against a dangerous threat, Korean commentary has generally framed this state of affairs as an unfair imposition on South Korea.
But the fact is that in creating economic resources for the regime, and bestowing prestige and legitimacy on its leaders in the form of flattery to get the business deal done, South Korea is made complicit in the Iranian regime's abuses. Declining to morally grandstand or pick a quarrel with the Iranian government is one thing; seeking to profit from an economic relationship that is responsible in part for locking the Iranian people into repression is quite another.
Koreans actually understand this well from their own history. They correctly point out that the oppressive right-wing dictatorships of South Korea's past couldn't have survived without American support. But it is also true that groups and legislators in the U.S. spoke out for Korean democracy and pushed the Reagan administration on the issue.
This came to a head in June 1987 when protesters battled dictator Chun Doo-hwan's riot police on streets and university campuses across South Korea. This was the last thing that the Reagan administration wanted to deal with, considering the ouster of the U.S.-friendly authoritarian Shah in Iran in 1979. Still, Washington made it clear to Chun that escalating the use of force was unacceptable, and that he had to find an accommodation with opposition figures. This stance, along with international pressure surrounding the 1988 Seoul Olympics played a key role in the South Korean regime's decision to allow free elections.
It is important to note that Washington decided to pressure Chun despite having reasons far more important than protecting exports not to do so. There was the non-trifling matter of a Cold War to be won. What's more, Pyongyang supported the protests, and it was not hard to find protesters that expressed strident anti-Americanism. Still, the Reagan administration made the choice to put itself on the right side of history.
Now it is South Korea's turn. Being a middle-sized country or having a history of mistreatment at the hands of the great powers is no excuse for profiting at the expense of others. Seoul must support the Iranian protesters' shared right to struggle for their freedom, their right to be – as one Iran expert described it – "more like South Korea." Seoul needs to raise its voice and put its commercial interests second. If that reduces future business opportunities for Korean companies or raises fuel prices, that is a small price to pay for doing what's right.
Let Beijing have moral responsibility for propping up the Iranian regime. Some things are more important than money, and South Korea can only truly flourish when the rest of the world, including the people of Iran, do too.