Two Decades After the Bali Bombings, A Peace Park
The attack testified to the horrifying vision of the now-defunct Jemaah Islamiyah, which aimed to establish an Islamic Caliphate in Southeast Asia.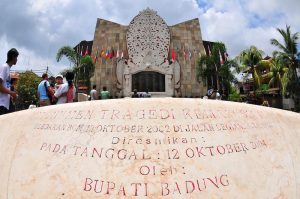 Twenty years ago this week, Islamic militants detonated two massive car bombs on Bali's tourist-packed Kuta strip, killing 202 people, injuring many more, and signaling that Osama bin Laden's war on the West had spread into Southeast Asia and beyond.
Among the dead were 88 Australians and – perhaps symbolically – a third, smaller bomb, exploded outside the U.S. embassy, causing limited damage.
Both countries were important because bin Laden stated in an audio recording that the Bali bombings were intended as direct retaliation to the U.S.-led Global War on Terror and Australia's role in Timor-Leste, which had achieved formal independence just five months earlier.
His al-Qaida network advised and helped fund the plot carried out by Muslim hardliners from Jemaah Islamiyah (JI), which claimed most of Southeast Asia and northern Australia under its jurisdiction as an Islamic caliphate.
It was an absurd notion that mimicked al-Qaada's ambitions in the Middle East and was inspired by bin Laden's 9/11 attacks on the United States, which resulted in the Global War on Terror as declared by then U.S. president, George W. Bush.
Initial attempts to catch the culprits were clumsy but gathered pace. JI's spiritual leader and suspected mastermind, Abu Bakar Bashir, was nabbed and served 10 years behind bars.
Imam Samudra, Amrozi Nurhasyim, and Huda bin Abdul Haq were convicted and executed in November 2008. Dulmatin, dubbed "the genius" for a setting off a bomb with a mobile phone, was shot dead by police in March 2010.
The last of the Bali bombers, Umar Patek, was tracked down a year later. He had found sanctuary in the southern Philippines before traveling to Pakistan where he tried to hook-up with contacts inside al-Qaida, who were plotting further attacks in the United States.
He was captured on January 25, 2011 near Abbottabad, where bin Laden was killed by U.S. Navy Seals three months later. Umar Patek was subsequenly convicted of six terrorism-related charges, including murder and bomb-making, and he would serve 10 years from a 20 year prison sentence.
Only Encep Nurjaman, better known as Hambali, who helped plan the attacks from a guest house built behind a mosque in Phnom Penh, is left. He has been earmarked for trial after spending the last 16 years in Guantanamo Bay.
Further bombings would follow – hotels, embassies, tourist hotspots and military installations were often targeted – and many more innocent people would die. Another 300 Islamic militants would be arrested or killed after Densus 88, an anti-terrorism unit, was established.
It was then that JI effectively fell apart.
Three years ago I interviewed survivor Thiolina Farawaty Marpaung about her efforts to have the site of the Sari Club, which was targeted alongside Paddy's Irish Bar, turned into a Peace Park, which will sit opposite an already established memorial dedicated to all the victims.
It took 17 years of haggling before a deal was finally struck earlier this year to acquire the property for about $3 million. Thiolina says these days there are too many people who just don't "know about the story that happened at that place."
"So hopefully when the Bali Peace Park happens that's the place to educate people. Not to be sad but to educate people about why those monuments are there," she said in halting English.
The plan is for a tropical garden incorporating a mural that tells the story of the bombings with tranquil "reflection corners" where people can sit and remember those who died.
"It's about how to educate the next generation so they know this was a bomb that happened in Bali – the biggest in Indonesia," Thiolina said, adding that many families that had lost love ones never saw their bodies and never had a chance to say goodbye.
"So when the Bali Peace Park happens they can go, they can feel the memories, the good memories and commemorate."