Atrocities Mount Amid the Return to War in Western Myanmar
Once mostly immune from the country's post-coup turmoils, Rakhine State is beset by an increasingly devastating conflict.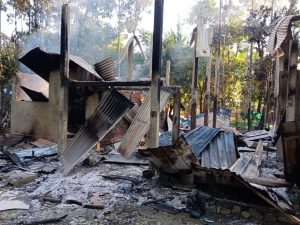 About four months after fighting resumed between Myanmar's military junta and the Arakan Army (AA) in western Myanmar's Rakhine State, junta forces are increasingly resorting to airstrikes and artillery barrages against civilian populations, amid reported losses on the ground. One of Myanmar's most powerful and well-organized ethnic revolutionary groups, the AA, which was formed by 26 Rakhine youths in 2009 under the guidance of the Kachin Independence Army (KIA) to fight for greater autonomy for the people of Rakhine State, now claims to have 30,000 troops under arms.
The recent fighting shattered an informal ceasefire agreement that the AA signed with the Myanmar military in November 2020, just before that month's general election. This ended two years of intense fighting in northern Rakhine and southern Chin State. Soon after the military seized power in a coup in February last year, the junta offered several favors to the AA and Rakhine people to maintain the ceasefire, releasing from its custody several people including Rakhine nationalist politician Dr. Aye Maung and the family members of AA leaders. It also ended the two-year internet restriction in northern Rakhine and removed the AA from its list of "terrorist" organizations.
During the lull in fighting, the AA's political wing, the United League of Arakan (ULA), focused on developing its administrative and judicial institutions across Rakhine State. As the ULA administration grew, the junta started making attempts to contain this administrative expansion and reinforced its troops in the area. Then, in early June, the AA refused an invitation to join junta-hosted peace talks in the capital Naypyidaw, soon after which junta forces began arresting dozens of people affiliated with the AA in northern Rakhine townships and blocked the gates of these towns. The AA responded by arresting at least 20 junta personnel in the areas of Rakhine State under its control.
On July 4, the tension between both exploded after the junta launched an airstrike against an AA base in a territory controlled by the Karen National Union in eastern Myanmar, killing at least six soldiers and injuring many others. A week later, the AA launched a retaliatory attack against junta forces in northern Rakhine, killing at least four, injuring many others, and capturing at least 14 alive.
In early August, a series of armed clashes between the AA and junta forces erupted in three locations in northern Rakhine, and another one in the southern part of neighboring Chin State.
The Rakhine War at a Glance
As of November 17, based on local news and statements from the AA, the author has identified around 100 battles that have broken out between the junta forces and the Arakan Army since July, while more than 15 clashes could be classified as fierce battles based on the intensity of clashes.
The four townships in which these clashes occurred are Maungdaw, Buthedaung, and Rethedaung townships in northern Rakhine and Paletwa township in Chin State. Other less frequent, small-scale armed clashes and mine explosions also happened in central and southern townships such as Kyauktaw, Mrauk U, Minbya, Maybone, Taunggok, and Ann. The most frequent clashes took place in Patetwa and Maungdaw, both of which possess international borders and thus have greater geostrategic significance.
During these clashes, more than 150 Myanmar junta soldiers are believed to have been killed, although the exact number is hard to determine. The exact number of casualties from the AA side is also hard to identify due to a lack of news reports, but at least 10 are reported to have died or been injured.
During the three months from August to October, at least 204 civilians were arbitrarily arrested by the junta, at least 62 of which remain in detention. The AA has responded by arresting at least 8 junta personnel in the areas of Rakhine State under its control.
Of those detained by the junta, at least 29 were members of its administrative apparatus, including school teachers, doctors, and people from the General Administration Department, who were accused of paying taxes or donating money to the ULA. They also include social workers accused of otherwise aiding AA members and civilians displaced by the conflict.
Apart from this, since the junta blocked the United Nations and international NGOs from accessing the six townships of northern Rakhine State on September 16, the residents, especially thousands of internally displaced people (IDPs), have faced shortages in food, shelter, and other relief items. Last month, the United Nations noted that the situation in Rakhine was "of particular concern" and that more than 17,400 people, including Rohingya, had been displaced.
Since fighting resumed after a brief pause in early August, junta forces have also blocked highways and roads linking the state capital Sittwe to both the commercial center Yangon and Rathedaung to Maungdaw in northern Rakhine.
Mounting Mass Atrocities

As the junta forces have lost ground to the AA and other ethnic resistance groups across Myanmar, it has reportedly come to rely more heavily on airstrikes on its opponents, in particular through targeting populations of unarmed civilians believed to support them.
The Irrawaddy reported that from October 1 to 28, the junta launched a total of 28 aerial attacks in five regions including Rakhine, leaving 111 dead and injuring at least 126. In particular, the recent brutal junta airstrike on a concert in Kachin State in the north of the country, killing more than 60 people and injuring many more. As of October 31 in Rakhine, at least seven aerial attacks have taken place since July, killing at least 18 civilians, including seven children, and injuring at least 31.
In addition to airstrikes, the junta ramped up its artillery offensives in Rakhine State in the first two weeks of November. In the six days between November 10 to 16, artillery shells killed at least 17 civilians and injured at least 50 in northern Rakhine.
November 16 was a particularly deadly day. According to local media reports, at least 11 civilians including three children were killed and at least 27 others were wounded after four mortar shells were launched into Jeitchaung village in northern Maungdaw township. On the same day, in Kyauktaw township, at least four residents were killed and three people, including a grade 9 student, were wounded in an artillery strike on Chaungtu Village.
Ten days earlier, junta soldiers from the military's Ponnagyun-based Light Infantry Battalion No. 550 also shot and killed at least nine civilians, mainly elderly people including a 92-year-old woman, and burned at least 10 houses in Hsininngyi village, Ponnagyun township.
To sum up, in just the first 16 days of November, the numbers of junta atrocities in Rakhine State were greater than in the previous three months. From August to October, around 20 civilians were killed and 30 were injured due to artillery shells and airstrikes. Within 16 days of November, at least 36 including children and elders were killed, and at least 72 were injured. There were at least 12 civilian deaths and at least 39 injuries in Kyauktaw alone.
As the armed conflict between the junta forces and the AA escalates, and inevitably spreads to southern Rakhine – the latter issued a statement on November 11, vowing to retaliate against junta forces – the Myanmar military will undoubtedly launch airstrikes and artillery attacks on these areas as well. Despite nearly two years of relative peace in Rakhine, civilian casualties are once again on the rise and the humanitarian situation across the state is steadily worsening.